BENEFITS OF STAGING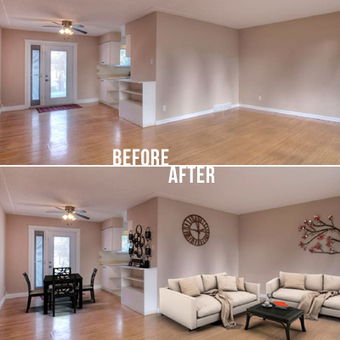 STAGED HOMES SELL FASTER & FOR MORE MONEY.
Problem
Potential buyers don't want to see work that needs to be done upon moving into the home. For every problem they see, they'll deduct the cost to fix it from their offer price. If they see too many problems,
they'll pass altogether.
Benefit
The first impression is the most important, and you never get a second chance to make a first impression to potential buyers. Staging is the proven way to get top dollar for your home as you prepare it for it's sale.


STAGING SETS THE SCENE TO CREATE IMMEDIATE BUYER INTEREST IN YOUR PROPERTY.
This leads to your home selling for the highest possible price.
You can have the peace of mind and satisfaction of knowing that you did everything possible to lead to a quick and profitable sale of your most valuable asset.
100% of buyers can now visualize the potential of a home
Staged homes are more photogenic, your home's photos will stand out against
Tuscana Properties® Home Staging Sales Success Rate
95% of Tuscana Properties® Staged Homes Sell on Average in 11 Days or Less and Sell for 17% MORE!