OUR EXCLUSIVE 12-STEP ROADMAP SIMPLIFIES YOUR NEXT MOVE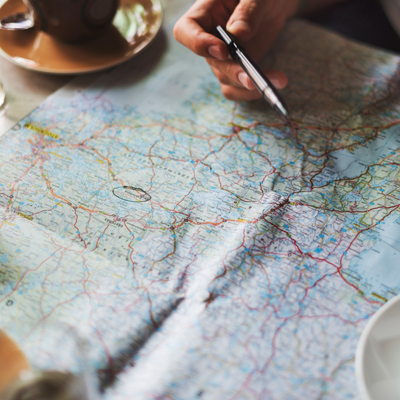 Did you know that 53% of Bay Area residents are considering a move out of the Bay Area in the next few years? Perhaps you have considered doing the same. Whether you are relocating for retirement, a new job opportunity, or just a change of pace, planning your move out of the Bay Area can seem like a daunting and overwhelming process. But it doesn't have to be. We've created our exclusive 12-step Roadmap to help break down the steps of your next move to make it simpler and more manageable. We also make your move a reality as we guide you through every step of the process.
The Jamison Team is your partner for a successful and enjoyable relocation experience!
Buying. Selling. Relocating. Simplified.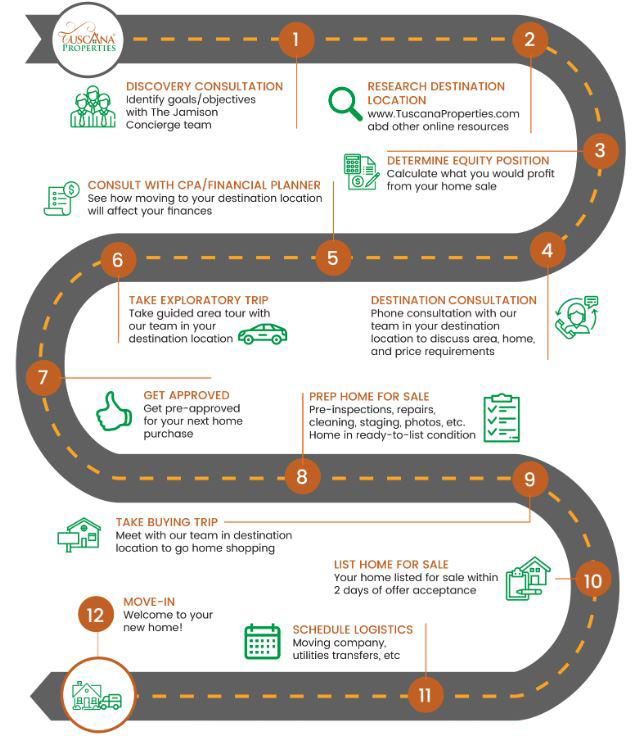 Step 1: Discovery Consultation
This step is all about you. Learning about what is important to you in your move. Having this no-cost consultation helps us to better understand what you are looking to accomplish, and can also help you to clarify your own goals. Have a 30-minute call with our Client Concierge team to open up your world of possibilities!
Step 2: Research Your Destination
Once you have identified an area or areas you are interested in, it's time to do some research. Compare the cost of living, taxes, housing prices, healthcare providers, retirement destinations, education, transportation, climate, and whatever else is important to you. This step is researching higher-level data; in a subsequent step you will drill down further with our team members.
Step 3: Determine Your Equity Position
At this point, planning for your next home purchase is key. Now that you have an idea of what the average cost per home is in the destination city you are interested in, it's time to find out how much money you would likely walk away with from your home sale. The best way to do this is to consult with one of our local real estate specialists to see what your home will likely sell for. Having this number, we can calculate your closing costs and show you the amount you would make from your home sale.
Step 4: Destination Consultation
Now that you have narrowed down your destination city, it's time to have a phone (or video) conversation with our team in that city. This is where we will drill down and find out what is important to you. We'll provide information and some great options within your budget. This conversation is all about you and identifying the best home community options for you.
Step 5: Consulting with CPA/Financial Planner
Now that you have identified a city you are interested in moving to and have talked with our local team in that city, it's time to start talking about finances. Every city and state has different tax laws. How will these rates impact your overall cost of living and finances? These are conversations you should now have with your CPA/Financial Planner.
If you are a business owner and are thinking of moving your business, or starting a new business in a different state, your CPA/Financial Planner will help you to understand the changes you can expect.
Don't have a CPA/Financial Planner? We have professionals we can refer to you that will help you. Their fees are based on their hourly billing rate.
Step 6: Take an Exploratory Trip
This is where it gets fun! You have already spoken with our team in your destination city and you have analyzed your finances. It's time to take a trip! Book a trip to meet with our team members and get a personal, guided tour of the area. Based on our team's previous conversation with you, they will design a custom tour of areas that will fit your needs and wants. Spend time viewing homes and communities, areas of interest, and anything that is specific to your needs. Our team will help you book your trip and will make hotel and transportation recommendations. In many cases, they can pick you up from the airport and drop you off at your hotel. You may not even require a car rental unless you want to stay longer and do some sightseeing on your own!
Step 7: Getting Approved
Now that you have visited your destination city and have looked at homes, it's time to get approved for a home loan. There is no cost in doing this, and it doesn't bind you to make a purchase within any period of time, but it does prepare you to make an offer when the right home comes up. We suggest using lenders who are local in the city you are purchasing in, as they understand the local lending laws and requirements. We can recommend lenders to you that are very competitive in rates and programs, making it a very simple loan application process.
Step 8: Prepare Home For Sale
Now that you have looked at some homes in the city you are looking to move to, and have been pre-approved for a loan, it's time to get your home ready for sale. This includes decluttering, cleaning, painting, repairing, pre-inspections, staging, professional photographs, and anything that needs to be completed to get your home in top condition and ready to list on the market. Our local real estate experts will help you through this process to make sure you are maximizing the value of your home. We will also provide you with the marketing strategy that will ensure your home sells for the most money in the shortest amount of time. The goal is to have you ready to be put on the market within short notice.
Step 9: Take a Buying Trip
Now that our team knows exactly what you are looking for in your next home purchase, and your current home is prepped for sale, it's time to take a buying trip! Our team will have identified homes that will be a great fit for you and will have those homes scheduled for your buying tour. When you find that perfect home, we will write the offer and get you into a contract! Not finding the perfect home on this trip? No problem, we will resume the search!
Step 10: List Home For Sale
Now that you are in contract on your new home, it's time to get your home listed on the market ASAP. In a previous step, we took care of everything needed to get your home on the market, including staging and photos. Our local real estate team will have your home on the market within 1-2 days of you getting into contract on your new home.
Step 11: Schedule Logistics
Our team has listed your home for sale, and you have just accepted a great offer! Now it's time to schedule the details of making your move, which we can do for you at no cost! This list of services includes electricity, phone, insurance, tv/cable, home security, internet, gas, moving/storage, and mail forwarding. Again, we can take care of this all for you, at no cost! Other items to consider at this point, registering your vehicles, applying for a driver's license, school registration, etc.
Step 12: Move-In
Congratulations! You have moved into your new home! At this point, you may need recommendations for service providers such as house cleaning, contractors/handymen for new projects, landscaping/gardening, pool service, etc. Ask us! We have the right contacts to get you up and running quickly in your new home.
Complete this form to receive your FREE special report on
"12-STEP ROADMAP TO YOUR NEXT DESTINATION"