Use This Pre-Move Checklist to Relocate for Work
Posted by Sandy Jamison on Monday, February 21, 2022 at 7:27 AM
By Sandy Jamison / February 21, 2022
Comment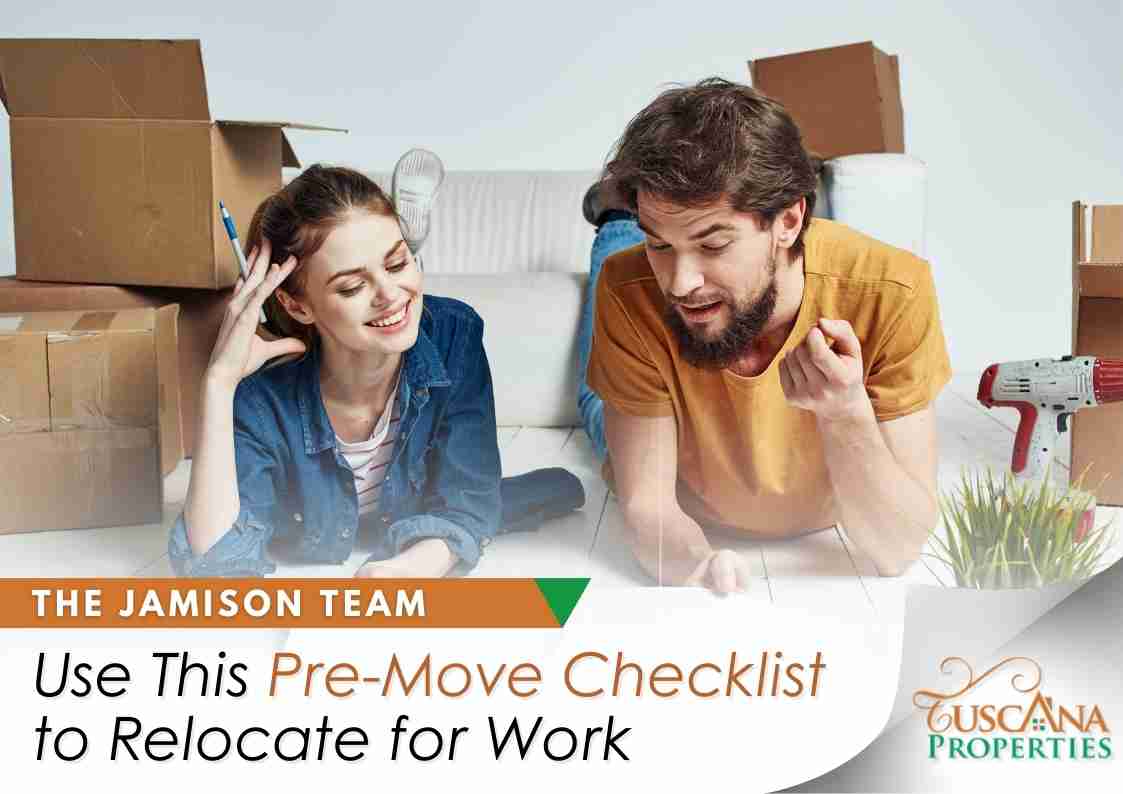 This article is a pre-move checklist that will help you plan and execute a stress-free job-related relocation.
How do you move for a job and start a life in a new city when you have a family? The answer is very carefully, and fortunately, there are plenty of resources available to help you do just that. While moving is never easy, there are several easy ways you can start the planning process and stay organized throughout, which will relieve some stress and give you peace of mind. Begin with the basics: researching a potential location, talking to your kids about the move, narrowing down your home options, and hiring people and services that will help you get through the move on budget and on time. Tuscana Properties is a great place to start when you're ready to sell your home in San Jose. When searching for your dream home consider a variety of factors, including how close it is to your job and what the school districts are like, before making a decision.
Research the Area
Moving to a new city can be daunting, but with so many online tools available to help you research the area, you'll be ready to go in no time. Look up important details like the crime rate, population, and average sale price of homes in the neighborhoods you're interested in; in Denver, the median sale price is about $525,000, while the average cost for a 2-bedroom rental is $2,531. If you're interested in renting, search Denver apartments and narrow down the options by the number of bedrooms, amenities, and price ranges. You can even take a virtual tour of the space online so you'll know what to expect when you arrive.
Hire Out Some Services
Once you have a property secured, think about a few services you can hire out that will make the move as easy as possible. While you don't have to book them just yet, it helps to create a plan so you'll have peace of mind that all your ducks are in a row. Consider things like cleaning your current home before packing or after the truck is loaded, arranging for babysitting services on moving day, and finding a moving company that fits your budget. Get price quotes before hiring any services, and make plans to circle back and confirm important dates when the time draws nearer.
Stay Organized
One of the most important aspects of moving to a new city is remaining organized throughout the process, so write down dates, quotes, and phone numbers that are essential to the process and keep all paperwork–including receipts–together. It's easy to become preoccupied with moving tasks and let other things go, especially if you're still working during this time and have a lot on your mind. Staying organized will help prevent things like missed deadlines or meetings and will allow you to stay on top of every aspect of the move. You might even delegate certain tasks to other family members so that everyone has their own job to focus on. This will help when you're ready to start packing up the house, which can be a chaotic process.
Remember to gather all your packing materials–such as box cutters, tape, scissors, cleaning supplies, and markers–and keep them together. Declutter before you begin and mark all boxes and containers neatly so that putting them away in the new place will be as easy as possible.
Make the Move a Cinch
Traveling to a new city with your family will likely be exhausting no matter how organized you are, but you can prepare for the big day by planning a schedule. Keep fun snacks on hand for the kids and give everyone plenty of breaks if you're taking a road trip, especially if the kids are very young. Moving for work is a major life change, and it comes with a lot to consider. Keep communication open with your family, as there may be anxiety or stress involved for them even if you've done your best to make the process a smooth one.
More Questions? Follow-up With Us!
If you have more questions about what to expect from the markets around the Bay Area, don't be afraid to reach out to us today. Our experts are experienced in all property types and the entire San Francisco Bay Area, and we can help you to find what you need to know today.