Top 7 Things to Do Before Listing Your Home
Posted by Sandy Jamison on Monday, October 10, 2022 at 10:24 PM
By Sandy Jamison / October 10, 2022
Comment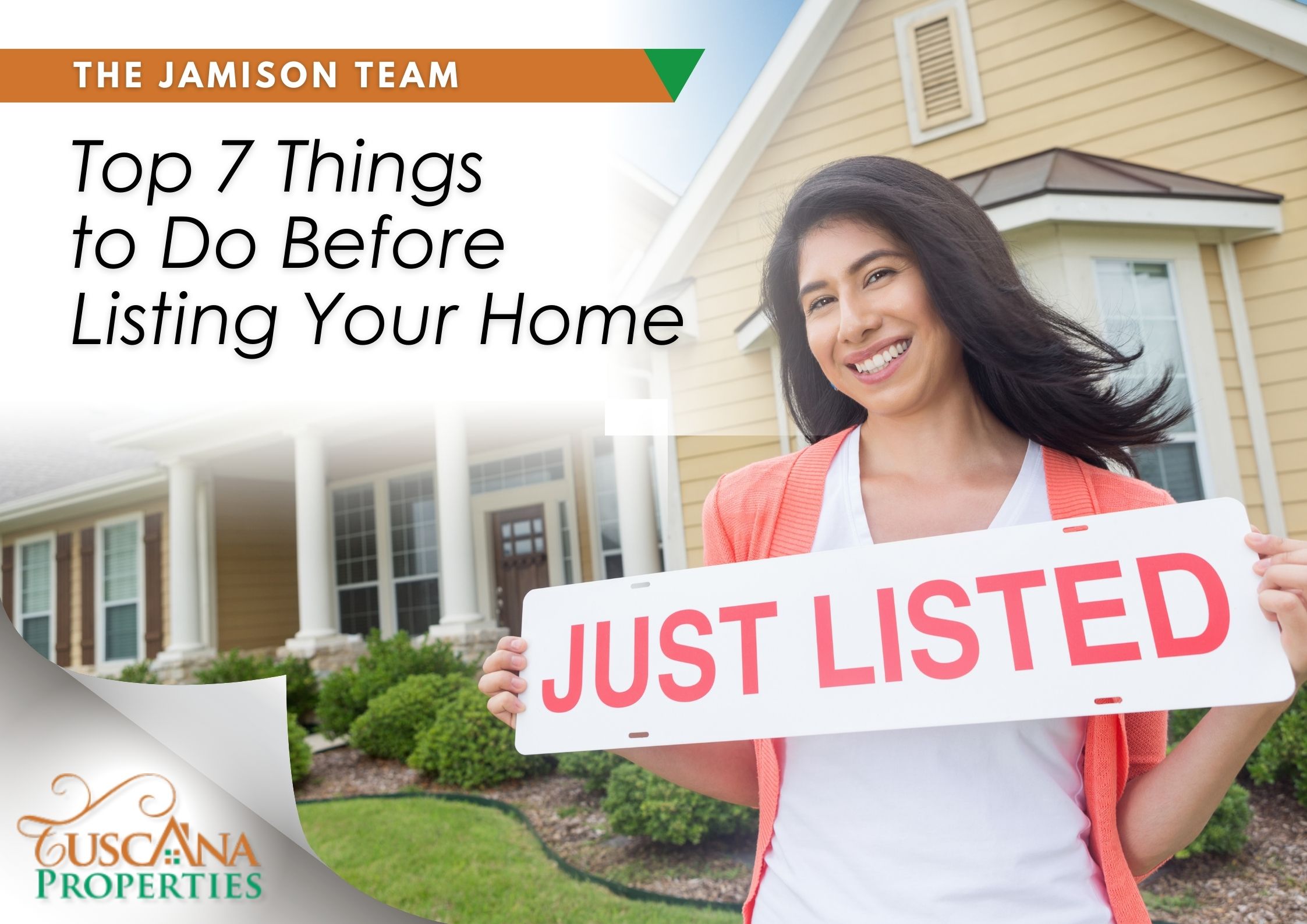 Are you looking for more space in your home or maybe a shorter commute to work? It may be time to consider selling your home and set your sights on a property that fits all your family's needs. While upgrading your living situation is an exciting process, make sure to approach the home buying and selling process with a plan. So, before you list your current home, consider these factors to ensure a smooth selling process and keep the offers flowing in!
Lean on the Expertise of an Experienced Real Estate Agent
There is a clear difference when selecting an experienced real estate agent to assist you throughout the home selling process over trying to handle the process on your own. An experienced agent will be capable of answering the many questions any seller or buyer is bound to ask throughout the process, along with strategizing what the best move to make is. Here at Tuscana Properties, our team has not only won the award for "Realtor of the Year" by Santa Clara County but we've also been recognized by multiple media outlets for the satisfaction we provide to our clients. If you're thinking about selling your property, don't hesitate to give us a call and we'll work with you every step of the way.
As a note, try to sort through some important details surrounding your situation before calling a realtor. Having a good handle on things like your budget, moving timeline, and housing needs will help make your realtor intro meeting more productive for everyone involved.
Prepare the Property for Buyer Walkthroughs
An important part of the home selling process is presenting the property in an appealing manner to buyers. Your home will create lasting impressions based on what potential buyers see on their first walkthrough, so it's very important to focus on presentation so they can envision themselves living in the house. In order to create an appealing space for buyers, you'll want to focus on the tidiness and cleanliness of the house.
To limit unnecessary clutter, you'll want to purchase some cheap storage totes or cardboard boxes. Take your time to store things like excessive decorations or kid's toys in the days leading up to an open house or scheduled buyer visit. Buyers will expect either the basement, attic, or garage to be dedicated for storage, so label your boxes of extra things and neatly store them in one of those areas. Also, be sure to deep clean the most trafficked rooms the day before or the morning of a buyer's visit to boost their first impression. When setting the stage for walkthroughs, be sure not to go crazy with buying new furniture or decor for the home. While presentation matters, buyers will still be able to envision the space even if it is lacking brand-new furniture or decorations.
Prioritize Major Repairs and Code Violations
One of the most common factors that can steer buyers away from your listing is having a home that will require extensive repairs with a high price tag. If your house has needed repairs in the foundation, roof, or anything else related to the structural integrity of the house, it's wise to tackle these issues before listing. You can list the property with these issues, but buyers are much more willing to put an offer on a house that's considered move-in ready. If you're unsure about the condition of critical elements of the house, consider getting a home inspection report prior to listing. This will help you prioritize what should be fixed first and you can make a plan around your budget. Also, if a buyer discovers an issue that isn't on the disclosures, usually from their hired inspector, they could request closing credits or repairs in order to move forward with the sale.
Although you can sell your home with certain code violations, anything you can bring up to code will only help the sale. Simple updates like correcting handrail height, updating GFCI where it should be, and replacing cracked windows can make all the difference in reducing what shows up on a buyer's home inspection report. Another benefit gained from being up to code is marketing to buyers using an FHA loan, which is much stricter about code violations on the property they're looking to buy.
Remove Home Health Concerns
Another factor buyers will take into consideration is if there are any materials on the property that could be dangerous to the new residents. The two most common hazardous materials that were used in home construction are asbestos and lead-based paint. These materials fall under similar regulations in California and they both can be reasons why buyers will be hesitant to make an offer or back out of a contract after its discovery.
Asbestos is a type of naturally occurring mineral that was deployed into home construction materials for decades in the 1900s. It was mainly used in areas of the house such as the furnace, wiring, and water pipes. When a material containing asbestos starts to break down, it releases fragments of asbestos that can get stuck in your internal organs and can ultimately lead to serious health issues. In California, if you know asbestos is still within the property you're looking to sell, it must be reported on the property disclosures to make the buyer aware.
Lead-based paint is another hazardous material that was used in homes until its federal ban in 1978. Over time, if lead paint is removed it will create dust that is easily inhaled, which increases the risk of lead poisoning. Since lead can provoke more immediate symptoms and is especially dangerous to children, its presence can negatively affect a buyer's interest in the property. Similar to asbestos, California law requires that lead paint be reported in the property disclosures and allows 10 days for a buyer inspection, but does not require the paint to be removed by the seller. If either of these materials exists on the property, it's wise to find a solution, such as an environmental testing company, prior to listing the house on the market. You'll benefit from the reduced risk of buyers losing interest over the potential health hazards and keep the house a safe place to live.
Gather Required Documents Ahead of Time
If you've ever been through the buying or selling process, you're well aware of the amount of documentation needed to cross the finish line. These documents serve the purpose of proving the legitimacy of the sale and ensuring stages of the process are in compliance with the law. Save yourself the headache of searching for these documents when they're needed and get one step ahead.
An original purchase agreement of the property
The signed deed of the property being sold
Affidavit of Title
Besides just gathering these documents, make sure you also know what each of these documents is for as well. If you aren't familiar with common real estate terms, feel free to use our seller's glossary as an aid. If you cannot find your original purchase agreement of the property, try contacting your previous real estate agent or another member who was involved in the transaction because they may still have the records available. If you lost the title, you can reach out to the local county clerk and request a new one.
Make Curb Appeal Updates
Have you ever looked at a house from the street and thought "I don't have a good feeling about this one"? This is why curb appeal is so important. As a seller, you need to consider every impression a buyer will have, and curb appeal is one of the first they will make. Just like with walkthroughs, a first impression is everything, and if a bad first impression is made, it could cause potential buyers to not consider your listing.
One of the first moves you can make to freshen your curb appeal is to clean up the outside portions of the property. Simple maintenance like raking leaves, replanting dead grass patches, and putting away tools can make a huge difference. If you really want to captivate a buyer, consider some more advanced updates like landscaping, repairs to the exterior of structures, and a fresh coat of paint on the house. These updates will not only make the property look great, but they also show buyers that you've gone the extra mile to maintain the property.
Lastly, if your backyard has amenities such as a pool, trampoline, or patio, make sure that they are in tip-top shape before listing your home. The last thing a prospective buyer wants is to have to figure out what they are going to do with an eyesore when they close on a property.
Consider Remodels that Retain Resale Value
Anytime you can show off a newly remodeled feature within the household, you're immediately going to capture a buyer's attention. However, not all remodels retain their value when it comes to the final listing price, so it's important to find the balance between what will yield more than the initial investment and what needs attention because it's unappealing.
According to Money.com, one of the best projects with a return on investment is refinishing hardwood floors, with an average return of 147% when factored into the property sale. Although a larger remodel in areas like the kitchen doesn't yield as much return on investment, they still play an important role in captivating the buyer and positioning the value of all the new materials.
More Questions? Follow-up With Us!
If you have more questions about what to expect from the markets around the Bay Area, don't be afraid to reach out to us today. Our experts are experienced in all property types and the entire San Francisco Bay Area, and we can help you to find what you need to know today.