Top 5 Outdoor Renovations That'll Add The Most Value to Your San Jose Home
Posted by Sandy Jamison on Friday, June 11, 2021 at 7:05 PM
By Sandy Jamison / June 11, 2021
Comment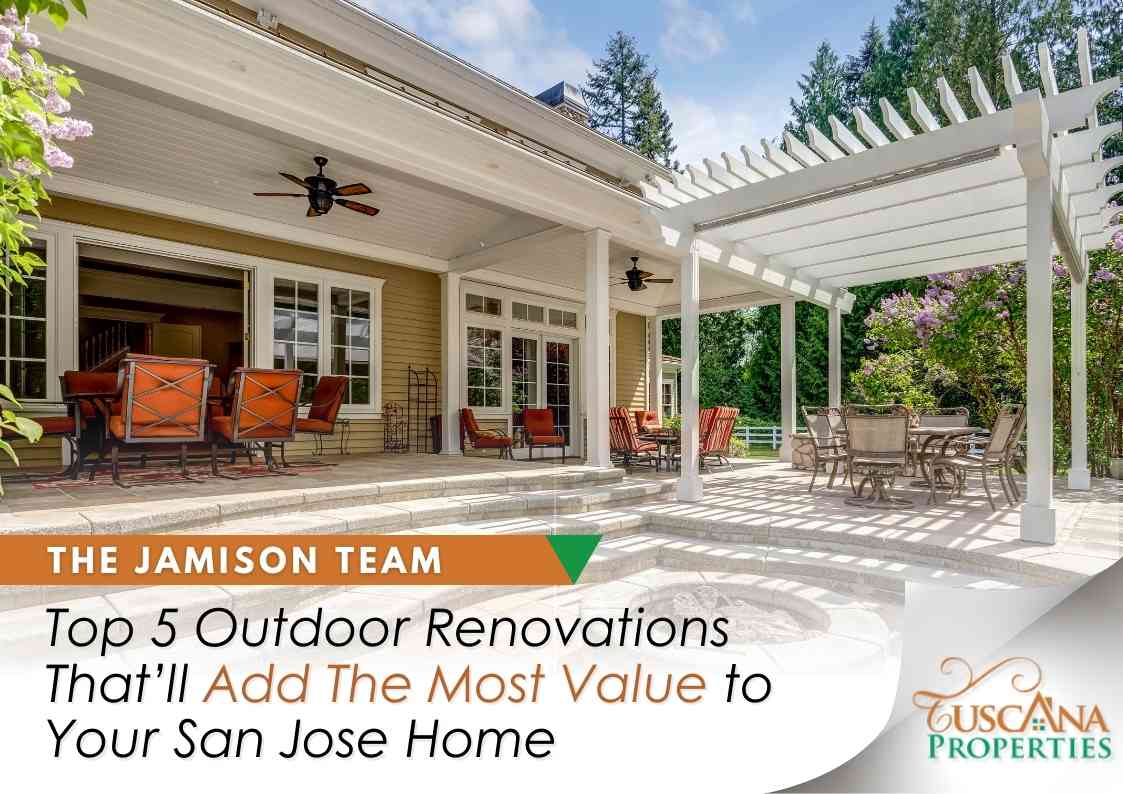 We don't know if you've heard, but real estate is hot for sellers. With more people across the United States, (and specifically in the Bay Area) ready to buy, there aren't enough houses available to keep up with demand, and that's good news for sellers. Homes are going for more than the asking price and multiple buyers are vying to land homes in what agents call bidding wars. In fact, in a recent poll of more than 1,000 real estate experts from HomeLight, 97% of agents said that they are in a seller's market. When the market is this hot, you can make your San Jose home even more valuable with outdoor renovations. Here are a few ideas to help you get started.
Improve Your Curb Appeal
One of the best ways to add value to your home may also be one of the easiest to get started on. Curb appeal is how your home attracts a buyer from the street; it's your home's first impression and it can make a big difference in increasing your home's value. While you could hire a landscaper to make your front yard look its best, you can also spend a weekend with some DIY projects that can have big payoffs. You can give your front door a fresh coat of paint in a pop color like red or blue, and add a couple of potted plants on either side to up the appeal. If your lawn has seen better days, consider adding a rock garden ornamented with succulents for a front yard that is low maintenance and can stay looking good all year. Another quick curb appeal update is replacing your home's address numbers with a modern touch that coordinates with your house's outdoor lighting.
Related Topic That You Might Want To Read: "How To Improve Your Home's Curb Appeal Before Listing"
Make Your Backyard A Living Room
In the era of social distancing (or post-social distancing), backyards are doing double duty as extensions of people's homes. Real estate agents across the Bay Area are talking about how buyers are seeking backyards that are full outdoor living rooms: think comfortable furniture, and dedicated areas for relaxing and outdoor entertainment with music. This update can be as easy as buying new furniture and adding speakers, even if just staging your backyard fast, so potential buyers can see the possibilities.
Get Cooking (Outside)
Along with outdoor living rooms, homeowners are raving about outdoor kitchens. These kitchens are going beyond barbecues to include fully functional stoves, refrigerators, and bars. If you already have an outdoor grill, you can consider building a work surface around it with bricks, to create a dedicated cook and food prep space. How involved you get will depend on your budget and whether you are looking to make updates to stage your home or to use yourself and with your family long-term.
Let there be Light
With more summer daylight hours, backyard parties can last well into the evening — and even longer with appropriate outdoor lighting. This summer glow doesn't have to be involved to install or cost a fortune. String lights can do wonders to transform a backyard, whether strung over a trellis, on a tree, pergola, or fence.
Related Topic That You Might Want To Read: "Increase Your Home's Screen Appeal"
Adding value to your home doesn't have to mean going through a full renovation, with a few outdoor updates you can appeal to buyers to successfully sell your San Jose home.
More Questions? Follow-up With Us!
If you have more questions about what to expect from the markets around the Bay Area, don't be afraid to reach out to us today. Our experts are experienced in all property types and the entire San Francisco Bay Area, and we can help you to find what you need to know today.