Tips for Starting Over Someplace Else If You Need To
Posted by Sandy Jamison on Tuesday, December 27, 2022 at 9:35:15 AM
By Sandy Jamison / December 27, 2022
Comment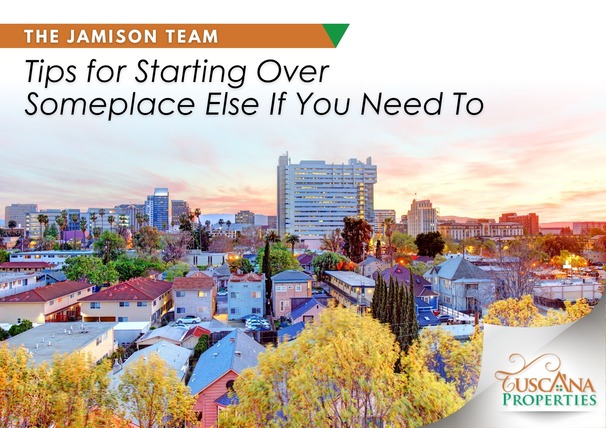 If you're looking to move beyond the unpleasant memories of your past, perhaps moving to a new town could be the type of change you need in your life right now. However, moving requires a lot of planning and research — it isn't something you can do overnight! Here's what you need to know if you've decided to start over somewhere new.
Decide where you'd like to settle down
First things first: decide on the ideal location for your new home. Be sure to find out as much as you can about your new city, from the weather to the cost of living. You could even use apps such as Teleport to help you choose a city that will suit your personality and preferences.
Look Into Different Properties
The next step will be deciding on your dream property. You'll also have to decide whether to rent or buy. If renting is your only option, take your time scouring online listings to find a rental property that is going to fulfill your wishlist while adhering to your budget. Of course, deciding on the ideal rental for you and your family won't just come down to price; you'll also want to find a home that is close to all the amenities you would need to have access to, such as schools, shopping malls, doctors, etc. A realtor can assist you with filtering the appropriate rentals to help you find a suitable property quickly.
Familiarizing Yourself with Maintenance Services in the Area
One of the best things to do when moving to a new town is to familiarize yourself with the maintenance and repair services in your area. For example, if your HVAC system breaks down, it's a good idea to know who to call. Compiling a list of these essential services is always a good idea in case of an emergency, and you don't know who to reach out to for help.
Look Into Heading Back to School
If you're feeling stuck at a low point in your life, going back to school to further your education could be a great way to take steps toward overcoming it. In today's tech-oriented world, many universities are now offering online bachelor's degrees, making access to higher education more flexible than ever. For example, there are several online schools that offer Bachelor of Arts degrees in education that allow individuals to get the same quality education from the comfort of their own homes (take a look at this for more information). This means you won't need to put your life on hold while you attend classes; instead, you could get settled into your new home and start building towards the future at the same time. Going back to school is an opportunity for personal growth and can open up new possibilities for success in all areas of your life.
Starting a Business
If you need to start a business as opposed to finding work because you need the flexibility to concentrate on rebuilding your life again, starting an LLC is a good option. This structure will provide you with flexibility as well as a whole host of other benefits, such as tax advantages and limited liability. However, be sure to investigate your options when it comes to choosing a company that is going to have your best interest at heart; for instance; a formation service will see to it that you register your business affordably. They will also know what the different filing regulations are if you are not familiar with this area.
Moving to a new place may end up being just what the doctor ordered. So, be sure to also keep your options open so you can make the best decision possible — especially when it comes to purchasing a home or renting a property. Don't feel rushed to settle down! You want to make sure this new area meets all of your needs. When you're ready to start looking for a new home, make sure you work with professionals like Tuscana Properties to ensure you find exactly what you're looking for in a property.
More Questions? Follow-up With Us!
If you have more questions about what to expect from the markets around the Bay Area, don't be afraid to reach out to us today. Our experts are experienced in all property types and the entire San Francisco Bay Area, and we can help you to find what you need to know today.