The Pros and Cons of Investing In Residential Properties
Posted by Sandy Jamison on Friday, March 19, 2021 at 10:35 AM
By Sandy Jamison / March 19, 2021
Comment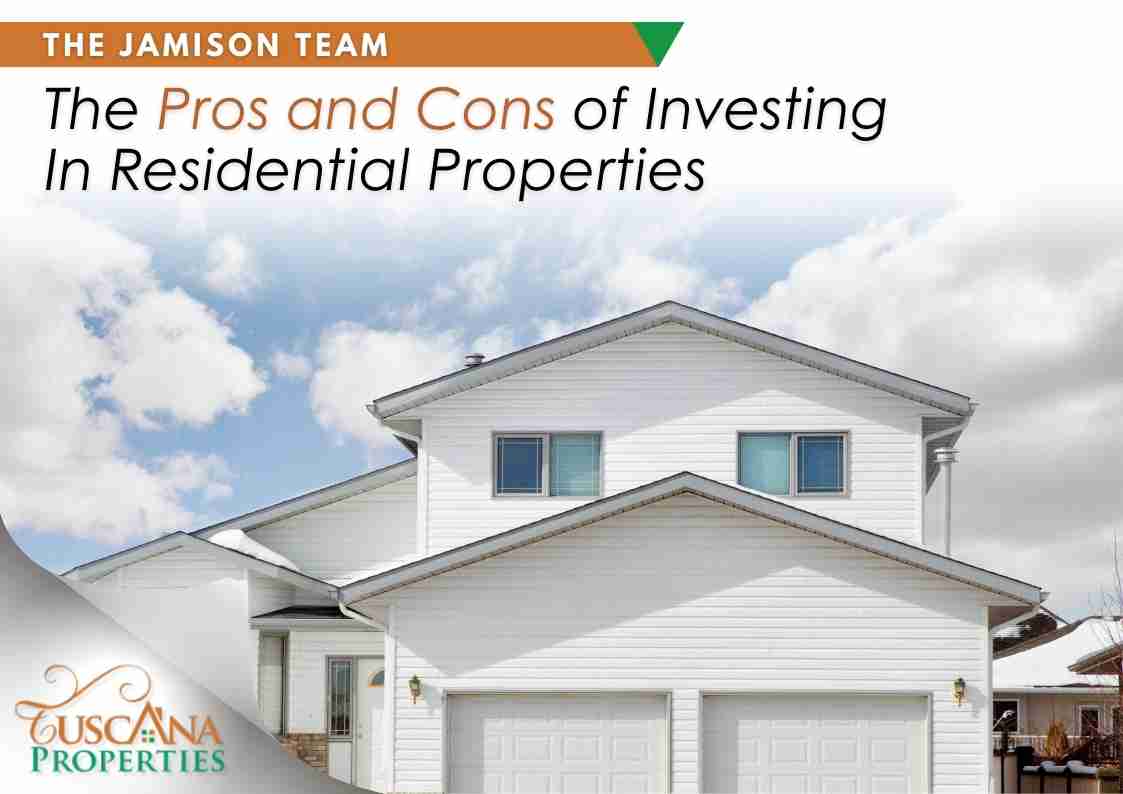 Settling for just one residential property out of all of your prospects isn't as easy as it sounds, is it? We agree and if you stick around for a minute or two, we're about to walk you through the pros and cons of both multi-family and single-family residential properties.
Multi-family Homes
Pros
1. Good Revenue
As an investor, multi-family homes have a better outlook than single-family homes since more tenants would generate more revenue, and therefore, more profitability. Of course, this would only be true if your tenants take good care of your property and pay a margin over your actual investment.
2. Financing and Insurance
Landlords who can afford a multi-family property with a mortgage loan will steer clear of a lot of stress that may be associated with owning multiple single-family homes. Speaking of which, single-family homes require multiple insurance policies whereas multi-family homes can be covered with a single insurance policy.
3. Low Risk
It goes without saying that a multi-family home is a better alternative to single-family homes because they have a lower risk of complete vacancy. Each unit you invest in will deal with multiple tenants and therefore, it shouldn't be a problem for you to maintain a positive cash flow or to find tenants for vacancies.
Related Topic That You Might Want To Read: "Learn How to Avoid Those Annoying Calls From Tenants"
Cons
1. High Initial Investment
Typically, multi-family homes have higher upfront costs because they offer more room for tenants. This initial investment is possibly the biggest barrier to entry for most residential property investors.
2. Requires More Experience
Most landlords who invest in multi-family homes are quite experienced in managing residential properties. Of course, you can always hire a property manager to share your burden and streamline all of these challenges for you. Without a property manager, you may have to gain enough experience with single-family homes to be on par with your competition.
3. Low Availability
Multi-family homes aren't as widely available as single-family homes. In other words, you may have to spend a lot of time searching for the perfect investment opportunity.
4. Strict Regulations
Most multi-family homes tend to have very strict regulations and before you finalize your decision, it is highly recommended to browse through the laws and regulations concerning that particular neighborhood or state.
Related Topic That You Might Want To Read: "2021 Data Reveals What Renters Want When It Comes to Leasing"
Single-Family Homes
Pros
1. Low Tenant Turnover
Ideally, real estate investors search for high-demand properties because longer leases guarantee annual returns on investment. This is a significant advantage for single-family homes because most families prefer to stay in rental properties for at least one year.
2. Maintains Resale Value
The best residential properties are comprised of those that don't depreciate over time. If this is what you came looking for, the majority of single-family homes are located in well-maintained and high-demand areas, all of which have a high resale value.
3. Low Costs
Single-family homes impose a smaller burden on your bank account because they cater to small families and all you need to do is look for tenants that can take good care of your investment. An added benefit here is that single-family homes have lesser tax regulations as compared to other residential properties.
Cons
1. HOA Fees
Depending on which neighborhood your rental property is located in, you may be liable to pay a monthly fee to the Homeowner Association (HOA). To avoid uncertainty, make sure whether this applies to your residential property's neighborhood.
2. ROI Directly Proportional to Vacancies
Single-family homes are required to be vacated as soon as their lease comes to an end. In contrast, multi-family homes guarantee multiple sources of income for landlords.
Related Topic That You Might Want To Read: "Getting Your Home Ready to Rent Out to Vacationers"
Still Can't Make a Decision?
Hire a reliable property manager to secure your investment. Property managers can help you with anything from property maintenance to timely rent collection and solving tenant disputes. Contact us to find out more about how we can make your life easier.