The First Things You Should Do After Moving Into Your New Home
Posted by Sandy Jamison on Tuesday, July 5, 2022 at 11:00 AM
By Sandy Jamison / July 5, 2022
Comment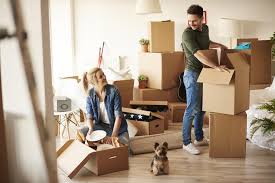 If you're like most people, moving into a new home is an exciting but stressful time. Whether you're moving for work or a fresh start, there are many things to work out to make things go smoothly. There are so many things to think about and do that it's hard to know where to start. But don't worry, we're here to help. Here are the first things you should do after moving into your new home:
Ease Logistics Through Pre-planning
When you've secured your home lease or purchase before the move, you can begin planning for all the little details you'll need to adjust for your transition. Start with a checklist of things to get done before moving into the new home.
Car Shipping or Transport
If the move is long-distance, or you have more than one car, it may be most straightforward and cost-effective to ship your vehicle to your new destination. You can partner this step with organizing the moving company so that you'll have access to the car and your belongings when you arrive at the new home.
Transfer Utilities
If you're moving to the same region, you'll need to transfer utilities. You can call the utility company and have them set up that transfer for the day you'll be moving into the new home, rather than the packing and driving time. If you're moving farther away, call your current utility companies to cancel services for the day you leave. Also, call the new utility company to set up new services for the day you arrive.
Change Your Address At The Postal Office
You can set up your address shift to only start forwarding after you've moved, or you can update your address and move your mail to the new home now. Whichever way you choose, you'll want to ensure the paperwork gets filed.
Update Your Personal Infromation With Health Services
Your insurance may ask you to change offices if you're moving out of the provider's region. It's better to have this updated before you move so you can have coverage if you get injured in the move.
School Enrollment or Updated Information
School enrollment has a lot of paperwork that takes time to process. If you have students moving to a different school, get started on this process as soon as you know your new address. You'll also have quicker access to school communities for your students to start making new friends.
Change Your Address With The Department of Motor Vehicles
In most states, you have 30 days to update your address with the DMV. Still, many people have issues updating other information for medical offices, banks, and such if their address is out of date. The DMV isn't known for moving quickly, so the sooner you can start this process, the better it'll be for a smooth transition.
Putting Down Roots
Get to Know Your New Community
One of the best ways to do this is by attending local events and meeting your neighbors. This will help you feel more connected to your new surroundings and make the transition smoother.
Explore your new city, eat at local diners you didn't have in your previous location, and ask the waitstaff for their recommendations. Visit the library and the farmer's markets. Take some time to get a feel for your new home community, and building new friendships will come naturally. Building into your community is the first of many steps to building a healthy home.
If you've got kids at home still, reach out to youth organizations that can help them adjust and make new friends. Cub Scouts, Boy Scouts, Girl Scouts, athletic programs, Boys and Girls Clubs, and special interest projects will help them make new connections.
Unpack and settle in
When packing up the old house, keep a box for the family of daily use items you won't want to lose in a box somewhere along the way. This could include medications, comfort items, hygiene kits, toilet paper, paper towels, paper plates, and disposable flatware.
Having these things readily accessible when you arrive in your new home will prevent the scramble or emergency trip to the store on your first day. You'll also feel less rushed to unpack everything at once, easing some common feelings of overwhelm. Of course, you'll want to take some time to unpack and make your new home feel like your own.
But don't also forget to take some time to relax and enjoy your new surroundings. Suppose you've labeled your boxes clearly on the tops and sides. In that case, it'll be easier for the movers or your family to unload each box into where it should go, so you can unpack as energy and time allow.
Find the closest resources for your essentials
Look up the closest grocery store, barber shop, coffee shop, and pizza place that delivers. If you thrive on routine, spend some time early to discover your new favorite places to fulfill those routine stops.
Moving with Pets
If you're moving with pets, ensure they are up to date on their shots and that you have copies of their records. If you'll need to find a new veterinarian in your area, ask your current one for a recommendation or two.
Pack a bag for each pet that includes everything they'll need for the first few days in their new home - food, bowls, toys, treats, bedding, and any medications they take—having everything prepared will make the transition easier on them and help them avoid any stressful situations. We hope these tips help you settle into your new home quickly and easily. Welcome to the community!