The Benefits of Collecting Online Rent Payments
Posted by Sandy Jamison on Wednesday, October 13, 2021 at 9:47 AM
By Sandy Jamison / October 13, 2021
Comment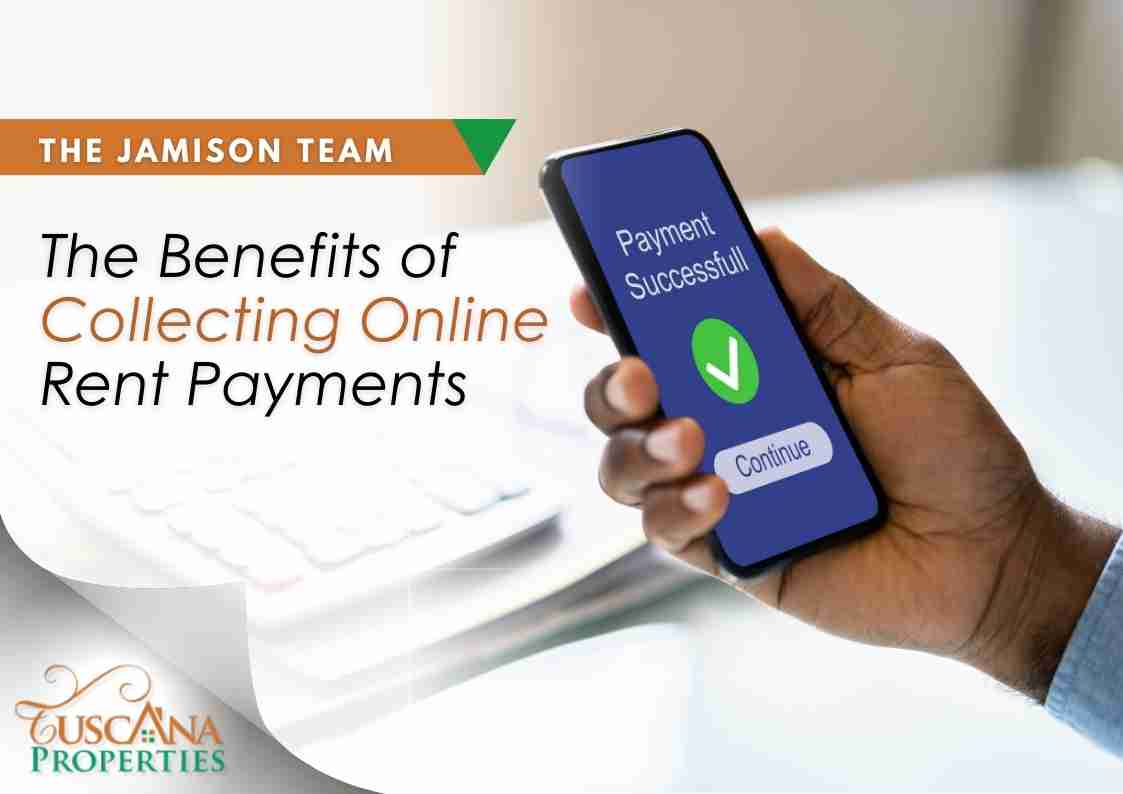 Aside from taking care of tenants, one of the primary goals of a landlord is to collect rent. After all, this is how it keeps them in business. But this is one of the most challenging aspects of being a landlord. There is a large delinquency rate associated with rental payments, and some tenants avoid it altogether - leading to evictions. While there are valid reasons why a tenant may not pay in full or on time, landlords can take steps to encourage it. One way is to collect online rental payments. Tenants value quick, convenient payment options. Here are some of the main benefits of collecting online rent payments.
Saves Time
The biggest advantage of online payments is that it saves time. This is true for both tenant and landlord (or the property manager). You save time on administrative tasks when tenants have the option to pay online. This reduces the overall workload that you or your property manager has to do when collecting payments. For example, you won't have to spend so much time creating an invoice and mailing it when tenants can sign up for online billing. It also saves your tenant their time. They don't have to write a check, go out to buy a stamp and mail the bill, or wait for the property manager to show up for the payment.
Online Payment is Secure
The biggest benefit of collecting online rent is that it is more secure than paper checks. There is always the risk of mail falling into the wrong hands - which could lead to a case of identity theft and fraud. Online payments are fully encrypted, so no one - except you and the tenant - knows the details.
Your tenants can make the payments via a mobile app, and all the financial information will be kept secure. Some of the best collection methods include:
⦁ E-Check
⦁ Credit and debit card
⦁ Direct deposit in bank account (online)
⦁ Transfer apps such as PayPal, Apple Pay, and Venmo
Timely Payment Reminders
You can set your rent collection app to send automatic payment reminders. These notifications can lower the rate of delinquency among tenants (simply because they can be forgetful). Payment reminders urge tenants to be responsible with their rent payments. After all, it isn't uncommon for life circumstances to make a tenant forgetful of their financial obligations.
Scheduling Automatic Recurring Payments
This can be a game-changer. Your tenant can set up automatic recurring payments to ensure they will not miss a rental payment due to forgetfulness. The hustle and bustle of life can get in the way of bills. Getting rental payments into your bank account removes the stressful work associated with accounting. For example, manually recording payments, driving to the rental property to pick up the payments, and depositing them to your bank account. Everything is automated and the redundant tasks, as outlined above, will no longer be required.
Payment is Instantaneous
Online payment is instantly fast - nothing even comes close, except for the speed of light. You get access to abundant cash flow, and all the verification of the payment is done on your behalf by the bank. Besides, handling cash is burdensome, and you have to worry about transporting large sums of money to deposit at the bank.
Improves the Relationship with Tenants
Money is the big elephant in the room - it has a way of souring relationships. But when you deal with a faceless computer screen to process payments (both sending and receiving), you avoid potential conflict. Everything is done online and the bank verifies. There's no risk of fraud and mistakes. It's easy to track your tenants' payment history. The end result is that it improves your relationship with the tenant and everyone walks out of the deal with a huge smile on their face.

If you haven't hired a property manager already, learn more about our services and how an experienced property manager can make rent collection so much easier.
More Questions? Follow-up With Us!
If you have more questions about what to expect from the markets around the Bay Area, don't be afraid to reach out to us today. Our experts are experienced in all property types and the entire San Francisco Bay Area, and we can help you to find what you need to know today.