The 6 Professionals You Need to Put Together the Home of Your Dreams
Posted by Sandy Jamison on Monday, February 7, 2022 at 2:08 AM
By Sandy Jamison / February 7, 2022
Comment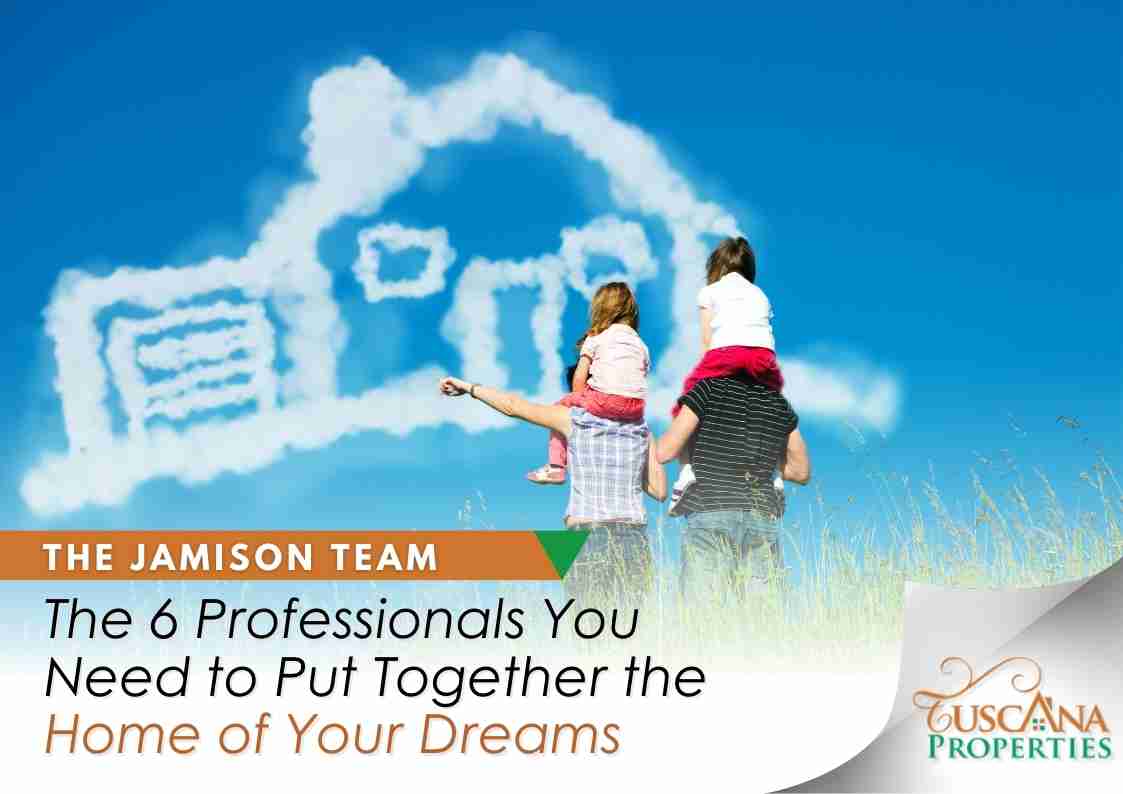 Moving into a home of your own is a big step forward that brings about exciting opportunities. It's a major investment in your future that symbolizes a trajectory forward on a certain path, whether that's with a significant other or an entire family. If you've found that cookie-cutter homes aren't exactly your style, you may have opted to build one from scratch. Having a custom home built is one of the best ways to ensure you have everything you've ever dreamed about in a home. Admittedly, you can't pull this endeavor off alone, and there are some experts you can look to for help along the way. Here are the six professionals you'll need to build the home of your dreams.
Real Estate Agent
Even though you're not interested in buying a resale home, it's still important to hire a real estate agent like The Jamison Team of Tuscana Properties. These professionals will help you with the selling of your current home and can even represent you when searching for land for your custom home. Make sure you find a real estate agent who has experience with building from scratch as this area is much different than the standard resale market.
Before landing on a particular real estate agent, don't hesitate to ask some pressing questions about their experience. You should specify the questions in relation to your area. For example, "How many transactions have you handled in my target area?" It's also important to ask questions about their pricing and about any partners they work with in the process.
Builder
Since you're looking to build the home of your dreams, you want an expert team that can make your vision a reality. When you work with a professional home-building service, you get the whole package. From preliminary planning to building from the ground up to design services, it helps to have a team you can count on from start to finish.
Architect
Your contractor will put all the pieces together, but an architect is the key person you need in designing your home from the inside out. While many people choose to work with an architecture firm, you can also look to freelancers. The right candidate will be able to see your vision and replicate it to a T with an architectural rendering -- the roadmap of what your home will look like.
Inspector
Home inspectors are like the talent show judges of the real estate market. They're the only people who can give you a thorough and professional opinion on the state of a particular property without having any biases. Real estate agents, contractors, and other positions may offer a skewed analysis of a home. Inspectors, on the other hand, are paid to be impartial. They're the most reliable party for determining the condition of a home.
You'll need an inspector to figure out the quality of your current home to help determine it's selling potential. But you'll also need to use an inspector when purchasing a custom home. Even if you're building from scratch, an inspector can help determine whether the final product is worthy of a move-in. It's handy to have an unbiased party involved in the process of building your dream home.
Landscaper
With a general contractor, the inside of your home will be taken care of, but you still need to worry about the outside. There's a good chance your vision of a dream home includes some ideas about your yard, front and back. A landscaper is the best professional to tackle this job. Whether you want a fountain in the back or flowers in the front, they'll be able to give your dream home an amazing yard.
Lender
You'll still need someone taking care of the financial logistics. To fulfill this role, you need to find a lender with whom you feel comfortable discussing financial matters. Don't be afraid to try out different banks and professionals to find one that will offer you the best loans and one whose vision gels with your own. Lenders are an important part of the process because they'll provide the funds needed to build your dream home.
Keep Everyone Organized
Once you've assembled your team, it's important that everyone understands what's happening — and when. With so many moving parts, one slip-up can cause a setback, which can quickly derail your budget. Create a monthly planner using a template that's designed for ease of use and collaboration. That way, team members can leave notes and provide updates regarding their specific part of the project.
You don't have to settle for the standard look of cookie-cutter homes. It's possible to have the home of your dreams built from scratch for a similar cost. The key ingredient is the right team of professionals who can execute this plan.
More Questions? Follow-up With Us!
If you have more questions about what to expect from the markets around the Bay Area, don't be afraid to reach out to us today. Our experts are experienced in all property types and the entire San Francisco Bay Area, and we can help you to find what you need to know today.