Santana Row: The Best Urban Living in San Jose
Posted by Sandy Jamison on Saturday, August 26, 2023 at 2:27 PM
By Sandy Jamison / August 26, 2023
Comment
Shopping, upscale residential options, live music, and a selection of events.
That's Santana Row. It's an unashamedly upscale shopping district with a selection of apartments and homes to match the area's prestige. There's even a Tesla garage on The Row, among over 50 brand-name shops, 30 restaurants, and a theater.
Even though Santana Row is in West San Jose, California, it has distinctly European styling in many places. The apartments above retail stores have Parisian-style balconies and the palette in Santana Row is full of pastels and creams. Perfectly maintained palm trees and manicured gardens line the entire area.
There's even a giant chess set.
Living here is like living downtown, without overly urban surroundings. You get the nightlife, the restaurants, and the lifestyle, without skyscrapers or traffic.
Enough small talk; let's talk about Santana Row from a homebuyer's point of view.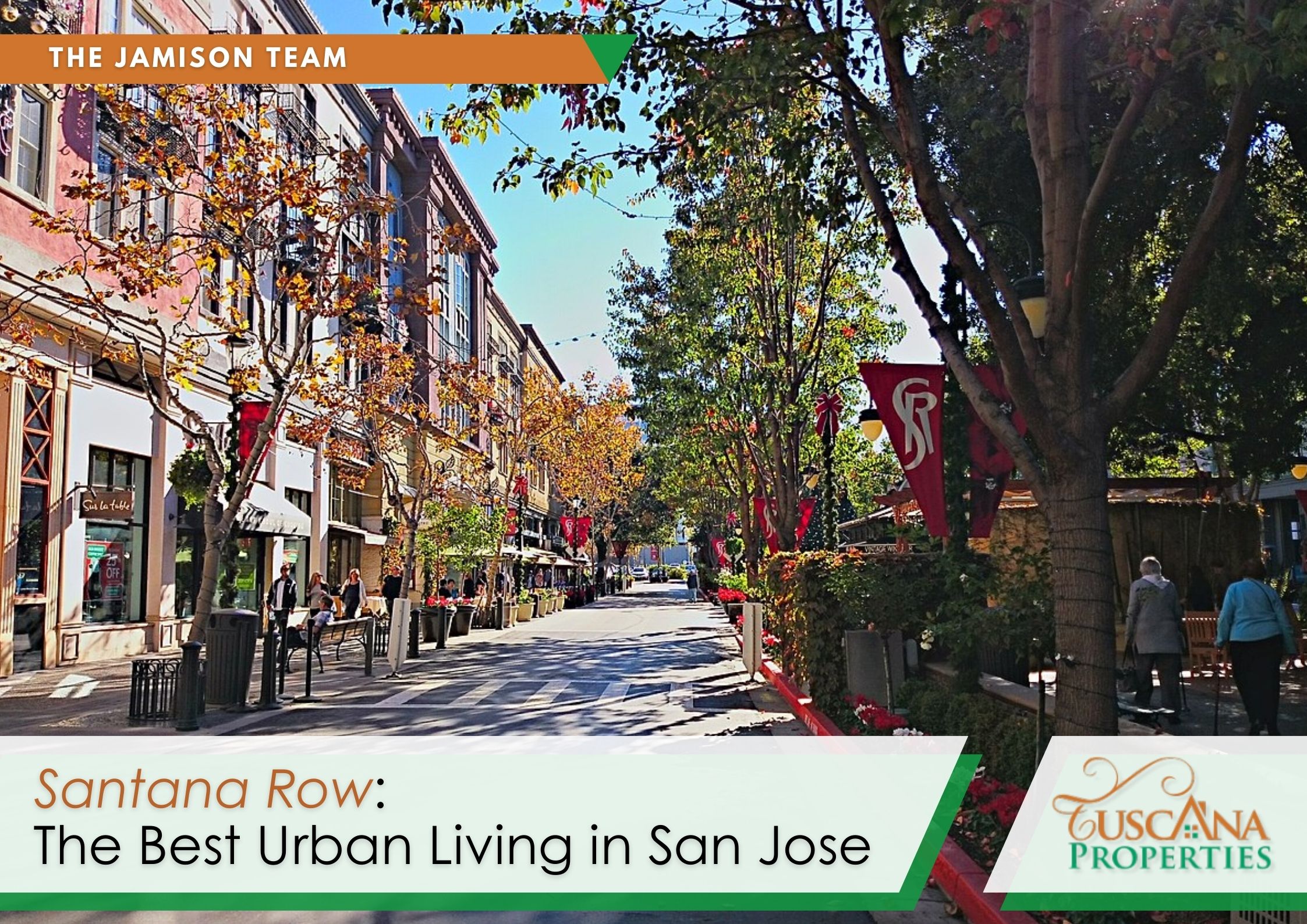 Santana Row in the perfect light - Via Payton Chung
What's a Day in Santana Row Like?
If you live in Santana Row (and you're lucky), you might wake up to the smell of fresh baking from Cocola. This patisserie is a wonderful spot for coffee and light breakfasts or lunches. If you live here, you'll get to tell the staff you want "the usual", which is a milestone for most of us.
Everything you would usually drive to - is on your doorstep. One of the best things about Santana Row is how easy it is to stroll from one place to another. Fitness studios, restaurants, clothing stores, and cafes are all so close that walking is the best option. In the weather of West San Jose, that isn't a bad thing.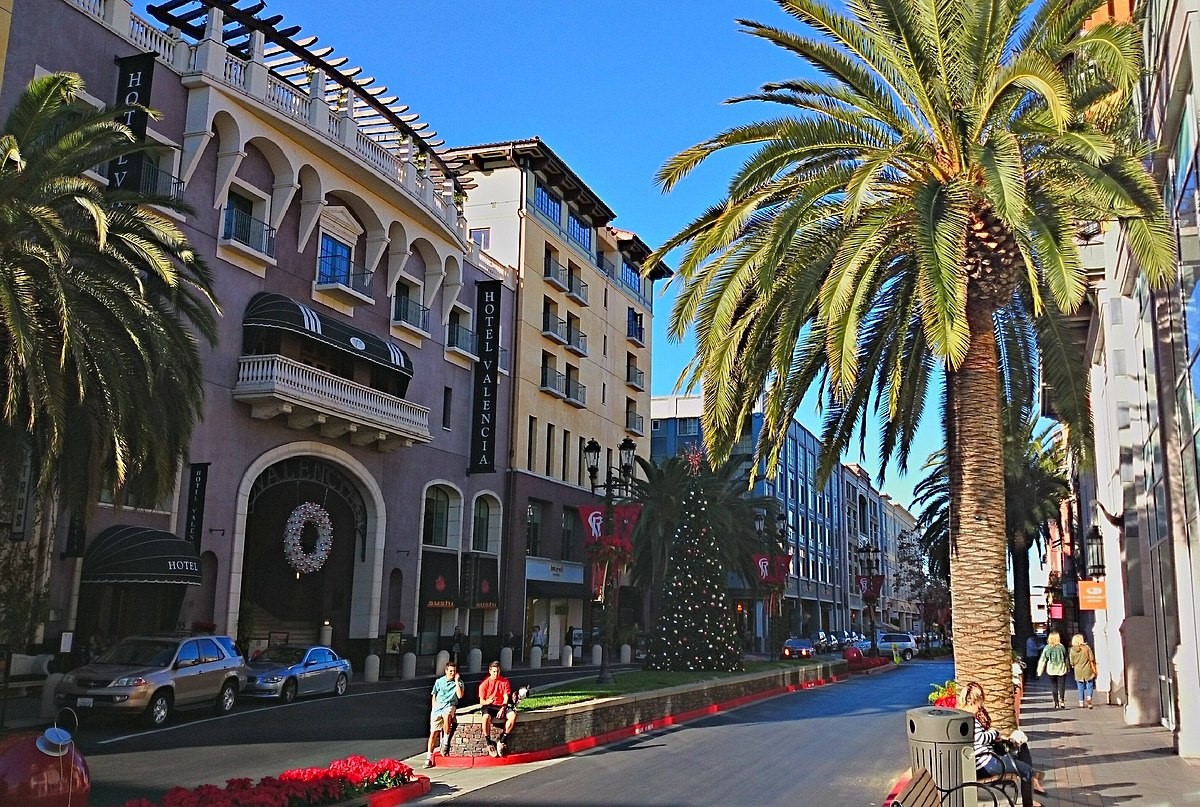 There's a unique charm on Santana Row - Via Payton Chung
Along Santana Row, retail is usually on the lower floors and residential on the upper floors.
Most of the apparel shopping is upscale, including Lululemon, Sephora, Arc'teryx, Scotch & Soda, Franco Uomo custom suits, and dozens of other stores.
If you would rather eat than flick through racks of clothing, Santana Row is the best place to be in West San Jose. There are Asian cuisines, like Ozumo and Straits, plus some sweeter options like Sugarfina. Santana Row has a few Mexican eateries as well, like Zazil or El Jardin.
Options in Santana Row for Homebuyers
Santana Row is a very small area, so there are not as many options as there are in San Jose's nearby communities. Buyers have to move quickly and make offers on homes in this very competitive market.
Rentals are available as well if you'd rather not buy at this time.
At any given time, there might only be a handful of properties on the market.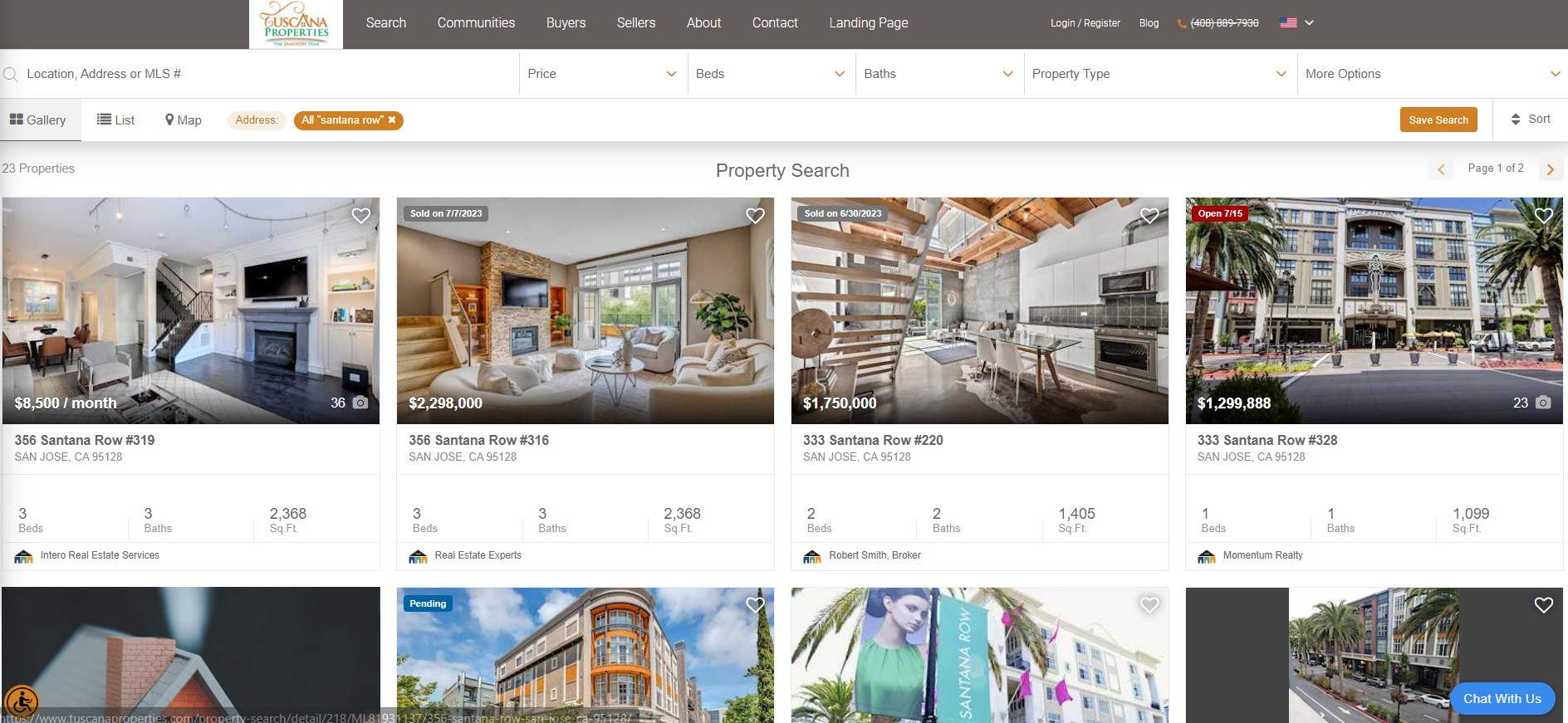 We've got rentals and properties for sale on Santana Row
It's possible to find beautiful apartments on Santana Row for anywhere between $700,000 and over a million dollars. You can expect a brightly lit apartment with a secure front door and entry system. The windows will give you peeks at the lively streets below and the Santa Cruz Mountains in the distance.
It's possible to find single-family homes and condominiums nearby, but usually not on Santana Row itself.
Curious about your options and having trouble finding what you want? Our realtors can tell you about Santana Row property options quickly - because it's our local area.
Our Final Notes About Living on Santana Row
Santana Row is part of West San Jose, so living there gives residents access to everything they need. For families, there are highly-rated schools for all ages of students nearby. In terms of healthcare, Santana Row has its own small hospital called Satellite Patient Access.
Apartments and other types of properties on Santana Row come and go fairly quickly. You might not see the property you fall in love with right away, but stay tuned into the market. Letting a realtor know that you are interested in Santana Row, they can notify you as soon as they hit the market.
If you have any questions about Santana Row or great properties in the area, get in touch with The Jamison Team. Our offices are close to Santana Row and we keep a close eye on the real estate transactions in the area.