San Martin Locals Love Their Homes [Here's Why]
Posted by Sandy Jamison on Thursday, June 29, 2023 at 9:20:44 AM
By Sandy Jamison / June 29, 2023
Comment
San Martin: What Lifestyle Can You Expect?
San Martin is a small community in coastal California, snuggled between Morgan Hill and Gilroy.
San Martin is technically a census-designated place (not a city), which is a U.S.-defined area for statistical purposes only.
This community is very green and connected to nature. Residential mixes with rural in a well-balanced harmony that you'll notice on arrival. There are also several ranches and equestrian centers, so don't be surprised if a horse trots past you.
Despite being so close to the epicenter of Silicon Valley, San Martin kept its small-town feel and remained largely undeveloped. It only takes 30 minutes to reach Central San Jose in ideal conditions, but it feels like a completely different world in San Martin.
Let's cover all of the best parts of San Martin.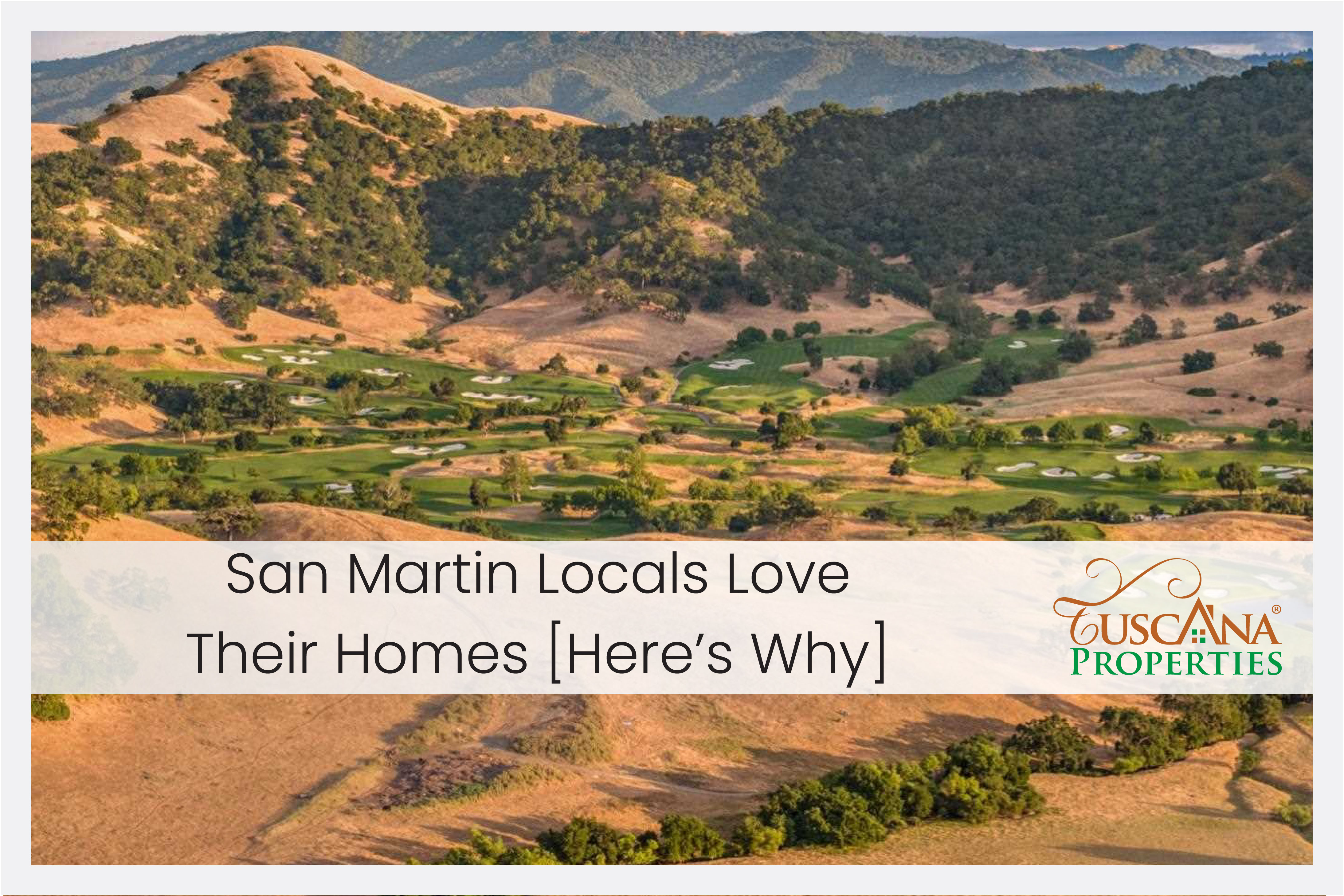 The scenery around San Martin is a driving factor for many homebuyers
Here's Why Residents Bought Homes in San Martin
You'll quickly notice the connection between agriculture and farming in San Martin. Hopefully, some of the fresh produce will make its way to your table in one of the many restaurants in the area.
Like many communities in California, the weather in San Martin is warm in the summer and mild during the winter.
Let's go over the other things that homebuyers like about San Martin.
Nature (and Golf)
San Martin has remained small and relatively underdeveloped when compared to its neighboring cities. That's not a bad thing for residents, especially families who will happily trade green scenery for concrete and glass.
Golfers will be more than satisfied with the CordeValle Golf Club, Gilroy Golf Course, or the many others in San Martin.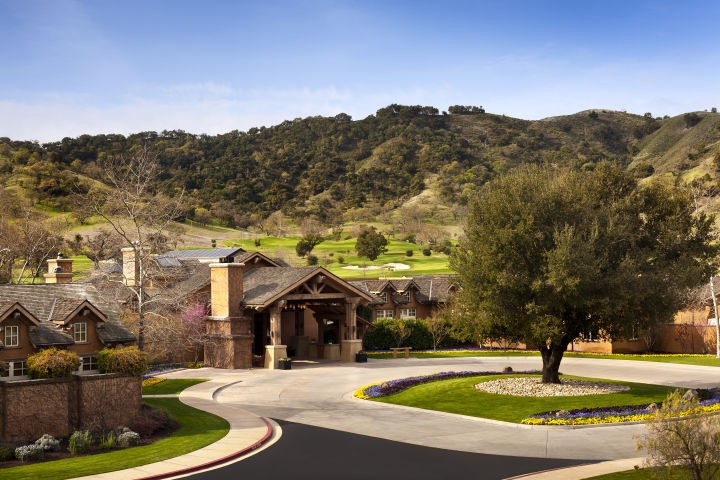 There are several golf courses in San Martin - photo via YourGolfTravel
Coyote Lake is a highlight for San Martin residents. It's a 3-mile-long lake that offers camping, picnic spots, and watersports. If waterskiing or kayaking isn't your style, try to catch some black bass, bluegill, or other fish downstream.
Locals can drive to La Selva Beach for a day trip and tan on the sandy shores (but remember your sunscreen). Surfing and swimming here are fantastic when the weather is warm.
The Coyote Lake Harvey Bear Ranch County Park has a very large name, but an even larger park space. There are over 4500 acres of grassy hills and fields for hiking, camping, picnicking, and kite-flying.
Wineries
Several wineries and vineyards call San Martin home, which is great news for residents. The main varieties are Cabernet Sauvignon, Merlot, Pinot Noir, and Chardonnay.
‌Lion Ranch Vineyards & Winery is one of the most highly rated. Their specialties are Rhône and Provence-style wines, which are pale pink and delicately fruity.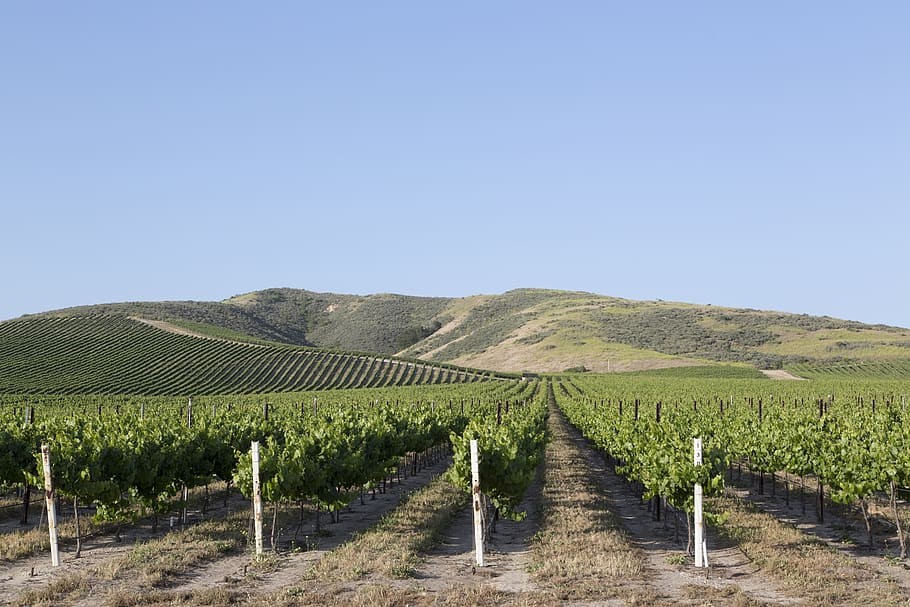 There are over a dozen wineries and vineyards in San Martin - via WPFlare
Home Prices
San Martin listings are usually large properties, often with acres of land attached to the homes. The median house price is around $1.2 million, though it fluctuates often due to the small number of properties on the market in San Martin.
We have a few gorgeous homes listed in the San Martin area, but several of the other listings are undeveloped plots of land. These could be repurposed for agricultural purposes.
San Martin has become quite a sought-after area, offering residents space and beauty in a single package.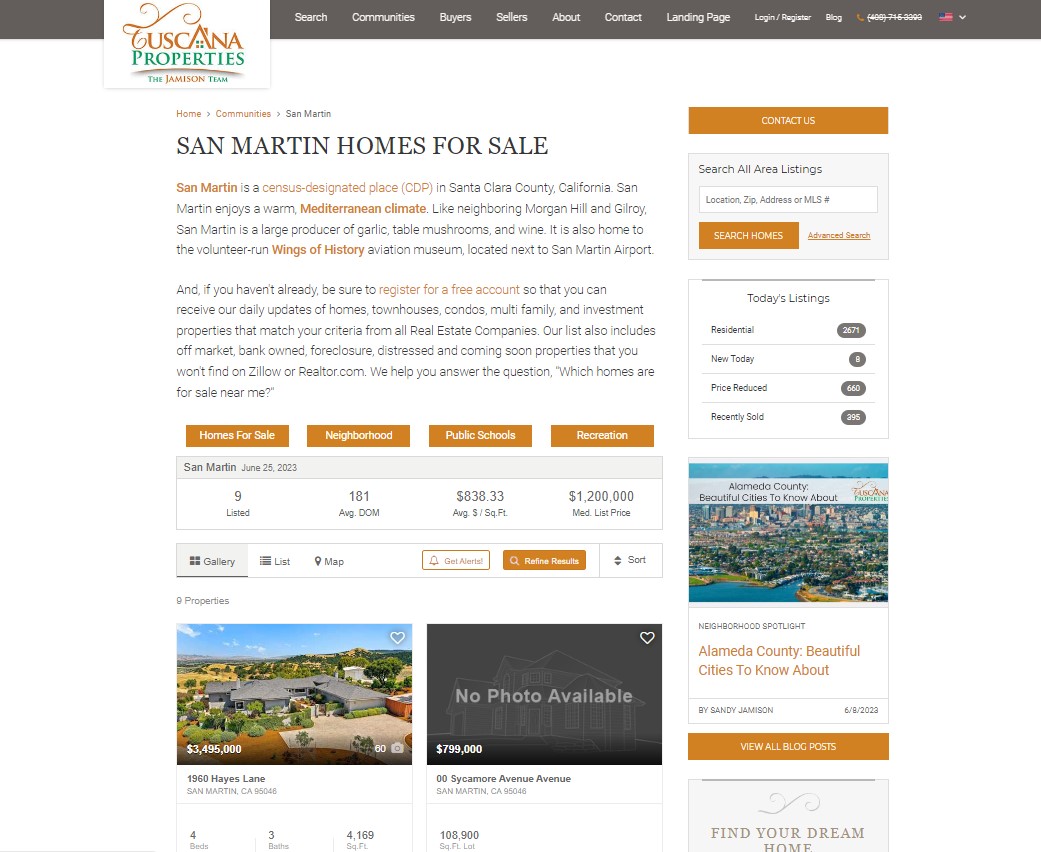 Check our listings for regularly updated properties in San Martin
Healthcare
In terms of hospitals and medical centers, San Martin has enough to support ‌residents. The area has St. Louise Regional Hospital, De Paul Urgent Care, Solv Urgent Care Center, and several other healthcare options.
San Martin also has several treatment centers for physiotherapy and chiropractic care.
There are enough healthcare and related services within San Martin to satisfy the needs of most residents. Central San Jose is not far away, so residents with more specific needs don't need to travel far.
Education
San Martin is not a large community, so there are not as many education options within the defined area. That doesn't pose a problem for most families, since areas like Gilroy and Morgan Hills offer other education options.
One of the public schools in San Martin is Gwinn Environmental Science Academy. With a focus on modern environmental science, many parents see this as a viable choice for their children.
Even though options in the area are limited, there are countless primary and elementary schools a short drive from central San Martin.
Still Curious About the Homes in San Martin?
We can answer your questions. If you have any questions about living in San Martin or you want to know what's happening in the market, get in touch with us.

The Jamison Team can guide you through the current listings and potentially show you homes that aren't on the market yet. They're also aware of market trends and reasonable home values in San Martin.