Newly Remodeled Fixer-Upper: Should You Rent It Out or Sell It?
Posted by Sandy Jamison on Thursday, September 8, 2022 at 9:08 PM
By Sandy Jamison / September 8, 2022
Comment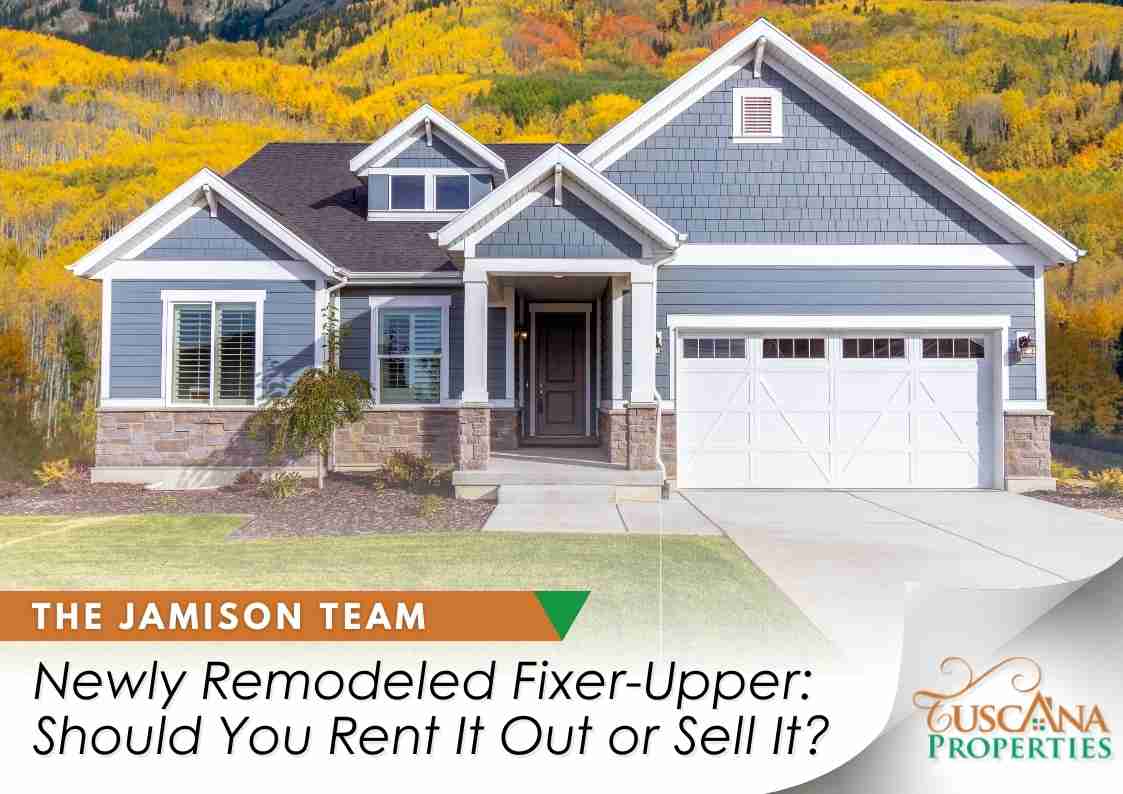 Many investors purchase and renovate "fixer-upper" homes because they are cheaper to buy and have the potential to generate a good return on investment. Other people remodel their existing homes, intending to move to another house. You can make some renovations yourself, but others may need to be done by professionals. It can be challenging to decide whether to rent a house out or sell it at times. Many factors are involved in making this decision, and it's essential to consider all of them.
How Can You Decide?
Selling your newly remodeled home and renting it out both have advantages and disadvantages. One of the first things you should do when making your decision is to research the overall economy and housing market to see what current rental income and home sale averages are in the area. You can also use a return-on-investment tool to compare the financial impact of each choice and perform a cash flow analysis for the rental option.
If you choose to rent it, be sure that you have enough cash reserves to cover vacancy periods and other financial responsibilities landlords have. You can incorporate those costs into what you charge for rent, but you also need to make that amount affordable enough to attract tenants. Both options can provide you with income, although in different ways. There's no definite right or wrong answer; many variables should be considered on a case-by-case basis.
Are You Going to Sell?
If market conditions are favorable and you decide to sell your home, select a trustworthy and competent local realtor Tuscana Properties. Their knowledge can help you set a reasonable asking price for the property.
Will You Be a Landlord?
Deciding to become a landlord doesn't necessarily mean that you have to manage your rental property yourself. You can hire a property manager to handle everyday tasks like interviewing tenants, facilitating necessary repairs, and taking care of the finances. If you choose a reliable, trustworthy property manager, you'll get the benefits of owning rental property without dealing with many of the responsibilities. If your rental agreement states that you'll be responsible for lawn care or landscaping, you can instruct your property manager to handle that for you as well.
According to state laws and statutes, landlords do have several responsibilities to their tenants, including:
Making repairs for structural issues, HVAC systems, and appliances
Complying with housing codes in providing a habitable residence
Refraining from discrimination
Abiding by eviction laws

Giving 24 hours or more notice

before entering the residence unless there's an emergency
What Finances Are Involved in Being a Landlord?
Landlords expect to receive rent from their tenants, but they are responsible for several expenses also. Lease agreements can specify who performs lawn care and regular maintenance, for instance, and the landlord can choose to include those expenses if needed when determining how much rent to charge.
Other financial obligations for landlords include:
Making necessary repairs or replacements
Hiring a property manager, landscaper, or other professionals
Marketing the rental property when looking for tenants
Mortgage payments, property taxes, and insurance
You'll likely need to resize photos and combine videos to meet upload requirements if you market your rental property on social media. You can do this by using an online picture resizer to adjust your photos instantly then uploading appropriately sized images to various social media platforms. Meanwhile, for videos, you can use a free tool online to quickly combine video clips into one file that you can then edit. All you have to do is drag and drop the clips and wait for the program to finish the process.
Have You Decided?
Selling and renting out homes are both viable options. You should consider many factors and carefully weigh the financial advantages and disadvantages of each choice before making your decision.
More Questions? Follow-up With Us!
If you have more questions about what to expect from the markets around the Bay Area, don't be afraid to reach out to us today. Our experts are experienced in all property types and the entire San Francisco Bay Area, and we can help you to find what you need to know today.