Living on Communications Hill: Condos in The Sky
Posted by Sandy Jamison on Friday, August 18, 2023 at 2:20 PM
By Sandy Jamison / August 18, 2023
Comment
Living on Communications Hill: Condos in The Sky
The entire community of Communications Hill is raised up above the surrounding land, giving locals awesome views around the area.
In terms of location, Communications Hill is in an ideal spot. Let's say you need to commute to work in Central San Jose. That's just 10 minutes away by way, which means it's within cycling distance too. Residents are also close to outdoor attractions in every direction, like golf courses, huge parks, lakes, and much more.
Communications Hill can be accessed by 4 different roads that snake their way up the grassy ridges. At the top, ‌modern condominiums come into view. This style of home is easily the most popular in Communications Hill. To make the most of the space, without overcrowding the outdoor spaces, condos were the best choice.
We're going to start by talking about the available properties. After that, we'll cover the attractions in the area, plus education and healthcare options.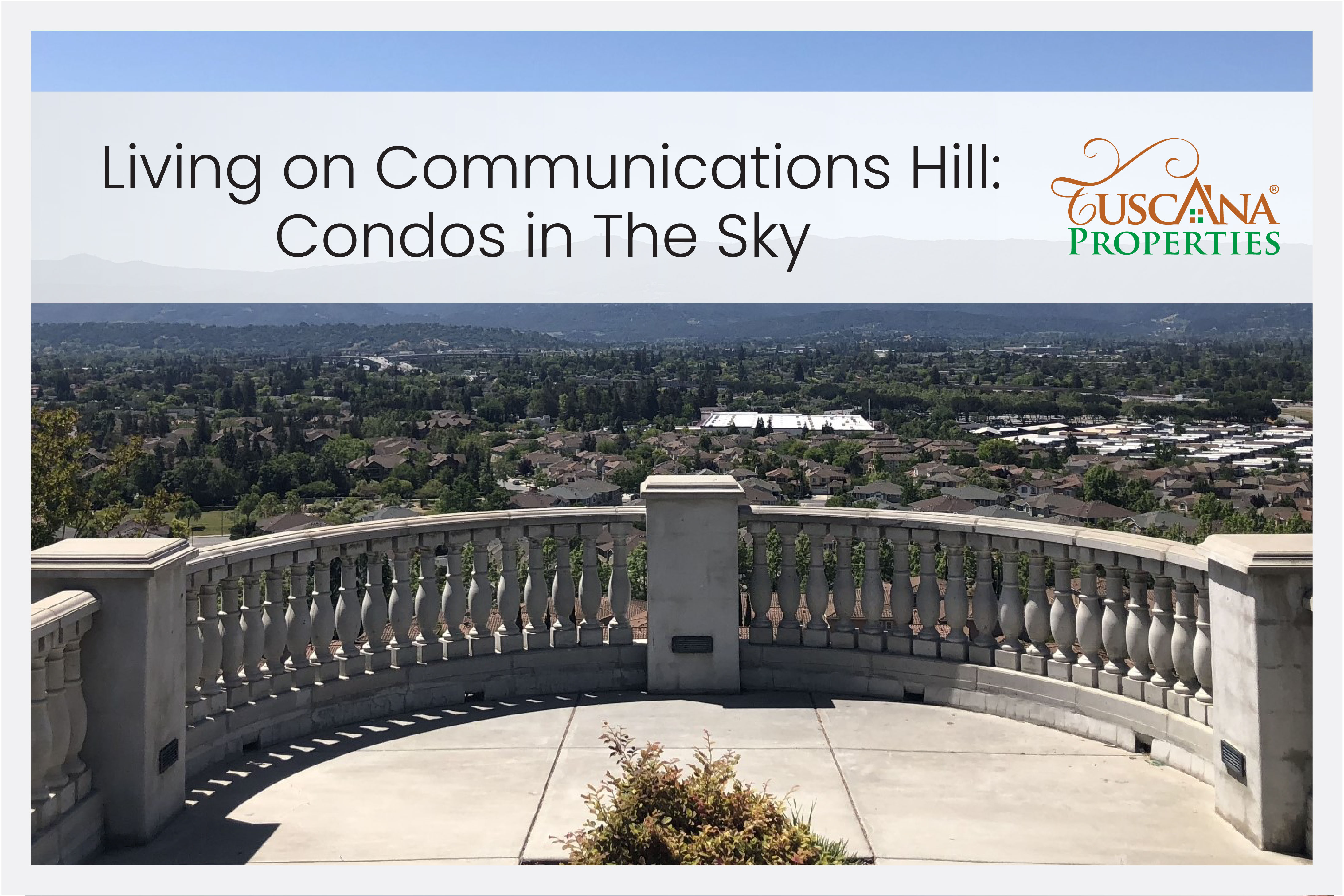 A view at midday from Communications Hill - photo via Cristiano Tomás
What's it Like Living on Communications Hill?
It might not have the most spectacular sounding name, but at least there's a real reason for it. Communications Hill gets it from the decommissioned microwave tower that used to service the area. Thankfully, the area doesn't play such a vital role in telecommunications these days.
You're not exactly in the clouds, but Communications Hill has a commanding view over the surrounding area. The hilltop isn't too wide either, so it's possible to get 360 degree views from certain homes.
There's no through-traffic that residents of this close-knit community have to worry about. Many San Jose residents come to Communications Hill during beautiful days to hang out in the parks or break a sweat on the way up.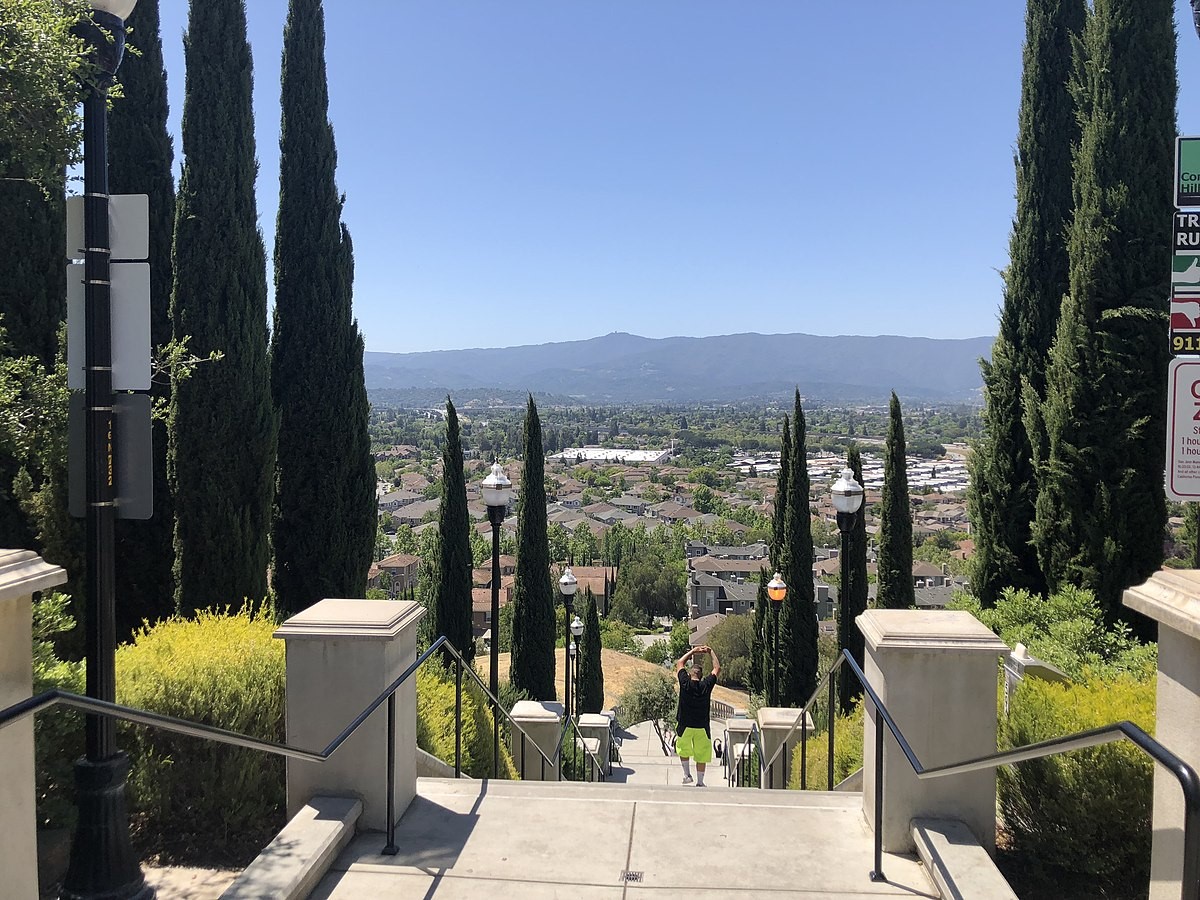 The Grand Staircase - photo via Cristiano Tomás
The Grand Staircase is one of the best ways up to the top. It would win an award for Best Staircase in San Jose, if that kind of award existed. It's gorgeous design was inspired by the Telegraph Hill staircase in San Francisco.
You'll notice some wildlife in the area, like deer and sheep. Communications Hill provides a kind of green barrier between more urbanized areas and natural habitat for these animals.
For shopping, restaurants, and other services, residents usually have to take a short trip into one of the nearby communities. There simply isn't the square footage available on Communciations Hill to support large businesses. It's almost entirely devoted to residential space.
Summary of Properties on Communications Hill
The condominiums on Communications Hill are exactly the style and size that buyers look for. Most are three-story, with different architecture from different developments.
On Tony La Rosa Place, you'll find the most modern homes, designed with classy minimalism and simple color palettes.
Many of the other condos have classic Californian architecture, with the sandstone colors that are so popular in the Bay Area.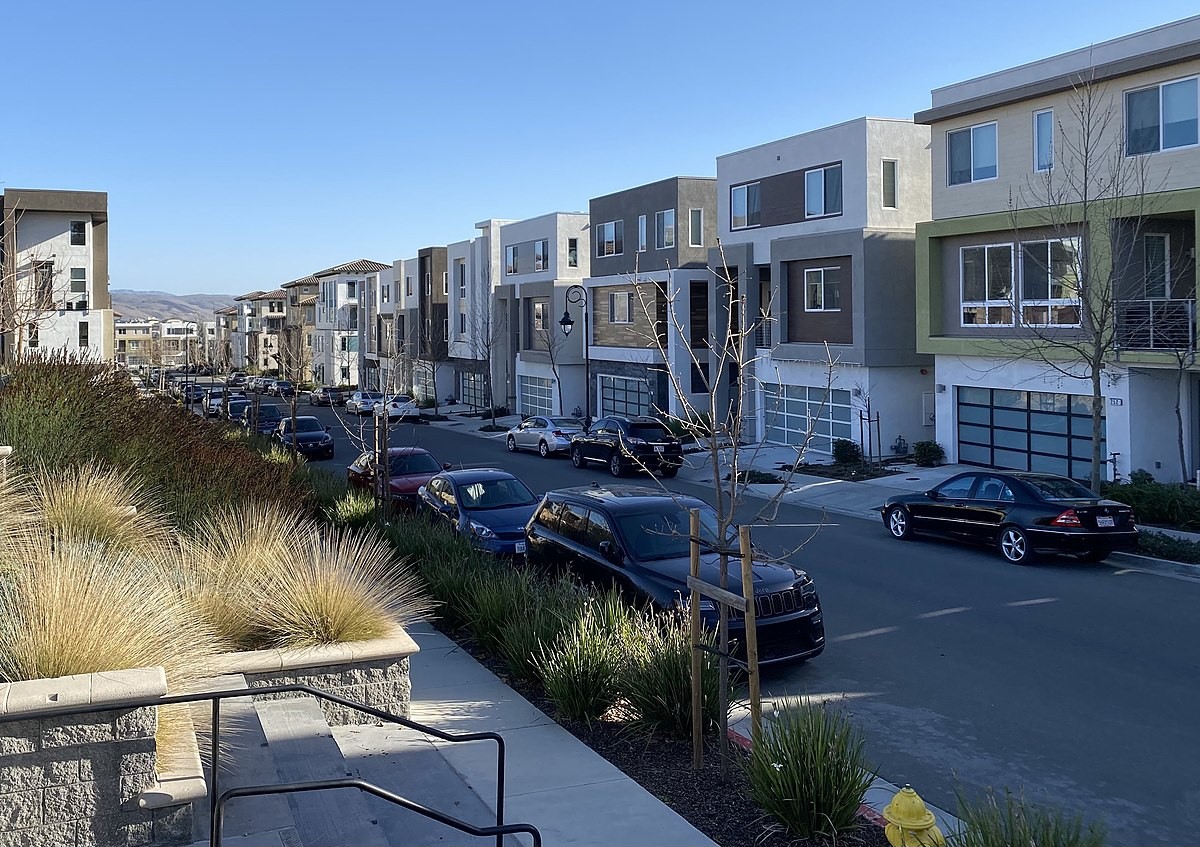 A sampling of Communications Hill condos - via Cristiano Tomás
Homes at the base of Communications Hill are more affordable, but exclusivity drives prices higher at the hilltop.
At the northernmost tip of the Communications Hill area, there's a mobile home community with extremely reasonable options.
Homes can range anywhere between half-a-million dollars to just under $2 million. This is a very dynamic market, so you should follow the listings closely.
Open houses are always happening here. You can quickly find out about upcoming open houses by sending us an email.
Education Options for Families Living on The Hill
Communications Hill doesn't have schools yet, though there is planning for a school development project in the future.
There are still a plethora of options for anybody living atop The Hill. Terrel Elementary and Shirakawa Elementary are nearby, but those are just two options. Communications Hill has access to several different elementaries and high schools within short driving distances.
San Jose State University isn't far away either and it's one of the best universities in the Bay Area.
Are There Hospitals and Clinics Nearby?
Yes, there absolutely are. Anyone living on Communications Hill can get medical attention very quickly. Silver Creek is a nearby community to the east and there are several healthcare options there, including Satellite Healthcare, Action Urgent Care, and Indian Health Center. All of these options are just a 10 minute drive from the top of Communications Hill.
Good Samaritan Medical Plaza and Kaiser Permanente Medical Center are two viable options to the south of Communications Hill. Driving there can take anywhere from 10 to 15 minutes.
Searching for Hilltop Homes?
Realtors can speed up your search for a home, whatever stage you are at. The Communications Hill market doesn't have as many options as neighboring communities, so buyers have to be watching the listings closely.
If you want answers to questions about Communications Hill and the condominiums there, connect with The Jamison Team. We've been buying and selling homes in the San Jose area since 2008, so we know the Communications Hill properties very well.