Living in Palo Alto: A Guide to Life in the Heart of Silicon Valley
Posted by Sandy Jamison on Wednesday, October 18, 2023 at 4:11 PM
By Sandy Jamison / October 18, 2023
Comment

Palo Alto is a lovely city in Silicon Valley with its own waterfront, acre upon acre of green space, and world-class education options, including Stanford University.
Roughly 70,000 residents live in Palo Alto, making it slightly larger than most cities around San Jose. Don't worry though, because Palo Alto is one of the most spacious-feeling cities too.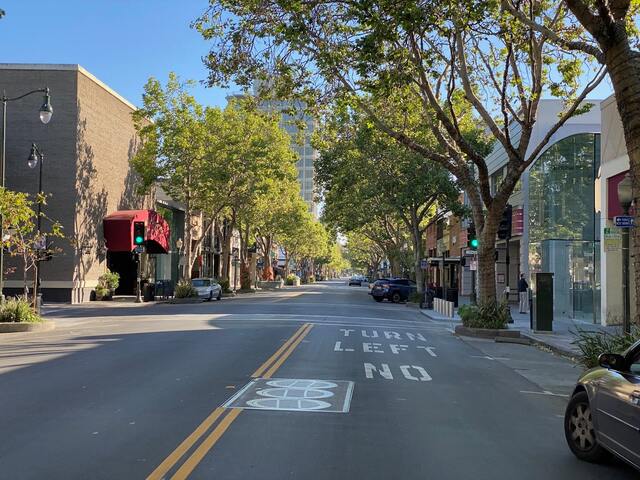 Florence Street in Palo Alto
The Start of Palo Alto (and Stanford University)
Palo Alto has become a valuable San Jose zip code with oodles of history. In the early days, Palo Alto was not much more than an 800-strong horse farm owned by Leland Stanford. A failed lawyer, yet an ambitious businessman, he was focused on improving the output of horses. He sought to boost the value of each horse by around $100, which was a significant amount of money in the 1860s and 1870s.
Using a tailor-made approach to training horses, called the Palo Alto System, Stanford hoped to create a superior product to boat profits.
He had a plan to disrupt the entire American commercial horse industry, through research, development, and shrewd business decisions. Unfortunately, when Stanford Sr. and Jr. passed away, the company ceased to operate. Before his passing, Leland Stanford founded a university in his family's name. Stanford University was created to "increase public welfare" and would go on to become the influential institution you've probably heard many times before. At the time, it was the largest campus in the United States of America.
Palo Alto has steadily built itself into a global tech hub and a vital part of Silicon Valley. Money flows into the area from around the globe, from private and government sources. During the age of the internet, Palo Alto snagged huge contracts and provided a low-tax setting for tech businesses.
With long-standing connections to reliable businesses and industries, Palo Alto's future looks bright and prosperous.
Palo Alto Cost of Living
In a city like Palo Alto, the economy is generally very strong. This, coupled with its proximity to central Silicon Valley, is bound to raise the cost of living. The average household income for families living in Palo Alto is usually above $160,000.
Properties in Palo Alto include residential and commercial real estate. We show several properties, mostly priced on either side of $1 million, but not far from it.
If you're thinking about coming to live in Palo Alto, we can help you move for free and guarantee your new home's happiness for 18 months. If you're curious about it, read more about our Buyer Satisfaction Guarantee right here.
Outdoor Attractions and Fun in Palo Alto
There are dozens of small parks around Palo Alto and several much larger green spaces too.
Popular parks in Palo Alto:
Byxbee Park: This is a massive park in San Francisco Bay, with birdwatching, cycling paths, and lots of options for short and long walks.
Baylands Nature Preserve: Also in San Fran Bay, this marshland has beautiful boardwalks to watch birds from. If you don't feel like walking around the park, you can kayak from one of the jetties.
Pearson-Arastradero Preserve: This green space beside Felt Lake in the Palo Alto Hills has places for dogs, horses, and even us humans to walk. The views are spectacular from the top of the grassy hills.
The Palo Alto Hills is both a neighborhood and the start of a neverending mountain range. Because of this, it's a great choice for active families who want to come home to gorgeous views.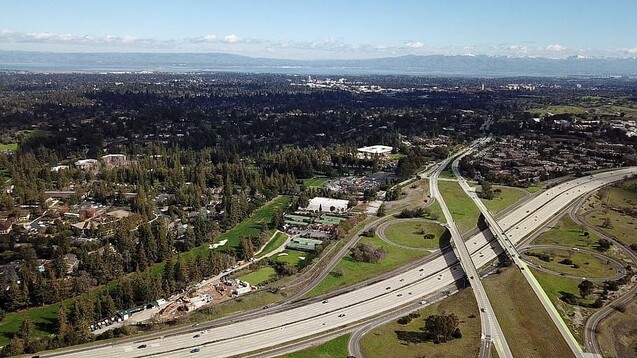 A view of Palo Alto from above
Eating and Wine Tasting in Palo Alto
Whether you just need an affordable snack for lunch or a memorable dinner, Palo Alto has tons of different options. Highly rated options are all over, including Georgian, Greek, Asian, and American cuisine.
Protégé is one of the highlights on California Ave, serving New American dishes with incredible wine from local vineyards. You'll find a few more fine dining options on the same street, like Kali Greek Kitchen and Zareens South Asian comfort food.
Some restaurants in Palo Alto are focused on wine, but you should visit the local wineries for the full experience. Neely Winery and Portola Vineyards are two of the closest, but Portola has live music on certain days, so we recommend it.
Palo Alto Education Options
Standford University is just one of the highly-rated education options for Palo Alto locals. There are twelve elementary, three middle, and two high schools in Palo Alto. With such a wide selection of schools, students of all ages are catered for.
There are public schools in Palo Alto, but also around 30 private schools. Some of the top private institutions include Stratford School, Challenger School, and Imagination Lab School.
There are a few colleges and universities in and around Palo Alto, including Stanford, Carnegie Mellon University, and Menlo College.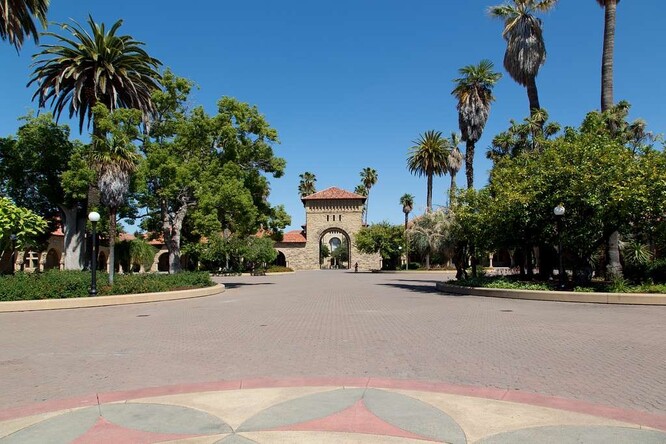 Stanford University
Healthcare Options for Palo Alto Residents
Getting medical attention, both urgent and non-urgent, is easy for residents of Palo Alto.
There are a few fully-fledged hospitals, like Stanford Healthcare and the Kaiser Permanente facility. If young ones need care, the Stanford Children's Hospital is nearby and ready to help.
For less urgent but equally important medical care, you can visit one of the many specialized doctors in Palo Alto. There's a full spread, including neurologists, pediatricians, cardiologists, and many others.
If you are planning to move to Palo Alto, you should connect with a local general practitioner.
We Guarantee Our Palo Alto Properties
Our real estate agency will guarantee your satisfaction for the first 18 months you spend in your new home. We are so confident in the quality of the homes we list, that we can make this guarantee.
So if you fall out of love with your property, we'll be able to sell it before you move, or our agency will buy the property ourselves. Get in touch with our realtors by contacting us to start browsing properties and hearing more about Palo Alto.
More Questions? Follow-up With Us!
If you have more questions about what to expect from the markets around the Bay Area, don't be afraid to reach out to us today. Our experts are experienced in all property types and the entire San Francisco Bay Area, and we can help you to find what you need to know today.