Is It Worth It To Have A Property Manager For Under Ten Rentals?
Posted by Sandy Jamison on Friday, May 19, 2023 at 6:42:38 AM
By Sandy Jamison / May 19, 2023
Comment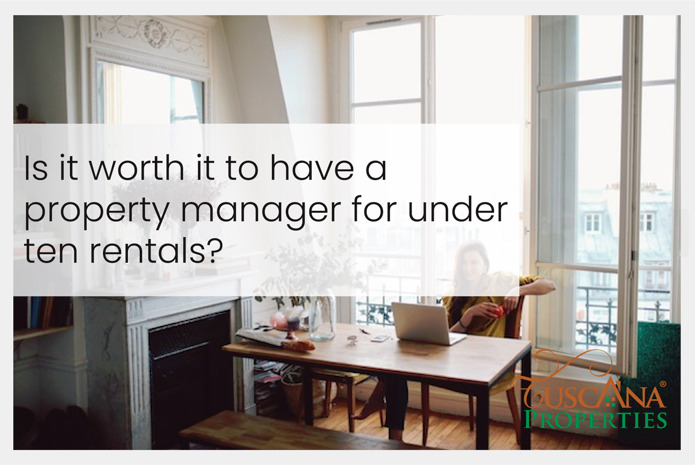 Many property investors assume that they can manage their business without the help of a professional. However, there is a reason why property management companies exist and have quite many clients.
Managing several rental properties at once gets complicated, even if you don't have a full-time job on the side. You need to keep track of tenants, property maintenance issues, rent payments, contracts, finances, data, and different dates. Although you might think that you can save money by managing on your own, you might be failing your investment.
Even if you have fewer than ten tenants, operating a business is stressful. There are legal matters, partnerships with vendors, and financial issues that should be taken into consideration. It is for you to decide whether or not it is worth investing in property management companies. However, you need to know how property managers can help you with your business first and if you can handle completing these duties on your own.
Marketing
Any business needs a smart and effective marketing strategy to attract clients. Property managers are trained professionals who research the marketing field, and various platforms, and create advertising campaigns.
Property managers are skilled professionals who have experience in creating marketing plans. These people excel in creating social media accounts, advertisements on popular property management websites, creating professional business websites, etc.
Creating a marketing plan takes a lot of time and you need to know about the psychology of your target audience. To stand out from competitors, you need to come up with fresh ideas and original advertisements. Property managers take care of hiring professional photographers, designers, web designers, etc.
Finances
As a business owner, you need to keep track of your financial assets at all times. You should always be on top of expenses and profits. You must know where each cent goes and where each cent comes from. There are maintenance costs, advertisement expenses, and taxes that you need to pay.
Property managers take care of any financial issues your business deals with. By hiring a property management company, you won't have to worry about missing details. A property manager can act as your business accountant and take care of every financial aspect.
Legal Issues
Every state has its property law. You must have a good knowledge of legal systems in your region to successfully operate a rental property business. No matter how few tenants you have, there will always be contracts and leases to sign. There may be a misunderstanding between you as a landlord and your tenant. Therefore, you will need some professional legal advice.
A property manager can help you avoid legal issues and big problems from escalating. This way, you won't have to hire an attorney and face court. A property manager can be your legal advisor and act as a median between you and the tenants. If there are any complaints from your tenants, the property manager will take care of everything in a professional manner.
If your tenants are negligent, fail to pay rent on time, bother neighbors and other tenants, etc. your property manager will take every necessary action to negotiate terms with them to avoid eviction proceedings. However, if the worst happens and eviction is unavoidable, your property manager will make sure that every legal step is taken to conduct eviction proceedings without chaos.
Maintenance
Maintenance issues are bound to arise with time no matter how well you take care of the property. You are responsible for the maintenance problems, even if your tenants have been living on the property for over a year.
Taking care of maintenance problems can be a headache. You have to find trustworthy contractors to fix damages and you have to make payments and oversee the working process.
A property manager will be able to find the best contractors on a budget. Moreover, property management companies often have partnerships with vendors. Therefore, a property manager will be quick to help you fix maintenance issues at low costs.
Conclusion
In conclusion, you have to decide whether or not you can handle all of these responsibilities on your own without the help of a property manager. You might think that you will be saving money by doing everything singlehandedly. However, you might have to spend much more money on other problems that a property manager would help you avoid. Remember that these problems will arise at some point in time even if you have fewer than 10 tenants.
More Questions? Follow-up With Us!
If you have more questions about what to expect from the markets around the Bay Area, don't be afraid to reach out to us today. Our experts are experienced in all property types and the entire San Francisco Bay Area, and we can help you to find what you need to know today.