Investing in Campbell, CA: Uncovering Real Estate Opportunities
Posted by Sandy Jamison on Wednesday, October 25, 2023 at 11:00 AM
By Sandy Jamison / October 25, 2023
Comment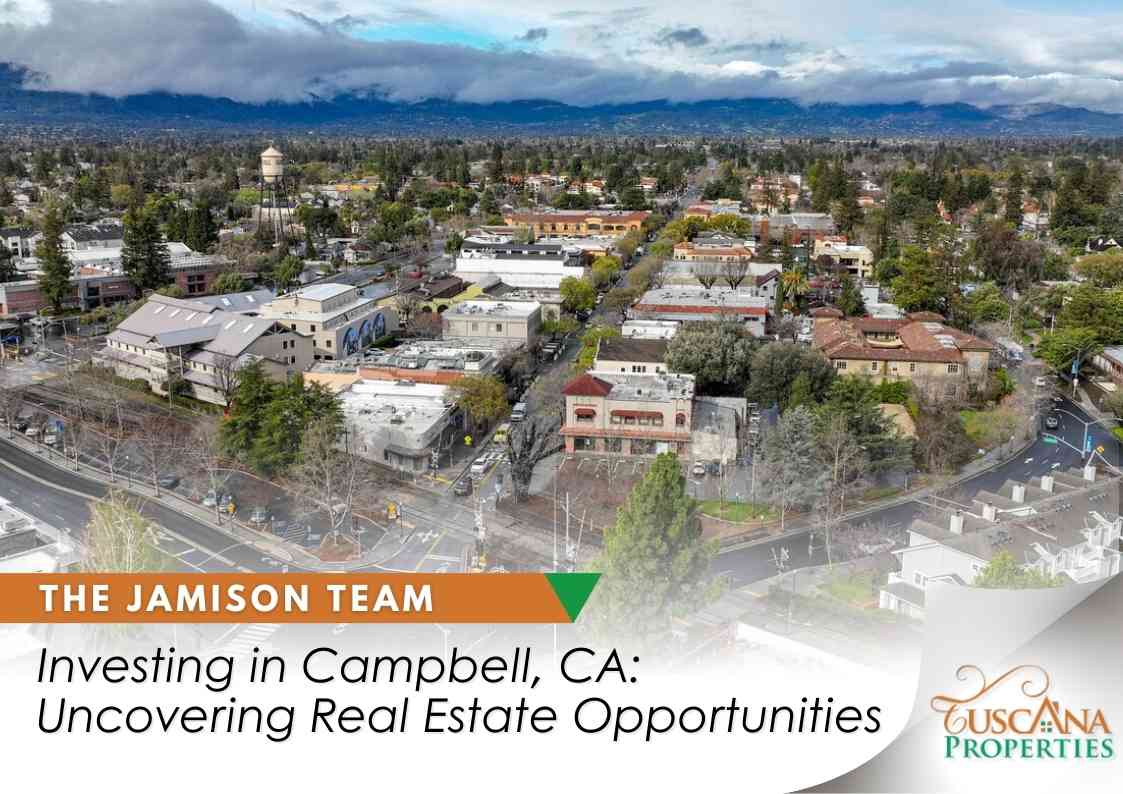 Campbell is one of the top cities in California, taking up space southwest of Central San Jose. It's part of Silicon Valley, but it's not known for being a high-tech city, even though eBay was originally located in Campbell.
Campbell is primarily filled with residential properties. The first subdivision popped up there around 1887, while the city was best known for being a shipping center for local fruits.
Whether you're moving to Campbell to live, or thinking about a real estate investment, there's a lot of research to do. This article will be your starting point, helping you navigate Campbell CA real estate and find investments.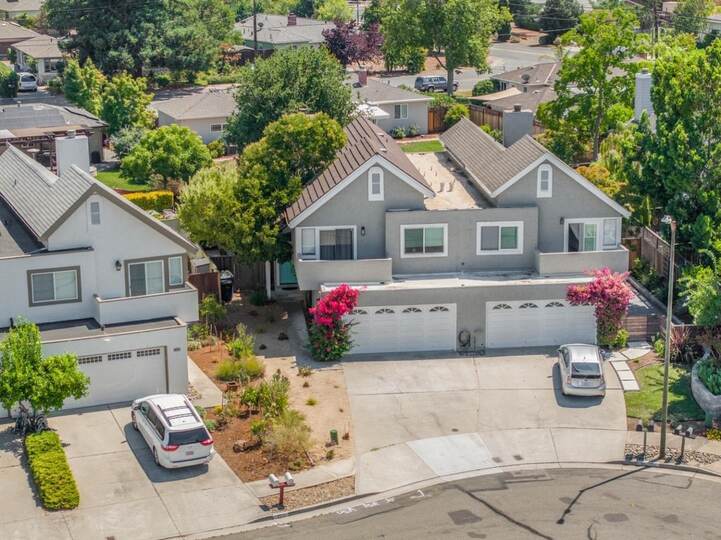 A lovely home in a very green neighborhood of Campbell CA
Summary of Campbell CA Real Estate
Local realtors will tell you themselves that Campell CA real estate isn't always the most affordable, though investors watching closely will find some gems.
By the way - if you want to learn more about living in Campbell, we've got a great article that you can read in about 5 minutes.
The Homes:
Median housing prices in Campbell are around $2 million in September 2023.
That's higher than many of the cities in Santa Clara County, so you'll have to do some shopping around if your budget is smaller. The good news is, that there's a great range of properties in Campbell.
Smaller single-family homes and condominiums can be found for well under $1 million. As far as investment potential goes, condominiums might be harder to market as rental properties, especially in the sub-million price range. That being said, most of the Campbell CA real estate listings are above $1 million.
Larger Lot Sizes:
Campbell's lot sizes are larger than more dense cities like Central San Jose. Expanding a property or updating it with add-ons can be tricky in Silicon Valley, but easier in cities like Campbell.
Commuter-Friendly:
Campbell is great for anyone working in Central San Jose, Los Gatos, or Cupertino. With a vehicle, you can reach these areas in 10-15 minutes, but public transportation will take much longer. Employees of the tech industries like Netflix and Apple will be happy with the commute.
Palo Alto and San Francisco have much longer commutes, but Campbell might still be an option for employees who don't commute often.
5 Tips for Investing in Campbell CA
1. Understand the Job Market in Campbell CA
Cities that have stable employment markets and offer careers to residents create better investments. A healthy job market means that investors are protected by a strong local economy.
The job market in Campbell CA is projected to grow by 38.7% over the next ten years. Compared to the rest of the US (33.5%), Campbell is showing great future potential in the job market.
Campbell also has a lower unemployment rate (4.8%) than the rest of the US (6.0%).
2. Monitor the Campbell CA Housing Market
The state of California is one of the most expensive housing markets in the US. Rising inflation and higher mortgage rates are making investment appear more expensive, but the regions with tech industries maintain a healthy housing market.
Attractive properties that are priced competitively can expect to sell in around 7 days, but the average property spends closer to 10 days on the market.
The price per square foot of Campbell CA real estate is down 3.5% since last year, which is good news for investors. If you're monitoring the market with your local real estate team, it may be a good time to enter the market. Homes receive multiple offers, including non-contingencies.
First-time homebuyers are finding it difficult to get into the real estate market, which could make rental properties a more attractive investment. With Campbell so close to tech centers, a rental apartment or single-family home will be attractive to commuting employees.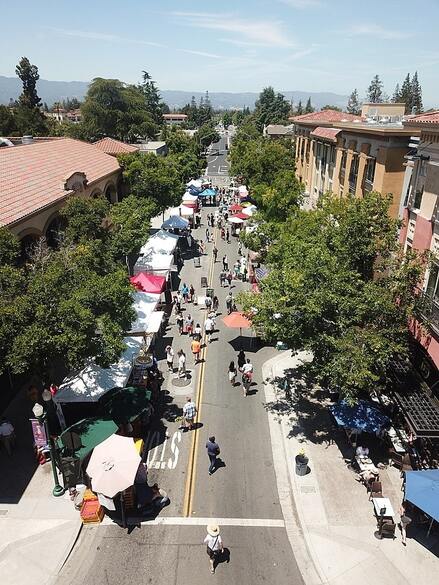 Sunday's Farmer Market in Campbell CA
3. Understand Airbnb Regulations
Without understanding how Airbnb works in the state, you could run into huge obstacles and expenses.
In California, you need to have a business license, plus a short-term rental permit to operate an Airbnb property legally. Before you get both of those things, you won't be able to list your rental property and attract clients.
There are over 600 places to stay in Campbell CA listed on Airbnb at the time of writing this article. The average price for entire homes on Airbnb is $255, with a room average of $81.
4. Be Aware of Real Estate Transaction Expenses
When you're creating a budget for a real estate investment, expect the unexpected. Don't assume that repairs on the property will be insignificant - at least not until you've had an inspection done. You'll also need to find out about closing costs, which a realtor will be happy to explain.
If you don't understand the costs behind the real estate transaction, your investment will be off to a bad start.
5. Work with a Real Estate Team to Invest
The quickest way to learn about Campbell CA real estate investing is by speaking with a local realtor.
A realtor can:
Explain the local housing market.
Give you future insights about developments and construction in Campbell.
Outline the expenses of the transaction.
Get

exclusive buyer resources

that private buyers don't get.
Help you decide between rental investment or flipping a home.
Show you communities with more investment potential.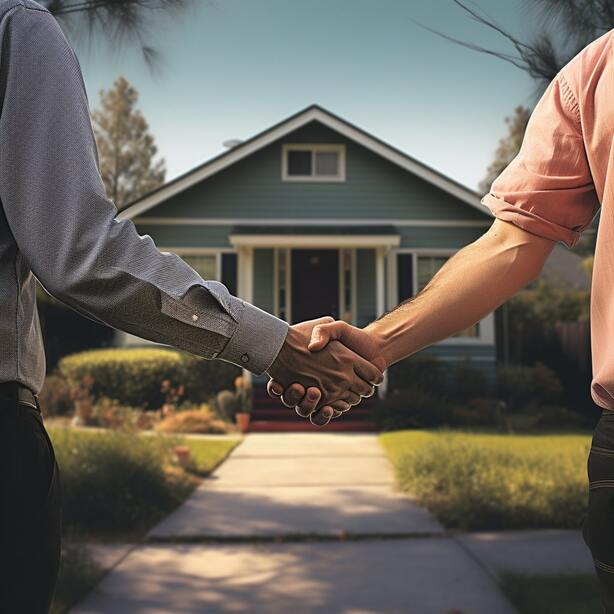 Realtors can support your investment and potentially increase your profits
The network of a realtor includes legal professionals, mortgage brokers, lenders, and even contractors to repair investment properties. They'll save you time and ensure each step of the investing process goes smoothly.
Ready to ask a realtor some questions about investing in Campbell CA real estate? fill out this form so that one of our agents can contact you at a convenient time.
More Questions? Follow-up With Us!
If you have more questions about what to expect from the markets around the Bay Area, don't be afraid to reach out to us today. Our experts are experienced in all property types and the entire San Francisco Bay Area, and we can help you to find what you need to know today.