Important Questions to Ask a Realtor When Buying a Home
Posted by Sandy Jamison on Thursday, August 19, 2021 at 2:40 PM
By Sandy Jamison / August 19, 2021
Comment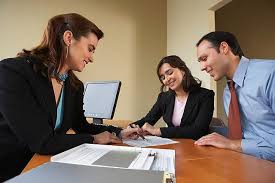 A new home is one of the biggest purchases you'll make in your life. That means you need to have your ducks in a row before you go through with purchasing a new home. A good realtor will have you covered from just about every angle, but even realtors might not think to mention certain facts and details about the home.
However, some of these details could be critically important to you as a homeowner. So, in case you want to be fully prepared and informed about a new home before buying it, here are 5 questions you need to ask your realtor.
1. What Type of Safety Features Does it Have?
Depending on who's going to be living in the home, you might want certain safety features. Interior handrails, non-slip flooring, and curved countertop edges are great for kids and elderly inhabitants.
Another aspect of safety is the materials the home is made out of. Certain fire resistant roofing materials, for instance, might be attractive to you if you're worried about a fire.
2. When and Where Has it Been Upgraded?
Most homes get upgraded in various ways throughout their lifetimes. That could mean anything from new rustic exterior window shutters to new faux hardwood floors, new countertops, new siding, and much more. You'll want to know when and where a home has been upgraded so you can know what to expect out of those areas.
"If the roof has never been replaced and the home is older than 50 years, you might end up having to get a new roof," says Jeff Guthrie of Phoenix Roofing Contractors. The same could go for flooring, lighting, and HVAC systems.
3. What's the Market Like?
Normally buyers are unconcerned with the local market, as they usually plan to live in the home for long past what anyone might be able to predict about the local market. The market can tell you more than just how much you might be able to make by selling the home, however.
If the market is poor, for instance, the neighborhood could see a decline in quality over the coming years. This will end up affecting your ability to sell for a decent price when the time comes, but also means your quality of life might not be what you thought it was going to be, as people are obviously leaving the area for a reason.
4. What are the Seller's Disclosures?
If you buy a vehicle on Facebook Marketplace, the seller isn't legally obligated to tell you everything that's wrong with the vehicle before you purchase. With homes, however, they are.
This list of problems and areas in need of repair is known as the seller's disclosures. These are things you're legally entitled to know before entering into a home purchase, so your realtor should be able to provide them to you on the spot.
5. When are the Sellers Moving?
If the sellers of a home are moving out on an indefinite timetable, this gives you and your realtor more time to investigate the home for potential problems or issues. This is a particularly useful tactic for a seemingly nice home that's been on and off the market constantly, or on the market for a prolonged period of time without a sale.
On the other hand, if the sellers are moving ASAP, you might be able to pressure them into taking a lower offer than what they're asking for. Knowing the seller's timetable for moving is a huge advantage in negotiations.
The Questions are Crucial to Ask a Realtor Before Buying a New Home
Your realtor should be like a guidebook of useful information about any home you might want to purchase. Use them as such and get the most out of yours by asking them these 5 crucial questions before you buy a new home. Doing so could save you money and prevent any hassle.

Andrea Erickson is a contributor to Innovative Building Materials. She is a blogger and content writer for the real estate industry. Andrea is focused on helping fellow homeowners, contractors, and architects discover materials and methods of construction that increase property value, maximize energy savings, and turn houses into homes.