How to Weatherproof and Protect Your Home
Posted by Sandy Jamison on Monday, November 22, 2021 at 2:46 PM
By Sandy Jamison / November 22, 2021
Comment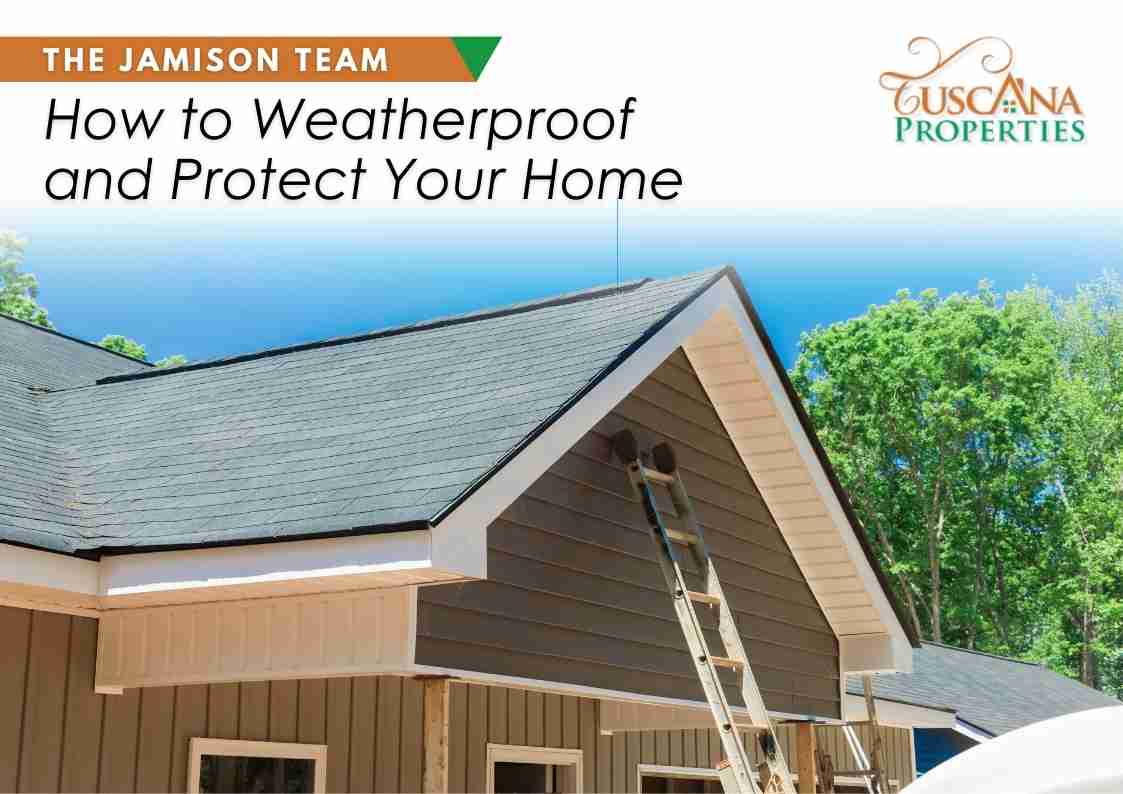 Our homes are our escapes from the outside world, yet so many people don't consider the importance of properly sealing it off. We want our properties to last as long as possible: and nothing is more hazardous to that than a bad storm.
These are the top ways to weatherproof and protect your home, and why it's so important to do so.
Seek Windows that Can Handle the Wind
Natural light has been a hot topic in home design since the moment glass started making its way into properties: so the average home now has around one window per hundred square feet. Unfortunately, this means that your property can have well over ten to fifteen windows, which each pose a threat to the safety and weatherproof qualities of your home. Check your windows to ensure they have no leaks, and seal properly, and then consider replacing them with hurricane-rated windows if you get concerned.
Waterproof Your Garage Floor
Water in our garage floors can build up quickly and either flood the possessions we store there or cause cracks and damage to the flooring itself. Consider researching how to waterproof a garage floor and looking into the options available there. Not only are there ways to stain and paint it as you go, but you can also update them to look brand new regardless of how old they are. This will aid in not only water removal but also helping your garage floor hold up against oil or anything else that may spill in it.
Ensure Your Home has Enough Insulation
How well insulated is your property? Good insulation ensures that your HVAC system will run less, there's no risk of bugs or moisture working its way through, and the interior of your home will be quieter because of the buffer between the noisy outdoors and the inside of your home. Consider what portions of your home currently have insulation, how well it's working, and if it needs to be replaced or added to any time soon.
Keep Your Property as Sealed as Possible
Although fresh air can be wonderful, it's important to know where the line is. Don't allow air to leak into your home by forgetting to use fluid-applied flashing or avoiding sealing the property properly. Anywhere that air can enter your home, so can moisture, insects, noise pollution, and dozens of other things that you don't want in your house.
Check Your Roof and Shingle Health
Our roofs go through a lot: and this is especially true during storms. Their job is to keep the weather at bay, and if they can't hold up against it, well, it's time to replace them. Although applying sealants will help with your flashing: your shingles are often nailed or stapled in and will eventually either shake loose or wear down enough that they're at risk of falling off or breaking.
Most roofs only last twenty to fifty years, so check the age of your roof, consider how soon it needs an update, and go through with it so that your home can stay as new-looking and healthy as possible.
Pay Attention to Cracks or Lines in Concrete or Cement
Unfortunately, cement and concrete can crack when you live in an area where the temperatures are unpredictable. When water settles into cracks, and then the temperature drops, this can cause damages to become larger or can completely split sections of concrete or cement.
To avoid this, treat cracks, and their causes, as soon as possible. If you have a tree in your front lawn with roots that are pushing up your sidewalk or driveway, talk to a professional about either cutting back the seeds- or removing the tree altogether. These cracks can be a safety concern and should be handled as soon as possible.
Ensure Your Yard Has Somewhere for Water to Go
Water is supremely damaging to a property, whether it's flooding the front lawn or causing huge pools in your backyard: it can build enough that it either causes land slippage or floods your home. Even though we all want to ensure your properties are safe, it's also good aesthetically if you have somewhere for the water to go.
Consider creating a rain garden, which would absorb most if not all of the water, or a small swale, which will redirect the water to where you want it to go. Either of these ensures that the water won't stand freely on your property and that flooding is far less of a concern.
Protecting Our Properties Can Ensure They Last
Whether this is your first home or your tenth, you must do everything you can to protect it and ensure you're not putting your loved ones or investment at risk. By making any of these changes, you can ensure that your home stands up better against the weather and possibly handles far more storms than it would have otherwise.
Andrea Erickson is a contributor to Innovative Building Materials. She is a blogger and content writer for the real estate industry. Andrea is focused on helping fellow homeowners, contractors, and architects discover materials and methods of construction that increase property value, maximize energy savings, and turn houses into homes.
More Questions? Follow-up With Us!
If you have more questions about what to expect from the markets around the Bay Area, don't be afraid to reach out to us today. Our experts are experienced in all property types and the entire San Francisco Bay Area, and we can help you to find what you need to know today.