How to Upgrade a Small Space for a Better Work-From-Home Experience
Posted by Sandy Jamison on Wednesday, April 14, 2021 at 3:35 PM
By Sandy Jamison / April 14, 2021
Comment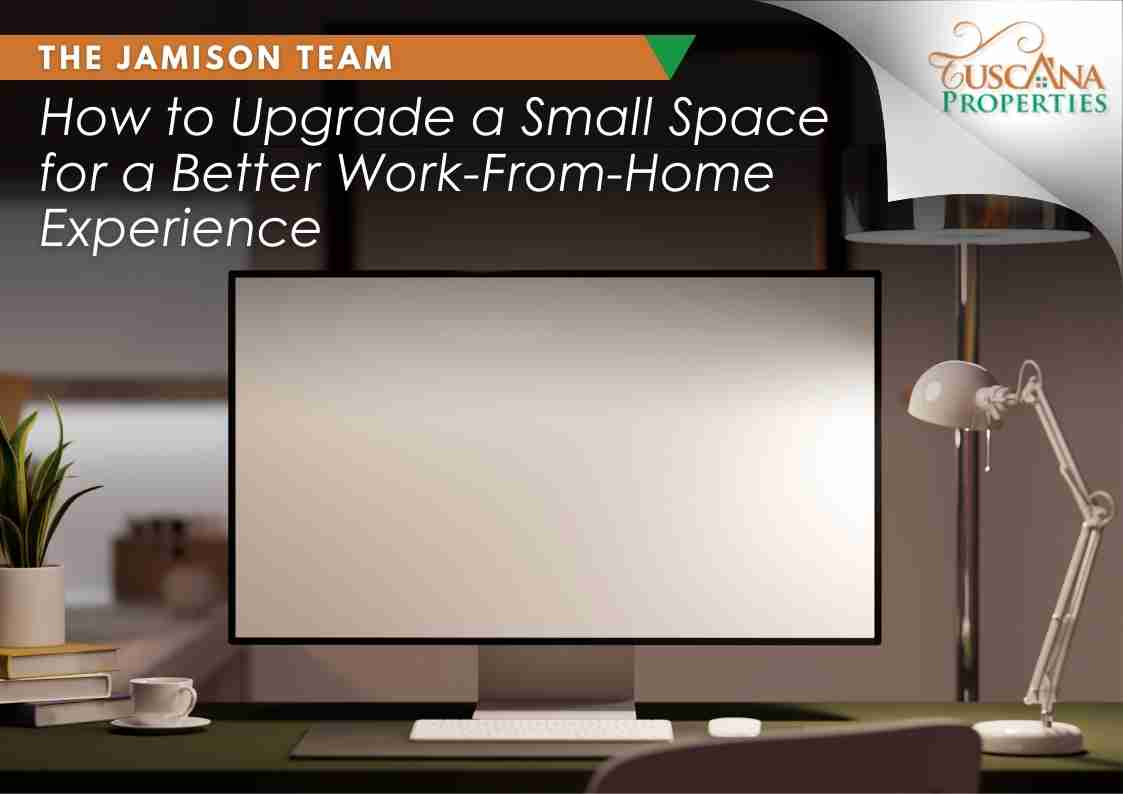 Whether you live in an apartment, small house or you're simply short on office space, working from home can feel a bit claustrophobic — especially after so many months of social distancing and self-isolation. If you're going to be working remotely for the long haul, however, it's time to give your home-based workspace the upgrade it needs to make you the happiest, most productive worker you can be. The tips and resources below from The Jamison Team Tuscana Properties will help to transform your small workspace for more happiness, comfort, and productivity at home — so keep reading!
Physical Changes to Remote Workspaces
Ready to upgrade a small home workspace? Here's how to make it happen!
Related Topic That You Might Want To Read: "Home-Buying 101: A Step-by-Step Guide"
Productivity Boosters for Remote Workers
Productivity issues are common for remote workers, but these resources will change that in no time!
Get more work done with

productivity apps

like Todoist, Evernote, Forest, and Be Focused.
Boost

energy levels and productivity

during the workday with four great exercises for the neck, back, arms, and shoulders.
Take breaks throughout the day just like you would at a company office. Doing so helps prevent you from feeling burnt out. Be sure to spend your breaks doing non-work-related activities so you return feeling refreshed.
Related Topic That You Might Want To Read: "5 Factors To Consider When Buying A Home"
Lifestyle Modifications for Better Health and Happiness
Combat feelings of isolation, loneliness, and depression while working remotely with these small but impactful lifestyle tweaks.
Beat isolation as a remote worker by joining an online group, checking in with loved ones, and stepping outside the house whenever you're able.
Add a

light therapy lamp

to your desk for a boost of happiness.
Take a few minutes out of your day to meditate at your desk with a

guided chair practice

from Mindful.
With the right furnishings, decor, and lifestyle modifications, the remote work experience can be a whole lot more enjoyable — even if you're working at a couch, kitchen table, or another small office space. It could be weeks, months, or longer until you're able to return to the workplace, so do yourself a favor and make these upgrades today for more happiness and productivity in your personal and professional life!
Related Topic That You Might Want To Read: "How to Start a Successful Home-Based Business"
More Questions? Follow-up With Us!
If you have more questions about what to expect from the markets around the Bay Area, don't be afraid to reach out to us today. Our experts are experienced in all property types and the entire San Francisco Bay Area, and we can help you to find what you need to know today.