Expert Home Staging Without Spending Too Much Money
Posted by Sandy Jamison on Wednesday, January 6, 2021 at 3:18 AM
By Sandy Jamison / January 6, 2021
1 Comment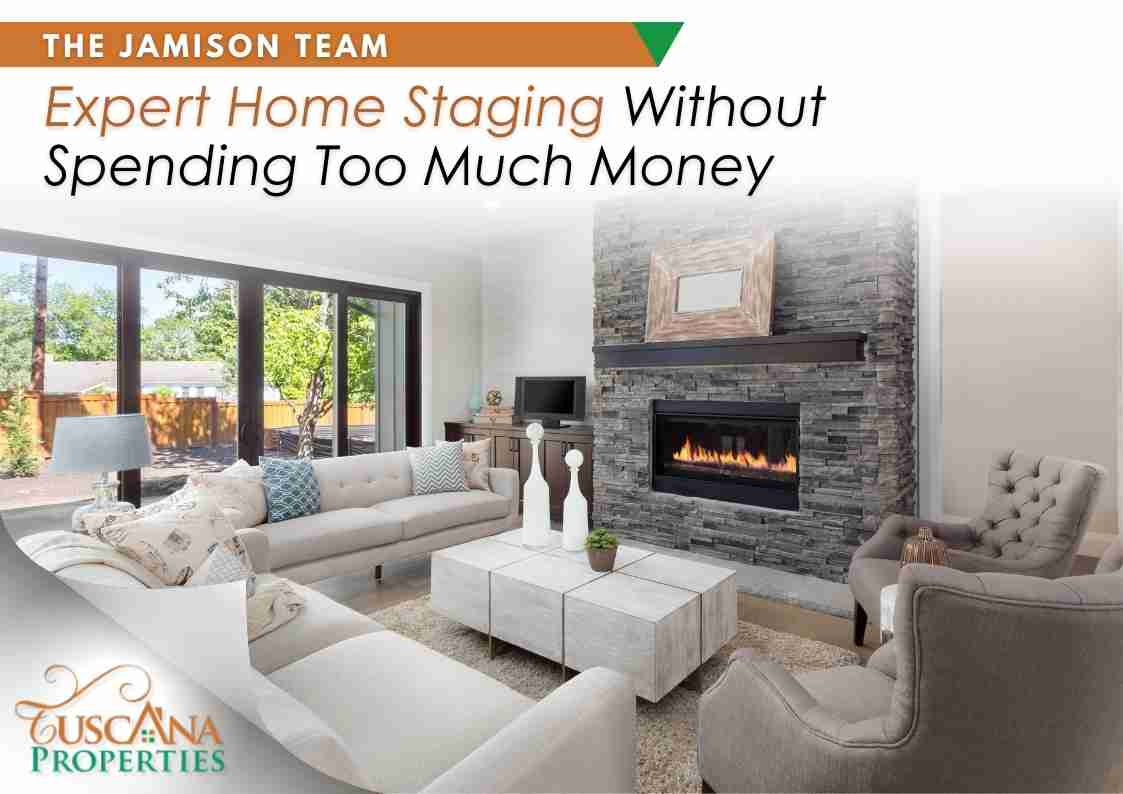 Let's be honest: Your home is in no state to be sold a majority of the time. Rooms are full of clutter, furniture is disorganized, and bathrooms are hardly mentionable. If you have any hopes of selling your home, you'll have to stage it for open houses and photos -- and The Jamison Team is here to help you do so successfully. Here are some tips for pulling off an expert home staging without spending too much money.
Advantages of Staging a Home
Staging is the strategy of making your home as appealing as possible to encourage homebuyers to make an offer. You can make a great first impression with a well-organized and staged open house. Your efforts in prepping the home for the open house can also result in higher bids. You can stage your home without spending too much money by focusing on natural lighting, curb appeal, and your home's strengths.
Find a Place to Stay During the Open House
It can be awkward and uncomfortable to host an open house while you're currently living in the home. Since you're not planning to buy a new house until you sell the old one, it's easy to feel stuck. Finding a place to stay during the open house can be a great way to ensure that the staging goes off without a hitch. You don't have to move out completely, as this is more about removing you and your family from the home while potential visitors come to visit.
Assign Each Member of the Family a Certain Job
Cleaning and decluttering your home are necessary when preparing for an open house or staging for photos. The best way to tackle this job is through the old strategy of "divide and conquer." Assign each member of your family a certain area of the home in addition to their own rooms. If you prefer, you could have each person in the home take care of a certain task, such as vacuuming, dusting, or picking up clutter. No matter how the tasks are divided up, this strategy can make decluttering and cleaning a home much more bearable and manageable.
Consult Real Estate Publications
It can be difficult to come up with ways to design and stage a home for an open house; after all, interior design is an entire profession. Instead of hiring a designer to stage your home, get some inspiration and ideas from real estate publications. There are plenty of magazines and websites where homes are listed for sale with high-quality pictures. Scrolling or flipping through these publications can give you some great ideas when it comes time to stage your own home. Take note of the things that catch your eye the most when browsing the many listings, as these aspects are likely to work on your potential buyers as well.
Focus on Your Home's Advantages
Each home has something unique to offer potential buyers. When preparing a home for photos and an open house, you need to capitalize on these features to make your house more appealing. For example, if you have a spacious living room, make sure your furniture is organized to highlight this feature. If you have a nice outdoor living space, light some candles or light a fire during the open house. Highlighting your home's strengths can really add that exclamation point that some buyers will need to consider making an offer.
People who stage their homes are at a major advantage when it comes to attracting potential buyers and making a sale. With a little bit of ingenuity and hard work, you can pull-off an expert home staging while keeping your bank accounts full.
More Questions? Follow-up With Us!
If you have more questions about what to expect from the markets around the Bay Area, don't be afraid to reach out to us today. Our experts are experienced in all property types and the entire San Francisco Bay Area, and we can help you to find what you need to know today.