How to Prioritize the Health of Your Home to Make Positive Changes
Posted by Sandy Jamison on Wednesday, April 26, 2023 at 9:27:11 AM
By Sandy Jamison / April 26, 2023
Comment
If you're searching for your dream home in Santa Clara County, contact Sandy Jamison of Tuscana Properties today!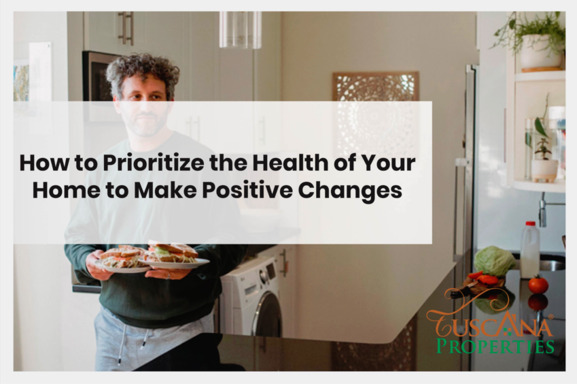 If making positive changes in your life is your new agenda, or simply an everyday goal, prioritizing the health of your home can help. If you want to experience the benefits of a house that's updated with your health in mind, these tips from Sandy Jamison can get you started.
Selecting Upgrades
While you want to consider your needs and preferences when selecting upgrades, you also want to factor in home buyer trends if you may sell soon. That way, you can focus on projects that increase your home's value, leading to a better price. By also tracking receipts and taking before and after photos, you can show off the work, potentially using the information to entice buyers into making an offer.
Projects You Can DIY
If you want to make positive changes, choosing DIY projects that can help boost your mood or reduce stress is wise. One of the simplest ways to transform the feel of a space is fresh paint. When you update a room's color, you can completely alter the mood, allowing you to make your home more inviting and calming.
Eliminating clutter is also excellent for relieving anxiety. If you aren't sure how to begin, Good Housekeeping says to consider giving the KonMari Method a try. With that strategy, you get to focus on joy, ensuring that you keep any items that matter to you.
Finally, bring new life into your home by adding plants. Greenery is often a potent mood booster. Plus, it lets you add touches of the outdoors to your décor, making your space feel natural.
Project Where You'll Need Pros
In most cases, certain home updates should be handled by pros. That way, you know the work is done properly right from the beginning.
If home air quality is a concern, have a professional install UV for your HVAC system. UV light has germ-killing capabilities, allowing you to reduce the ds of your family falling ill.
Another great option for anyone working at home is to create a home office. By separating your personal and professional spaces, The Oranges Toolkit notes that you can set healthy boundaries that help you reduce stress. Whether you want to go with an addition, prefer a garage conversion, need a wall or two to carve out a new room, or simply want to bring in more natural light, work with a contractor to make sure the job is done correctly.
Covering the Cost of Home Upgrades
When it comes to paying for your home upgrades, you have options. Often, using cash is the best bet if you have it available, allowing you to avoid interest entirely.
If you'd like to know how to refinance a house, cash-out refinancing could be a great way to go if you can't pay for everything out of pocket. You'll get a new mortgage that's bigger than your current one, allowing you to receive some cash based on the amount of equity you have currently.
Otherwise, you could explore a home equity loan if you have equity but don't want to refinance your mortgage. If equity is an issue, getting a personal loan could be another way to obtain the necessary cash.
The health of your home is one of the most important foundations for a healthy life. From carefully selecting upgrades to organizing your space to improving air quality to reducing stress levels, investing in your home's well-being can have far-reaching benefits.
More Questions? Follow-up With Us!
If you have more questions about what to expect from the markets around the Bay Area, don't be afraid to reach out to us today. Our experts are experienced in all property types and the entire San Francisco Bay Area, and we can help you to find what you need to know today.