How to Maintain Your Property Value and Avoid a Low-Value Home
Posted by Sandy Jamison on Friday, August 5, 2022 at 3:15 PM
By Sandy Jamison / August 5, 2022
Comment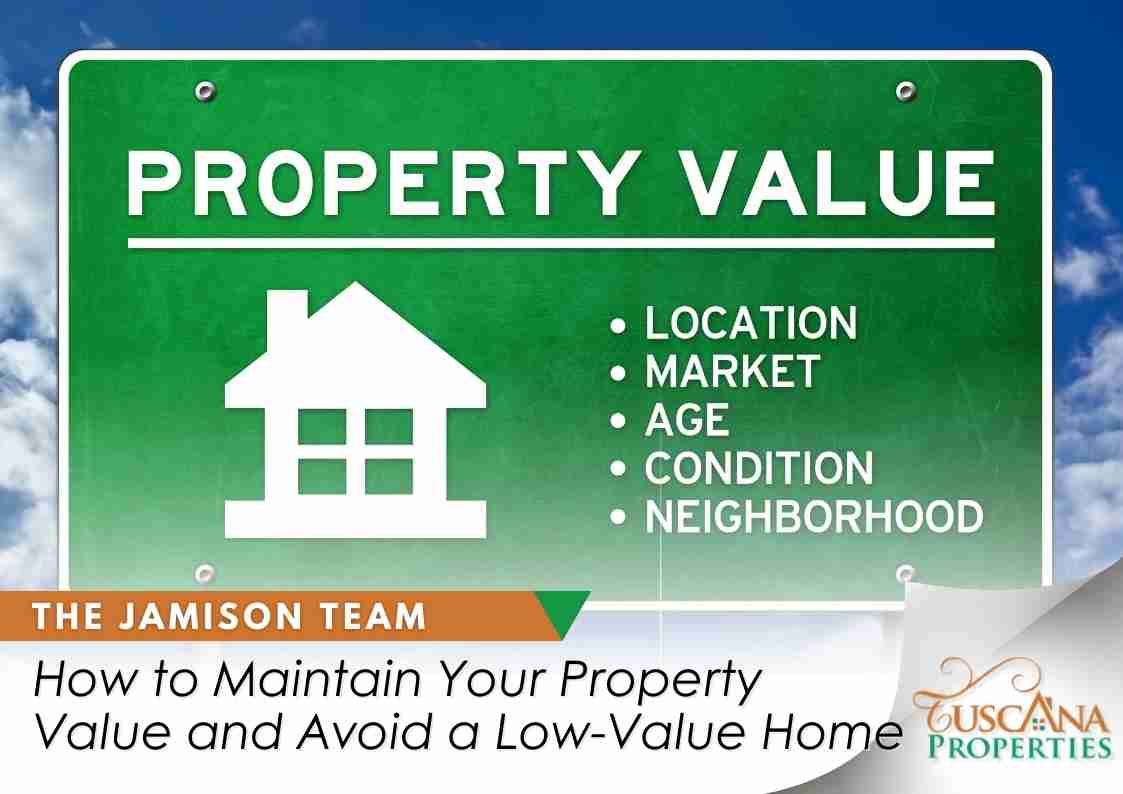 The value of your property is determined by many factors, including the size, condition, and location, to name a few. While property values can undoubtedly fluctuate, there are some things you can do to be proactive to prevent it from losing value. Whether you're buying or selling a home, an appraiser can determine the fair market value. A home inspector can help to identify any significant concerns so that you can keep your property value on track. Read on to learn how to keep your property value higher and what you can do to maintain it for years to come.
How is a home value determined?
Several things go into determining the value of a home. Many components dictate property values, including the size, location, and age of the house and any upgrades or special features. Let's take a closer look at some of the things an appraiser will consider when determining your property value.
How Does an Appraiser Determine Property Value?
An experienced, qualified appraiser can help you determine your home's current market value. Here are the main factors that most appraisers will consider when performing an appraisal.
Size: It goes without saying that the larger the home, the more expensive it likely is. Of course, the cost per square foot depends on where you live since builders charge different rates depending on the price and availability of materials and contractors, the terrain, and more. Overall, larger homes tend to be worth more because they provide more living space. More bedrooms, a basement, and a large yard will increase the value.
Age: Older homes may not always hold value as well as new construction, but historic homes can be worth quite a pretty penny. These classic homes built before or around the early 1900s can sell for more, especially if they're well-maintained and upgraded. Newer homes built from the mid-1900s and later without updates typically won't have a higher value. If you have a home that's not considered historical, but it's not brand-new, doing a few renovations will improve your property value significantly.
Location: The location of your property can be a significant selling point, especially if you're close to amenities like shopping, good schools, nature, entertainment, and public transportation. However, not everyone wants to live in a busy area, so some buyers might prefer to be in a more remote part of town. For example, if you're near a local landfill or power plant, your

property value

might not be as high, even if the curb appeal is beautiful and the inside has a plethora of renovations.

Safety:

Homes located in a safe area typically have a higher value. No one wants to live in a place with a high crime rate, and it can cost not just you but also the potential buyer later down the line. Almost all home insurance companies consider crime when determining rates since it's more likely that you'll file a claim due to theft or vandalism if you're in a high-crime area.
Neighborhood: People want to live in a neighborhood with friendly people and a good vibe. In the eyes of an appraiser, they'll look at a report showing recent home sales in the area. If several homes have sold in a particular neighborhood for a reasonable asking price, the appraiser will consider this.

Tree value:

Homes and neighborhoods with older, established trees can also boost property values. If you have well-cared-for trees, these add a beautiful element to your home that can make your property value higher than homes without them.
School district: Homebuyers with children look for homes in a good school district. The district might not be as important for people who don't have children or who have children attending private school. This factor is quite nuanced and depends on the buyers interested in your home. Many parents are willing to pay more for a home located in a district with quality public schools.
The Most Important Factors in Property Value
While age, location, and safety are important, most appraisers only look at the home itself. Here are the most important things that will be considered when coming up with a fair market value for your home.
Size of The Property
Appraisers start by measuring the exterior of your home to determine the total square footage. They'll also look at how much land you have in total, which can increase property value if you have more acreage. In general, the appraiser is looking at the amount of "usable space" you have. This means any areas where you can live or build more structures, such as a shed, deck, or garage. The appraiser will calculate the total size of your home then compare it to others in the neighborhood. In general, most homes with three bedrooms and two bathrooms in the same neighborhood have a similar value. In comparison, homes with two bedrooms and one bathroom in the same neighborhood typically have a lower value simply because they have less usable space.
Exterior Condition of The Home
A home inspector can help you determine the current condition of your home. However, appraisers are also looking closely at the outside to confirm that everything appears to be in good condition. The appraiser will note any glaring problems such as roof damage or peeling paint. They'll also look closely at the foundation and the windows. Although you can't change the location of your home, you can certainly make sure that the property has good curb appeal. Consider sprucing up the exterior and doing a few upgrades before you have the appraisal done to make sure your home looks pleasing.
Interior Condition of The Home
An appraiser isn't concerned about your color choices or the style of furniture you have. They'll be looking at the general interior condition of the home to ensure that it's safe and ready for a new occupant. Most appraisers will do a quick check of every room and look at the condition of the walls and floors. If you don't have any apparent problems like water damage, ripped-out flooring, or other things in disrepair, your property value should hold. The appraiser may also take things like energy-efficient windows and appliances into account and assign a higher value.
Home Improvements And Renovations
Cosmetic home improvements like new floors and fixtures won't change the value of your home in an appraiser's eyes. However, substantial renovations like a new deck or addition that increases usable space can significantly raise your property's value. If you're not sure what type of upgrades you should make to increase the value of your home, talk to an experienced real estate agent. They can guide you in choosing the best upgrades for your money to give you the best returns when you sell.
Tips for Avoiding a Low-value Home
There are many things you can do to increase the value of your home, but there are also things you can do to avoid losing value too.
Remodeling
Remodeling or renovating your home can be costly and time-consuming, but it's well worth the effort if you want your home to maintain its value. To compete in today's real estate market, your home must have what buyers want. You don't have to remodel your home every few years altogether, but you can do some upgrades in areas where the property needs a little TLC. For example, creating an open floor plan, installing a jetted tub, or installing larger windows can be easy updates that offer you a decent return. If your home has a basement, consider finishing it to create more usable space. This will increase the appraisal value and give your home more functional space. Overall, updating areas where your home is outdated can make a big difference in the property value as a whole.
Maintenance
It's imperative to maintain your home to pass inspection and get a higher asking price. The International Association of Certified Home Inspectors has stringent guidelines they use to confirm that your home is safe and in good condition. Use these rules and regulations to help you pinpoint areas of your home that may need attention. Areas like the roof, HVAC system, foundation, and windows should all be in good condition. Look at the main components of your home, such as the electrical and plumbing systems, to ensure that they're in good shape. Proper maintenance shows that you care about your property, and it will show when you go to list your home.
Get a Pre-listing Home Inspection
When you put your home up for sale, buyers will hire a home inspector to look at the property more closely. However, it's a good idea for you to pay for a pre-listing home inspection before the property goes on the market. The inspection will show you areas that need attention and what you can fix now to avoid issues later. This also gives you more negotiating power when a buyer makes an offer. If you've made recent repairs and upgrades, your buyer won't have as much to complain about or ask you to fix. It's a smart way to avoid headaches and ensure that your home is safe, well-maintained, and ready for a quick sale.
From the size and location of your home to school districts and significant upgrades, keep these tips in mind to help you maintain your property value. Know what appraisers and inspectors are looking for so you can make the changes you need to before your home goes up for sale. A few upgrades and some regular maintenance will ensure that your property value holds or even increases over time.
More Questions? Follow-up With Us!
If you have more questions about what to expect from the markets around the Bay Area, don't be afraid to reach out to us today. Our experts are experienced in all property types and the entire San Francisco Bay Area, and we can help you to find what you need to know today.