How To Keep Your Pet Happy and Healthy During a Move
Posted by Sandy Jamison on Monday, January 31, 2022 at 9:15 PM
By Sandy Jamison / January 31, 2022
Comment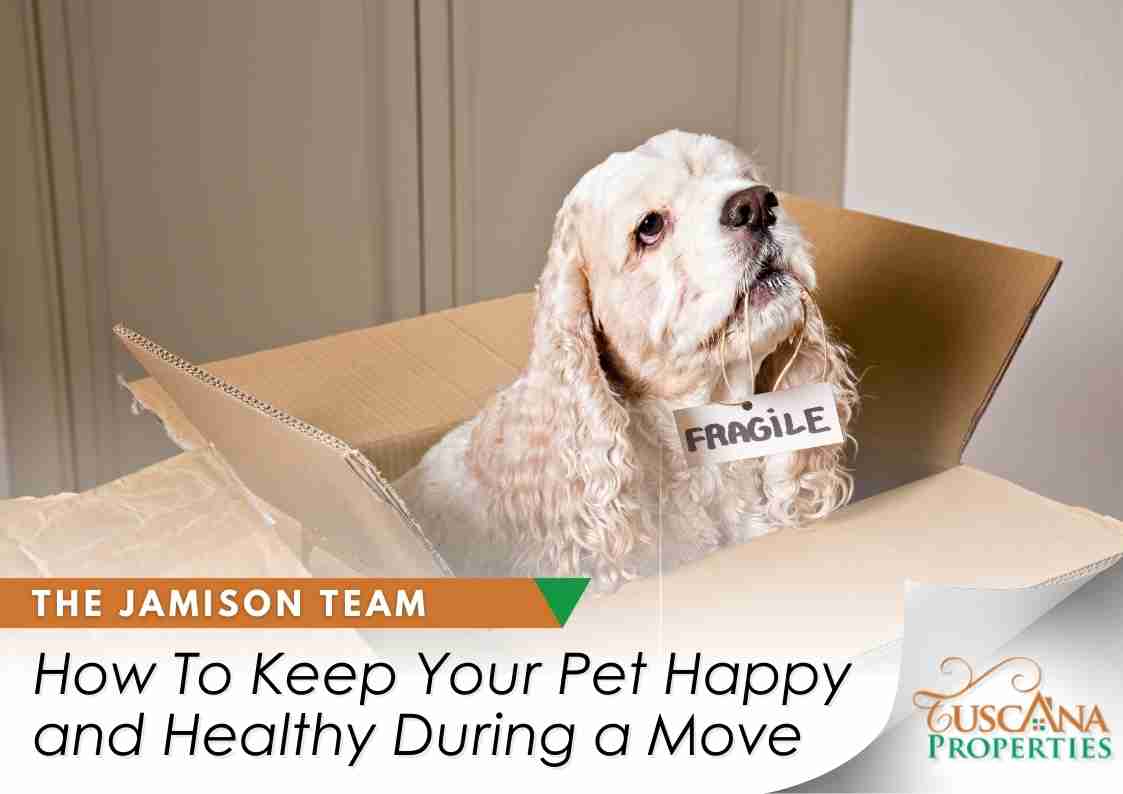 Imagine how stressful moving is for you, an adult human who understands what is going on and has a say in the situation. Now imagine how stressful it is for your pets who do not know what is happening or when things will return to normal. Fortunately, there are many things you can do to make the transition easier for your pet. These tips from The Jamison Team will help!
Here's another excellent article in addition to this guide, as it provides helpful tips and insights for pet owners who are planning a long-distance move from Hire A Helper: "The Ultimate Guide to Moving Long Distance with Pets"
Planning
When you decide to move, there are many things to consider regarding your pets. During the house hunting phase, make sure that the new home has enough space for your pet. If you have a dog, make sure there is a large enough yard, a walkable neighborhood or a dog park nearby so that he or she can get enough exercise. If you are renting your new residence, verify that pets are welcome and that you can afford the pet deposit.
Pet care specialists from Bellwether Harbor recommend that you research local vets and choose one ahead of time. Additionally, take your pet to his or her current vet for a checkup to ensure he or she is healthy enough to handle the move. If you will be flying, you will likely need documentation from the vet stating that the pet is OK for air travel. Some pet-friendly lodgings might request to see evidence of inoculations, too.
Speaking of lodgings, you may want to consider booking a pet-friendly vacation rental property in the area with your pet. This way, you can see if the neighborhood you have in mind suits your lifestyle. The last thing you want is to select a home in an area that you don't enjoy.
If you have a tight budget, especially for a long-distance move, the planning stage is especially important. If you need to stay with friends or family while looking for housing or employment in your new location, make sure they are okay with your pet staying as well.
Travel
Whether you are moving with cats and dogs or more exotic species such as birds or reptiles, it is important to keep the pet physically and emotionally healthy during travel. Get your pet used to the carrier you will be using during the move. Introduce the carrier about a month beforehand and put in special treats and toys so that the pet develops a positive association with it.
On the day of the move, place familiar comfort items in the carrier to help your pet feel more secure. Keep your pets' biological needs in mind, as well. They should always have access to fresh water during the trip, and make sure they are at a comfortable temperature for the duration of the trip. Being too cold or hot can exacerbate the stress of moving day and put your pet at risk for a medical emergency. You can also invest in a cooling pad that can help your pet stay comfortable. If at all possible, make sure there is a safe and quiet area set up in your new home before you arrive so your pet can immediately go to a relaxing environment.
Depending on how far you are moving and your pets' unique needs, it may be a good idea to hire an animal transportation specialist. Be sure to read reviews beforehand and verify that the company is registered with the USDA.
Settling In
While most pets will be interested in their new homes, dogs will likely also be curious about the wider surroundings. Hiring a dog walker or sitter familiar with the area can help you introduce your dog to the new neighborhood.
Be sure to surround your pet with their favorite familiar items to help them relax in the new home. Rehome explains you can expect it to take weeks or even months for your pet to feel truly at home. Keeping pets on their normal schedule of feeding and play times will also help ease their anxiety during the adjustment period. Try to keep their routines as stable as possible. Don't introduce a new food or replace old toys until your pet has fully settled in.
There are lots of details to keep straight during a move, but remember that the safety and happiness of the pets and people involved should always come first. Like humans, pets need emotional security during a move in addition to basic food, water and safety. Prioritizing this will help make moving easier for all involved.
More Questions? Follow-up With Us!
If you have more questions about what to expect from the markets around the Bay Area, don't be afraid to reach out to us today. Our experts are experienced in all property types and the entire San Francisco Bay Area, and we can help you to find what you need to know today.