How to Generate Passive Income From Your Property
Posted by Sandy Jamison on Monday, March 14, 2022 at 7:37 AM
By Sandy Jamison / March 14, 2022
Comment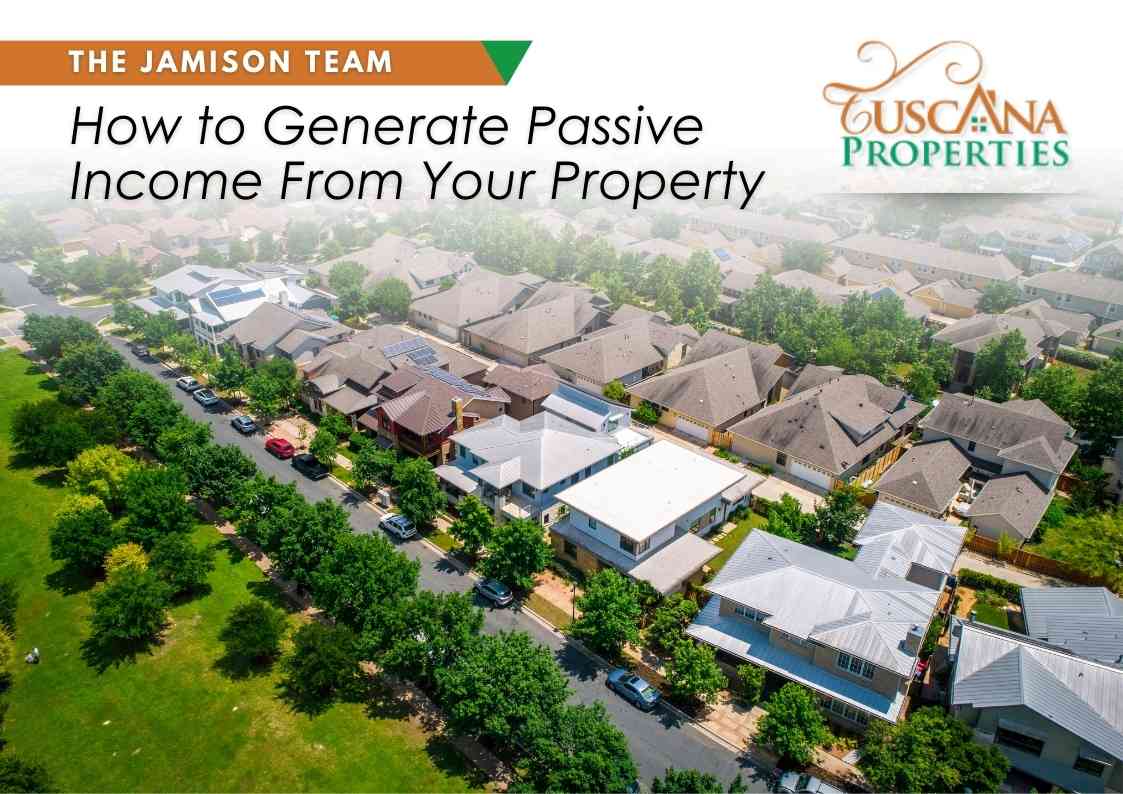 It's always good to have little money coming in on the side. Making money outside of your day job can give your net worth a boost. You'll also have that added peace of mind! It's possible you've heard of rental income and that renting out a property is one of the most famous ways of doing it. But before you dive in head first, there are a few essential things you should know when you're trying to generate passive income from real estate.
Let's break it down.
Understanding the Basics
First, let's get the record straight.
Passive income is the money you earn from a source that doesn't require a lot of (or any) effort. This could be the money you've invested in the stock market, bonds, or the real estate market (one of the best options).
Simply put, passive income is great, and it has no discernable downsides. It's a good boost to your retirement savings, allowing you to retire early. Or you can use it to reach your financial goals earlier. Now it's essential to understand that there are many ways you can invest in the real estate market. But in this article, we're taking a closer look at the rental side of things. Rental properties are a great source of passive income, but you must get them up and running. We state that because it takes effort, a lot of it. It isn't completely passive, but it will give you a monthly flow of greens, and you won't have to work hard for this money as a job.
P.S: With a property manager, it's truly passive.
How Much Do I Spend?
Listen: if you're trying to buy a property that you can rent and are new to this game, think stable, middle of the road, and modest. It's your first stride, and there's no need to get fancy. You should pay in cash for the place you're trying to rent out. Try not to go hundreds of thousands of dollars in debt for the investment you were making. That's how you turn a positive into a negative (literally). You should be looking to buy something priced at 70% of its true value in the market in the ideal world. For instance, if a house has a true value of $100,000, you should be getting it for $70,000.
You're trying to make money.
Where Do I Buy?
In general, homes around good schools and neighborhoods with a good reputation can appreciate a lot faster than properties with a low price (condos or apartments are good examples of this). There's no point in buying an affordable property that only loses value with time. Even though that's rare, it's still possible.
University Management are suggesting to try to look for a property in a neighborhood where prices have increased for the last five years. This will also help you attract tenants since everyone wants to move to an area they can trust. A rental close to public transportation or a highway is popular with renters, too. The areas around you are usually the best options for investment since you know the most about them, and you can also keep a close eye on your investment. You wouldn't want a rental unit in the city's suburbs since you won't be able to check up on your investment regularly.
Happy Tenants are Easier to Manage
If you're managing the property yourself, contact your tenants every month and ask them if they have any concerns with the property. A simple email can usually work, too. Try not to count them every week and make any unannounced visits to the property. Honor their privacy but always let them know that you're available in case they have a problem.
Moreover, before your tenants move in, ensure that the house's cooling system and the water heating system are working well, too. If all of this is too much for you, consider hiring a property manager for a hassle-free management experience.
More Questions? Follow-up With Us!
If you have more questions about what to expect from the markets around the Bay Area, don't be afraid to reach out to us today. Our experts are experienced in all property types and the entire San Francisco Bay Area, and we can help you to find what you need to know today.