How to Create the Perfect Remote Office at Home
Posted by Sandy Jamison on Monday, August 9, 2021 at 10:24 AM
By Sandy Jamison / August 9, 2021
Comment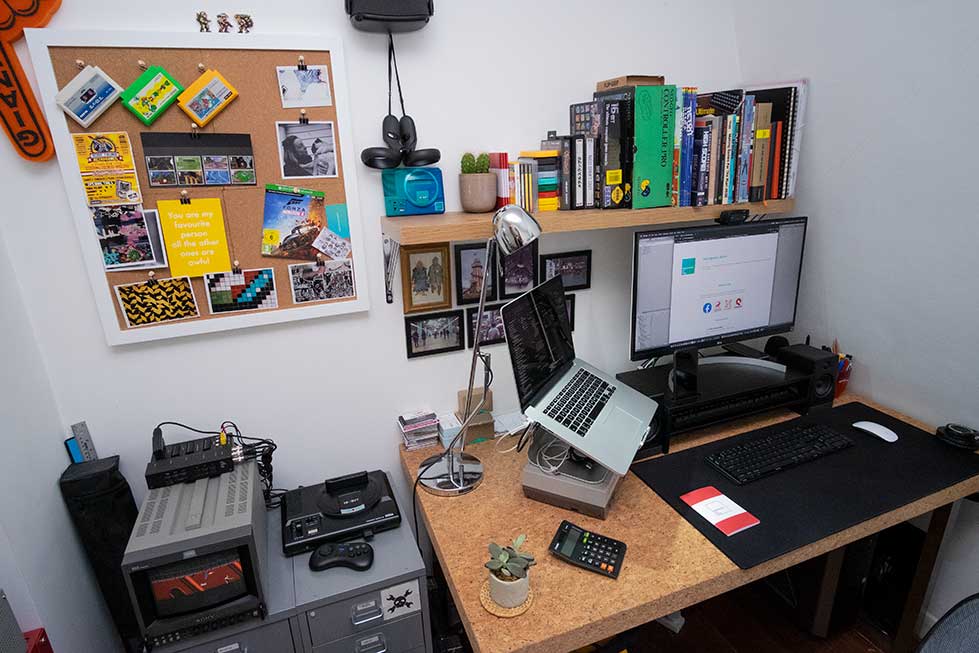 With everyone working from home part-time, full-time, or even permanently, having a dedicated home office has become more important than ever. Having a workspace at home allows you to focus properly, it gives the day some structure, and helps you capture that elusive work-life balance.
But how do you create the perfect remote office in your own home? It can be a tricky balance to strike between a space that's meant to be professional and utilitarian, but should still feel comfortable and personalized, since it's your own home.
Here are some of the most important tips when creating your work from home office.
Give it a separate space
The most important part, by far, is to just have your office be separate from everything else. Dedicate a guest bedroom or spare room to your office. That's going to do wonders for your mental health, because it's a successful physical and mental division between your home life and your work. At the end of the day, you can just step out, close the door behind you, and leave work at work.
If possible, pick a room that's a bit more isolated, so that you're not in the midst of constant commotion from the kitchen, living room, or front door. You want some quiet so you can focus or hold meetings in peace.
Of course, that can be challenging in a small home, in an apartment, or with limited resources. But even so, you can separate your workspace from the rest of your home. Dedicate a corner of your kitchen table to your "office", or commandeer the coffee table, or a desk in your bedroom, during the day.
That can still work, but you're going to need more discipline – at the end of the day, it's extremely important to clear everything away at end the workday. That ensures that you're not encroaching on your normal domestic life and aren't allowing work to take over your free time.
Have everything you need in one place
Then, you've got to think about all the things you need in this room. A sizeable desk, of course, but also your work computer that should "live" here. You don't take it out of this room, and people don't come in or use it. It's much more secure that way. A comfortable chair is a must; you'll be grateful for the back support, so that's somewhere you want to invest.
Don't forget about all your miscellaneous tech – your camera, headphones, and microphone, external storage, mouse and keyboard – buying good quality from the get-go will ensure that you don't run into any irritating and embarrassing issues, like them not working properly.
Ideally, you'd also be able to add some storage in this same space. Think about your everyday tasks – do you really want to run into the bedroom to pull out a file every single time you need it? Do you want to have to get up in the middle of a meeting to look for something you need? Keep everything on hand. Make a stop at the container store and you'll be able to get all sorts of good storage solutions for anything you need within reach.
Add personal touches
Your primary concern about this office is for it to be professional, but that doesn't mean that you need to turn your house into a blank space with no personality. It's a good idea to keep a blank wall available as a background for video calls, but you can also use a bookcase or any sort of neutral backdrop. As long as there are no dirty dishes in the background, it's perfectly fine.
Remember that you will be spending 8 hours a day in this space, so you want it to be comfortable and inspiring. Artwork can do wonders for a space and really help make it your own. Transform it from drab to fab with some colorful artwork, some motivational quotes, or some silly pens on your desk. Just because you're working doesn't mean your surroundings can't be pleasant.
Photos of your family are also a great way to stay grounded and remember that while you're at work right now, outside that door there's a family waiting for you, so you should respect your work hours and not overdo it with the after hours efforts.
Don't forget about good lighting
And since this is a room where you'll be spending so much time, it has to be a pleasant space. Natural light is strongly preferred, because it elevates your mood, keeps you alert and awake, and it helps you be more present.
If you can, don't sit with your back towards the window – that's a bad position for video calls and it obstructs all the light. Instead, try to position your desk so that you're facing the window. That way, you'll get more light and it will also be a much better set-up for video calls.
Make sure you've got curtains on your windows, as well – you don't want any nosy neighbors looking in, especially if your work is confidential.
Something a lot of people have been adding to their home offices lately is a ring light. It seems excessive, but when you need to look crisp, clear and professional on camera on a daily basis, it pays to invest in this small vanity. You just prop it up behind your computer and you'll always have good lighting, no matter the weather or time of day.
Allow yourself to relax
Surprisingly, one of the essential aspects of productivity is to remember to take breaks and relax. No one can sustain active productivity 24/7, and taking some time for yourself allows your brain to rest and gets you ready to go back in with fresh energy and new ideas. So, having some entertainment around in your office is actually not a bad idea, just like traditional offices have break rooms, video games, and pool tables.
A comfortable couch can be a great asset in this space, because it gives you somewhere to hang out for a break, for a change of pace, or even if you have an in-person client meeting. In addition, a lot of the time, home offices are in a shared guest room, so there's bound to be some seating. Work with it, not against it.
You might also want to have a radio or a TV in here. It seems counterproductive, but it can actually make great background noise. If you're paying for 150 channels, a business, finance, or news channel can be great to have on, especially if part of your job is staying informed. Otherwise, having music in the background can also be surprisingly soothing.
Final thoughts
Have you ever thought about what makes the perfect office? It's not enough to just take your laptop in bed and work late into the night. While that may create the illusion of productivity, in time, it can have a negative impact on both your work performance and your work-life balance.
An ideal home office should be in a separate space, where you have everything you need and you don't have to compromise. A space that's professional, but is still comfortable and personalized to your tastes. Whether you add a TV in there, a comfortable sofa to recline on, or photos of your loves ones, you should be able to successfully marry the professional with the personal.