How to Be Ready for Major Home Repair Bills
Posted by Sandy Jamison on Thursday, November 12, 2020 at 4:54 PM
By Sandy Jamison / November 12, 2020
Comment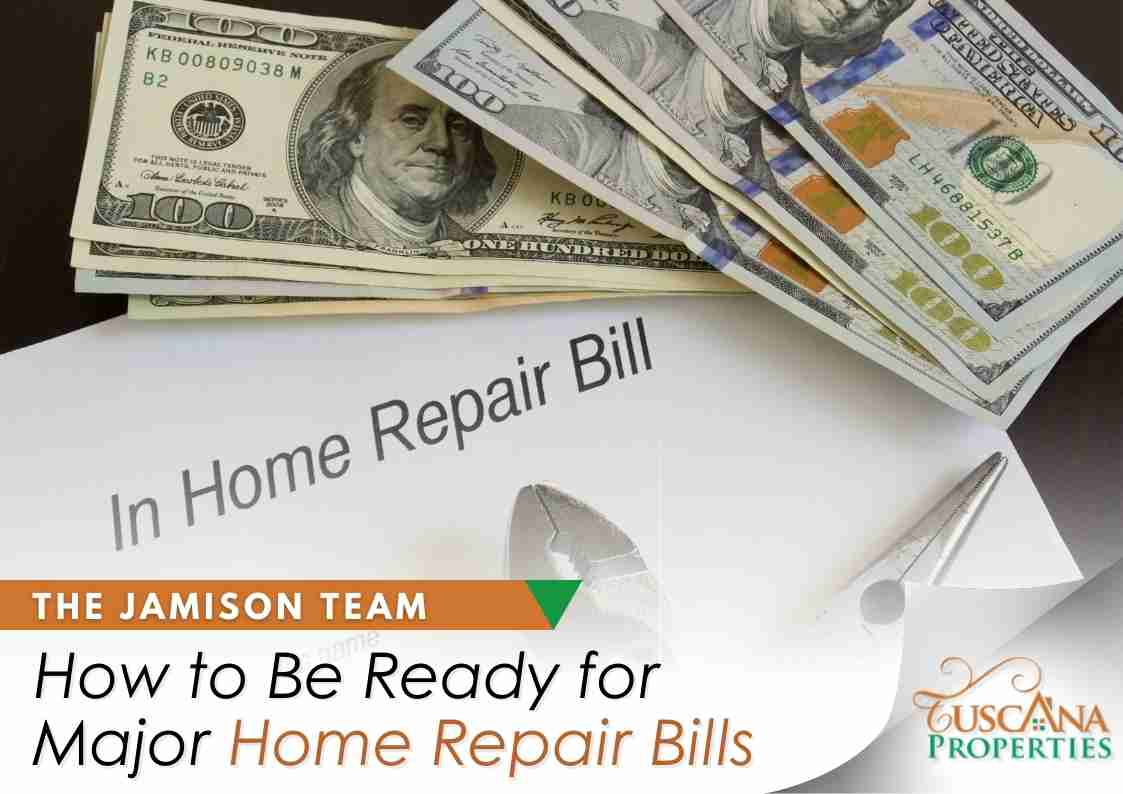 Being Financially Prepared for Major Home Repairs
If there is a power surge that fries all the electronics in your home, will you be able to pay cash to replace them? What if a storm leads to flooding and you need to deal with water damage? Even if you have
homeowners insurance
, there are many things it won't cover.
Tuscana Properties
knows homeownership sometimes comes with unforeseen challenges—here's how you can be ready when major home repairs come your way.
Have a Financial Plan
A rainy day fund is a must-have for all homeowners, as financial advisor Kay Steinessen explains. When — not if — you must make repairs, it's a chance to cover those hiccups without adding debt or borrowing funds. Try setting aside around 10 percent of your monthly mortgage payment into a savings account so you'll be ready. Also, look for an account with a good interest rate, then let those funds build. That way, when an appliance bites the dust, plumbing springs a leak, or you lose siding in a storm, you're ready.
If you're not in a position to start saving due to debt, that means you need to explore financial relief solutions. Credit counseling, debt consolidation loans, and debt settlements are just a few options worth considering. With a financial sprucing up, you'll be in better shape to weather the storms of homeownership.
Watch for Warning Signs
After putting some of your hard-earned money toward repairs, the last thing you want is to throw it away on a poor repair job — or worse, fall for one of the many scams out there crafted by underhanded contractors. For example, they might use scare tactics to get you to do things that don't need to be done, demand an advance payment then never do the work, or be vague about how much they are going to charge so they can demand excessive amounts of money later.
Hire Good Help
When you hire a contractor, the Better Business Bureau recommends doing plenty of research to find someone responsible and professional. Explore their reputation, see if they have a brick-and-mortar establishment, examine their website, and verify their licensing and insurance information. Also, ensure you get quotes from a few different contractors — and then get all your quotes in writing. If you have questions about materials, labor, timelines, or anything else, talk them through. If something seems amiss, keep looking.
Think Outside the (Cash) Box
What about when you don't have the cash handy to pay for repairs? It happens sometimes — maybe you haven't had time to save much, or one repair comes on the heels of another. There are other options available to homeowners when funds are tight.
One way you can cover repairs is by getting a loan. Consider looking into a home equity loan or cash-out refinance. Both loans are based on your home's value, with a home equity loan being just what it sounds like — a new loan against the equity in your home. A cash-out refinance, meanwhile, takes your existing mortgage and creates a whole new one with the equity paid out, so you can cover any home repairs you may need.
Another option is to do some repairs yourself, and only hire a pro for jobs beyond your abilities. As Next Avenue explains, if a project seems inherently dangerous or requires special expertise, you should avoid the DIY. You might be able to parcel out the challenging part of the project and do the work you're comfortable with. Even painting, replacing a toilet, or tearing up old tile flooring can often save you some money, helping you through a tight spot.
Consider Moving or Building
In some cases, homeowners decide that a home is no longer a fit, regardless of the repair situation. Sometimes moving or even building from scratch can be a better option. If you decide this is the case and want to opt for a custom home, note that you'll need to interview local home builders to get a clear view of what this sort of undertaking looks like and the costs involved. If moving is more ideal, connect with a reputable real estate agent to help you begin the process of selling and buying.
When it comes to homeownership, hiccups are just part of the deal. Save some cash, hire trustworthy contractors, and do what work you can. Thanks to your good planning, you'll be able to keep your home in great shape without taking a big financial hit.
More Questions? Follow-up With Us!
If you have more questions about what to expect from the markets around the Bay Area, don't be afraid to reach out to us today. Our experts are experienced in all property types and the entire San Francisco Bay Area, and we can help you to find what you need to know today.