House Flipping: 5 Preparation Tips for Big Returns
Posted by Sandy Jamison on Tuesday, June 14, 2022 at 12:16 PM
By Sandy Jamison / June 14, 2022
Comment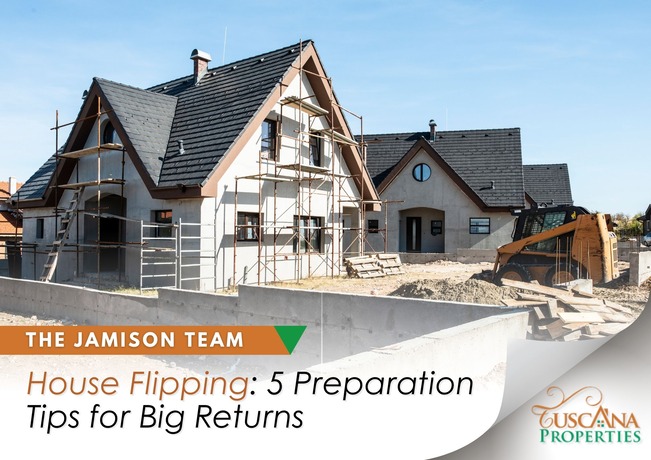 The rising inflation rate in 2022 has many seniors in San Jose, CA concerned about running out of savings, especially those on a fixed income. The good news is that a variety of flexible and suitable business options exist for seniors. A great example is the house-flipping industry. Though it is competitive, this industry has low barriers to entry, and getting started isn't too difficult. For that reason, house flipping is an ideal business for a senior. It can generate extra income and keep you busy. This article offers five tips on how to excel in this industry.
Finding the Ideal Homes to Flip
Identifying homes is the most critical stage in the house-flipping process. When buying a property, it's essential to consider its location and condition. Further, check if the area is developing economically and has social amenities. This information will guide you in finding an ideal home to flip. Learning about the local real estate market in San Jose is essential. Your ultimate goal is to manifest quick turnarounds. For that reason, research and mastery of the market are crucial to your success.
How You'll Finance the Flipping
As you start this business, do some financial computing and determine how you will finance your projects. A proper plan is necessary to help you decide how you'll spend your money. Analyze the house and determine if the purchase and renovation costs exceed or are less than the selling price; use the market rates in the area as your gauge. Don't buy a house that needs many renovations. Have the property inspected and all the costs calculated. Then you can decide whether to buy it or move to a different property. Also, consider the payment method for the house. You can use cash or get a mortgage. Before applying for a mortgage, ensure you are informed of all the intricacies of home financing.
Build Your Team
You can't do everything alone. You'll need a team to work with. Experienced team members get things done and help grow your business. You should plan and implement a system to manage the business. Additionally, you'll need a financial software tool if you want to know how to stay on top of payroll. Such a tool can automate tasks like payroll scheduling and tax filing, and it can even help you set up same-day direct payroll deposits.
Know Your Buyer to Make Appropriate Renovations
When renovating the houses, survey the neighborhood and know your potential buyers. Then renovate with their sensibilities in mind. For example, if your house is in a busy area with good schools, your buyer is likely to be a family person with kids. Therefore, spend your money creating a beautiful home to attract young family buyers. Reputable renovation professionals in San Jose can assist you with the repairs. Compare different quotes, and hire a certified renovation company.
The Bottom Line
House flipping is a rewarding venture. You can start this business and succeed if you follow the above tips. You also need to surround yourself with experienced people to guide you in your initial stages in the industry. To search for properties or find more informative content on house flipping, visit the Tuscana Properties website.