Home Renovations: What to Expect
Posted by Sandy Jamison on Wednesday, November 23, 2022 at 10:16:02 AM
By Sandy Jamison / November 23, 2022
Comment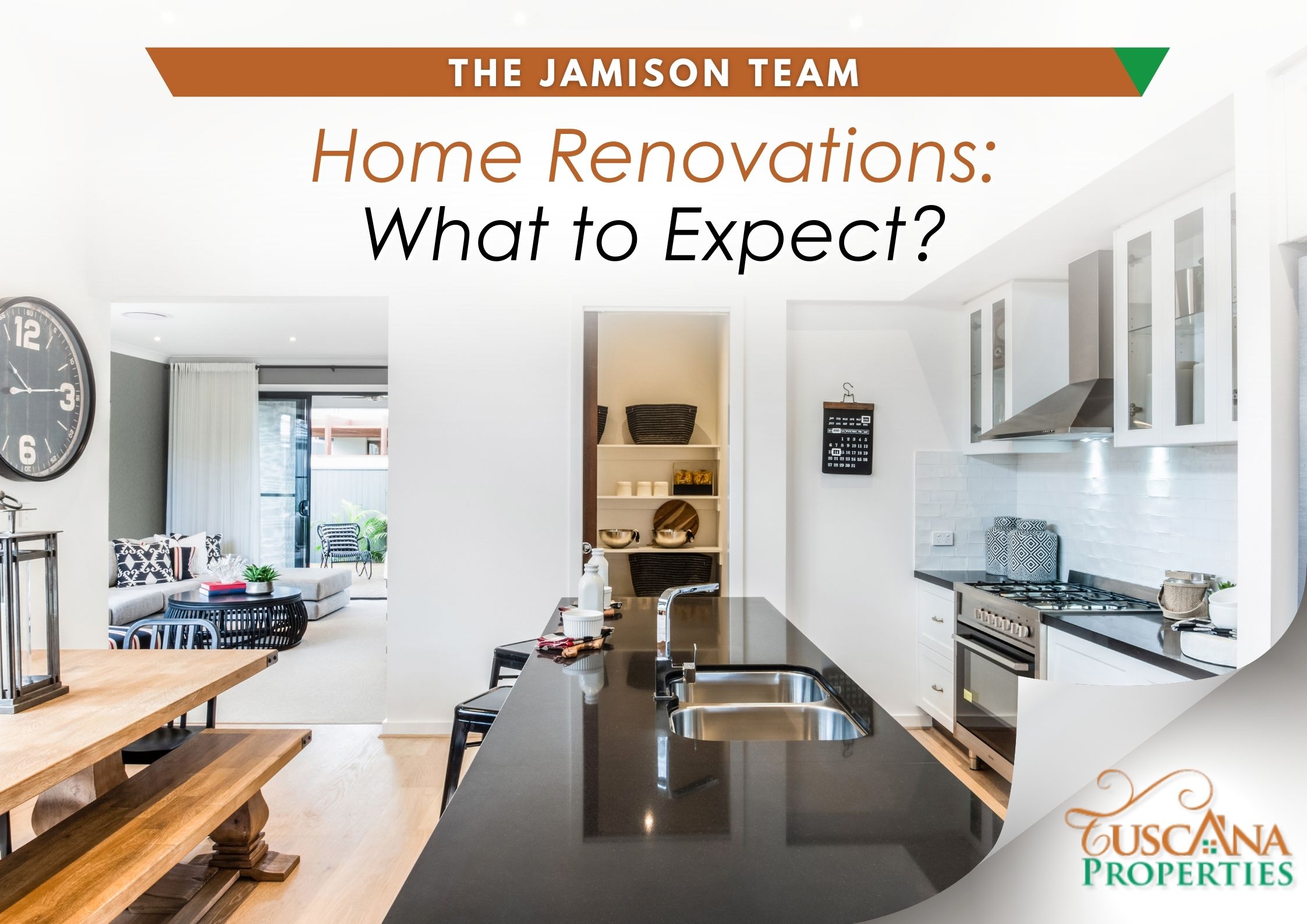 There's little more satisfying than making your home extra comfortable and beautiful for your family. Keep in mind, though, that renovating your home is rarely smooth sailing – especially when you're making major structural changes and aren't planning to move elsewhere temporarily. To help you avoid mistakes and disruptions, The Jamison Team from Tuscana Properties gives you an overview of what to expect during home renovation projects:
Renovations Can Take Several Months or Even Over a Year to Complete
According to More or Less Remodelling, home renovation projects can be categorized by the type of work that needs to be done and the approximate time taken. The more complex the work, the longer it takes. To be specific, cosmetic work like painting or flooring typically takes a few days or up to three months. Medium work with minor structural changes like adding a fireplace, plumbing, or bathroom fixtures will take up to 6 months. Major work, like the addition of a story or a brand new room, could take over 6 months or a year. Multiple projects can take exponentially longer.
You Can Save Money by Being Clever – Like Adding a Home Office That Doubles as a Guest Room
A personalized home office is a popular home renovation project that offers privacy and promotes work-life balance. If you'd like to save more money, not to mention a great deal of time, you could get it to double as a guest room. This is easy to do if you invest in furniture like a sleeper sofa, a storage ottoman, cabinets for bedding, and a full-length mirror.
You Should Estimate Costs and Budget Beforehand
Bob Vila reports that homeowners typically spend between $18,161 and $76,367 on renovations. To avoid overspending, create a budget first and then make renovations accordingly. Some of the factors that will influence the costs involved include the extent of renovations, your location, materials used, site preparation, contractors used, and permits applied for, among other things.
Estimating Apps or Calculating Software can Make Precise Estimates
You may be able to make use of software for general contractors to calculate costs – your contractor may use it. Most professionals typically use a combination of one or more apps during contracting – like bookkeeping apps, construction apps, project management apps, 3D imaging apps, and general contractor business software. General contractor business software, for instance, comes with several features to help with home designing, estimating, project management, invoicing, and more. Some software also allows contractors to create their own templates, so they don't start from scratch when creating an estimate.
Finding a Good Contractor Could Take Time
Your choice of contractor is crucial. There are problem contractors out there – they frequently are unresponsive, have a bad attitude, don't keep appointments, overcharge, and overshoot deadlines. You should look to hire capable and trustworthy contractors who are receptive to your ideas and preferences. To find good contractors, look for positive reviews, ask for examples of previous work, compare bids, and conduct interviews. A good contractor should be able to help you with everything from design and estimates to arranging permits and scheduling.
You'll Have to Make an Effort to Keep Your Family and Possessions Safe
Renovations can be chaotic and, sometimes, harmful to your possessions. To keep your possessions safe, you could put portable items into temporary storage, cover up your immovables, and put the rest in the garage. Having a plan before you begin remodeling will help you make safe decisions and continue utilizing your living space while renovations are underway. Don't forget to delineate your living space from the worksite and make sure your kids know not to get underfoot.
Are You Planning to Sell Your Home Afterward?
Many people renovate, so their home sells for more. If you're renovating to sell, it's critical you carefully calculate any returns on investments you're making. Talking to an experienced realtor will help you figure out what your house may be worth – and whether renovations are a worthwhile investment. You can partner up with the Jamison Team to sell your home faster and for more.
Conclusion
Renovations, whether you're adding new flooring or designing a home office, are typically expensive and time-consuming. Doing your homework, estimating your budget correctly, picking capable contractors, and planning things out carefully will help you to avoid mistakes and ensure you pull everything off without a hitch.
More Questions? Follow-up With Us!
If you have more questions about what to expect from the markets around the Bay Area, don't be afraid to reach out to us today. Our experts are experienced in all property types and the entire San Francisco Bay Area, and we can help you to find what you need to know today.