Home-Buying 101: A Step-by-Step Guide
Posted by Sandy Jamison on Saturday, March 27, 2021 at 4:59 PM
By Sandy Jamison / March 27, 2021
Comment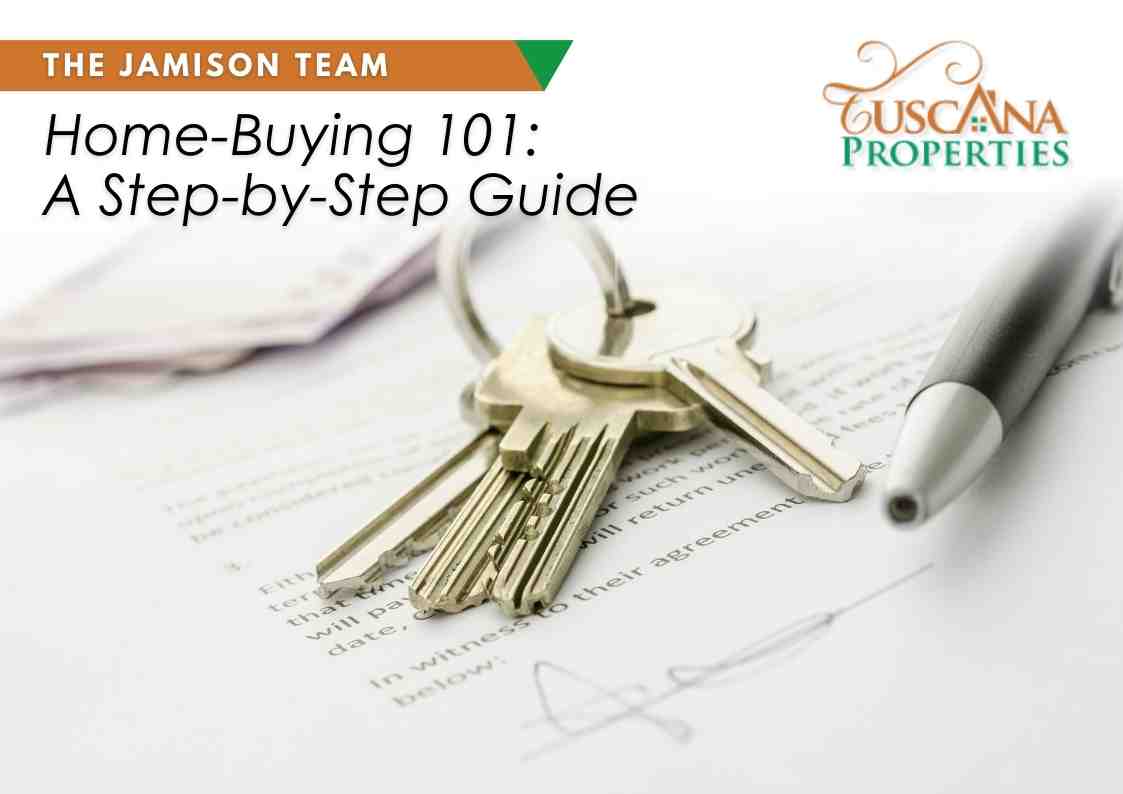 Deciding to buy your first home is a big and exciting step, but it can also be confusing and a little intimidating. There are a lot of things to keep in mind, and first-time homebuyers can easily wind up overwhelmed with all of the information they have to keep track of. Fortunately, going in with a sense of what to expect can help make it a little bit less of a whirlwind.
From Tuscana Properties, here's a look at a few of the different aspects of the home purchasing process you should consider, and a step-by-step guide to what to expect along the way:
Prioritize Budget
You cannot make any real moves in buying a home until you know what kind of budget you're working with. This will affect everything from your monthly rates to neighborhoods, to whether or not you can consider new construction. Take a serious look at your savings, income, and debt to get a sense of what kind of loan you may be able to take on, and what kind of monthly payments you'd be able to handle.
Having at least 20% for a down payment is the quickest way to get to an affordable monthly payment. If you find that you're in great shape financially and have some extra cash at closing, you also have the option to pay points to your lender. Doing so helps reduce your interest rate, which will give you an even more affordable monthly mortgage payment. If you don't have 20% for a down payment, home buying is still an option for you. Look into FHA loans and any down payment assistance programs that may be available to you.
If you're thinking of building a home from scratch, you'll need to have a serious budget evaluation. New constructions can vary wildly in price: They average $428,000 but can easily run over $1 million or more depending on the degree of customization you're interested in. Moreover, there are different financing options for new homes, which may make them more or less affordable depending on your area.
Buying a home already on the market, however, is a simpler process in some ways, and trickier in others. You have to balance the age of the house against your offer price – older homes are bound to have maintenance issues that may or may not wind up costing you more than you're able to handle. Keep all of these elements in mind when determining how much house you can afford.
Related Topic That You Might Want To Read: "How to Save Thousands of Dollars When Buying Your Home"
Finding An Agent
Strictly speaking, you don't need a real estate agent to buy a home, but first-time homebuyers should strongly consider getting one. These professionals help you to navigate all the specific ins and outs of home buying in your area, and can give you valuable insight that will help you avoid a dud. Moreover, they have professional connections that may lead you to the home of your dreams with far less work than you'd have to do otherwise.
To find a good real estate agent, ask your friends and family who they've worked within the past. The most important thing is making sure you can trust their input and advice. Ask them to grab a coffee or take a meeting with you before you've agreed to work with them to get a chance to have a conversation, ask questions, and get a sense of whether or not you click. You don't have to love each other, but you will wind up spending a fair amount of time together, so you should be sure you at least get along.
Related Topic That You Might Want To Read: "5 Factors to Consider When Buying a Home"
Viewing Homes and Making Offers
Most buyers look at around 10 homes before they find the one they wind up purchasing. Make the most of the viewings by taking plenty of notes and reviewing them afterward. This will help you avoid mixing houses up and blending them together, which is likely to happen after several viewings.
Once you find the house you're interested in, it's time to make an offer. Your agent will guide you through the process in your area, and if the offer is accepted, you'll move to closing. This step includes inspections, appraisals, and any negotiations you and the buyer go through based on the results of those investigations. If you come to mutually agreeable terms, the house is yours! If not, you're back on the search.
Related Topic That You Might Want To Read: "How to Be Ready for Major Home Repair Bills"
Avoid getting too attached to any particular house, as offers do fall through. Stay focused on moving forward, and remember: Stick to your guns and keep your priorities in mind, and you will wind up where you're meant to be.
More Questions? Follow-up With Us!
If you have more questions about what to expect from the markets around the Bay Area, don't be afraid to reach out to us today. Our experts are experienced in all property types and the entire San Francisco Bay Area, and we can help you to find what you need to know today.