Here's Our Simplified Los Gatos Homebuyer's Guide
Posted by Sandy Jamison on Monday, October 9, 2023 at 9:45 AM
By Sandy Jamison / October 9, 2023
Comment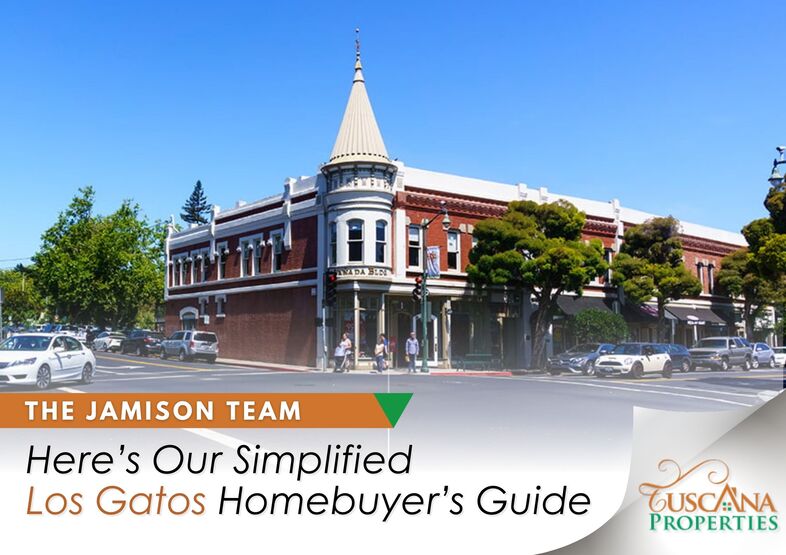 Los Gatos: Charming Homes in the Mountain's Shadow
Los Gatos is 15 minutes drive from Central San Jose, at the base of the Santa Cruz Mountains. Residents enjoy wonderful weather, with stunning views of the surrounding grasslands and nature preserves. The town has a unique personality and charming pedestrian-friendly streets.
Los Gatos is one of the longest-standing communities in the San Francisco area and has ties back to logging before the 19th century. The town actually takes its name from the mountain lions that the early settlers could hear at night. The original name was La Rinconada de Los Gatos, which translates to "Cat's Corner".
This is a gorgeous nook of Santa Clara County, with attractions all over to satisfy even the most outdoorsy residents. We're going to list some of the best ones later.
Enjoy this guide to Los Gatos, which covers ‌education, healthcare, housing, and attractions in the town.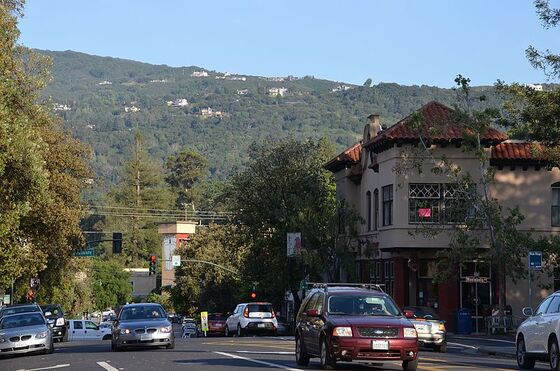 A main street in Los Gatos
The Homes and Neighborhoods of Los Gatos
Homebuyers get to choose from a few styles of homes in Los Gatos. There are single-family homes, townhouses, condominiums, and even gated communities with luxury homes. The population of roughly thirty thousand makes Los Gatos a typical mid-sized San Jose city.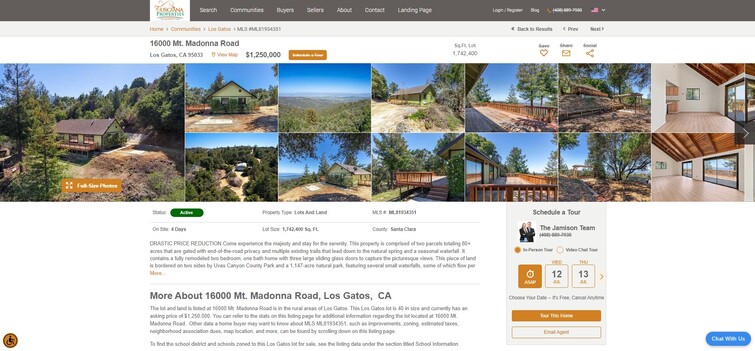 An example of a Los Gatos listing with a large lot size
There's a certain mystique about living at the base of a mountain range, as the residents will tell you. Most locals probably agree that being on the outside of San Jose looking in is a wonderful point of view.
Home prices are higher here than in nearby areas, but it's tough to compare Los Gatos. A sought-after spot like this, convenient, lush, and peaceful, attracts attention.
We show a median listing price of around $1.6 million, with a healthy selection of properties.
No two homes in Los Gatos are identical and many of the homes have interesting designs. With the extra space that comes with living up against the mountains, homeowners have slightly more design freedom.
Creek County Park in Los Gatos
The Downtown Los Gatos Scene
Los Gatos has a downtown area that residents can visit for special events, boutique shops, and exceptional local cuisine. The downtown area is very walkable, with free public parking throughout the area.
The downtown area of Los Gatos includes the town hall, police station, library, a high school, and post office. Santa Cruz Avenue and University Avenue are two parallel downtown streets that you can visit during the day or at night for different amenities.
Downtown Los Gatos has plenty of salons, nail shops, spas, and beauty clinics. These are best to visit during the day, but at night, be sure to visit the Los Gatos Cinema.
The full directory of Downtown Los Gatos amenities and businesses can be found online.
Outdoor Attractions and Award-Winning Wineries
Vasona Park with its lake and trails is one of the largest green spaces within Los Gatos, but it's far from alone. Residents also spend time at Castle Rock State Park and Oak Meadow Park.
One of the best parks in San Jose is just a short drive into the mountains. Lexington Reservoir County Park is a stunning and calm lake with fishing and a small boat launch. Walking around the lake in the summer months or picnicking under a tree are the stuff dream weekends are made of.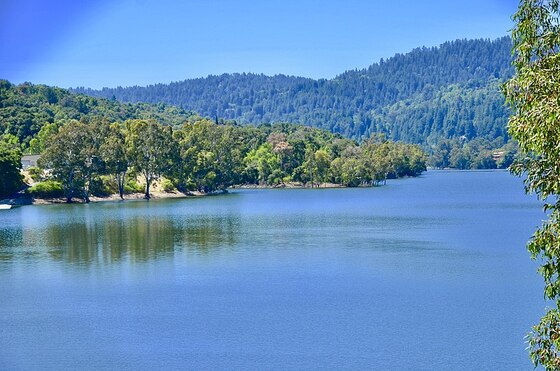 The Lexington Reservoir
On the way back into Los Gatos, you'll be forced to pass by the award-winning Testarossa Winery. Perhaps, you'll have no choice but to pull over and have lunch with a selection of the vineyard's best.
If you drive further into the hills, you enter a wine taster's paradise. There are gorgeous vineyards dotted all over the Santa Cruz Mountains, like Camel Hill, Silvertip, Villa del Monte, and many more.
You'll find that other restaurants and lounges in Los Gatos serve wines from all over San Franciso.
Education Options In Los Gatos
Some of the most well-known and highly-rated schools in Los Gatos are surely Blossom Hill Elementary School and Daves Avenue Elementary School. Los Gatos High School would also make the list. According to our source, all three rate higher than the national average in terms of math and reading proficiency.
Those are public schools, but Los Gatos also has a great selection of private institutions from the preschool to the high school level.
If you are trying to live nearby to a particular school or university, local realtors can tell you which areas have inflated home prices and which are more affordable for families.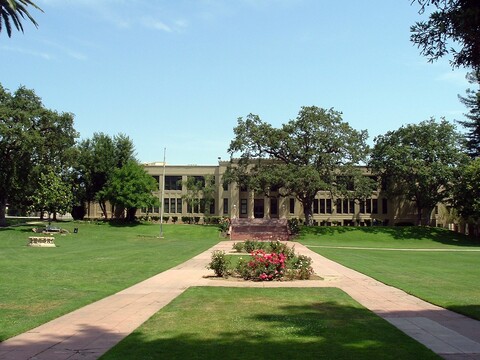 Los Gatos School Grounds
Healthcare for Los Gatos Residents
The urgent care needs of Los Gatos residents are taken care of by Sutter Health's Urgent Care Center, Action Urgent Care, and other dedicated centers.
There are hospitals in close proximity, most notably Los Gatos Hospital. It's a well-equipped facility with emergency services, acute rehabilitation, and various other specialized wings inside the hospital.
Los Gatos residents with elderly family members can choose from several retirement homes and senior living facilities.
Let Us Answer Your Questions
If you've got an idea of the kind of home you're looking for, realtors in Los Gatos can show you options within your budget. They can also give you useful local tips like traffic information, construction plans, and more.
Local realtors offer more than just tips though. They'll usually be able to save you money and time, while providing more property options than non-local agencies.
The Jamison Team has been buying and selling homes in Los Gatos and San Jose since 2008. You can read some of the testimonials from their previous clients here.
When you're ready, connect with a realtor for a pressure-free chat about your options.