Guide to The Silver Creek Valley Country Club Area
Posted by Sandy Jamison on Friday, September 22, 2023 at 9:00 AM
By Sandy Jamison / September 22, 2023
Comment

The Silver Creek Valley Country Club area has a long name, but it quickly takes your breath away.
Calling it "just a golf course" would almost be degrading. It's much more than that, although the 18-hole course design is a highlight of the club. The Silver Creek Valley Country Club is more of a resort, in the backyard of the Silver Creek community.
The club is also a place to work on your tennis volley, sample some of the best wines in Santa Clara, and dance the night away at invite-only events.
This article will talk about the homes in this area first, then the country club amenities.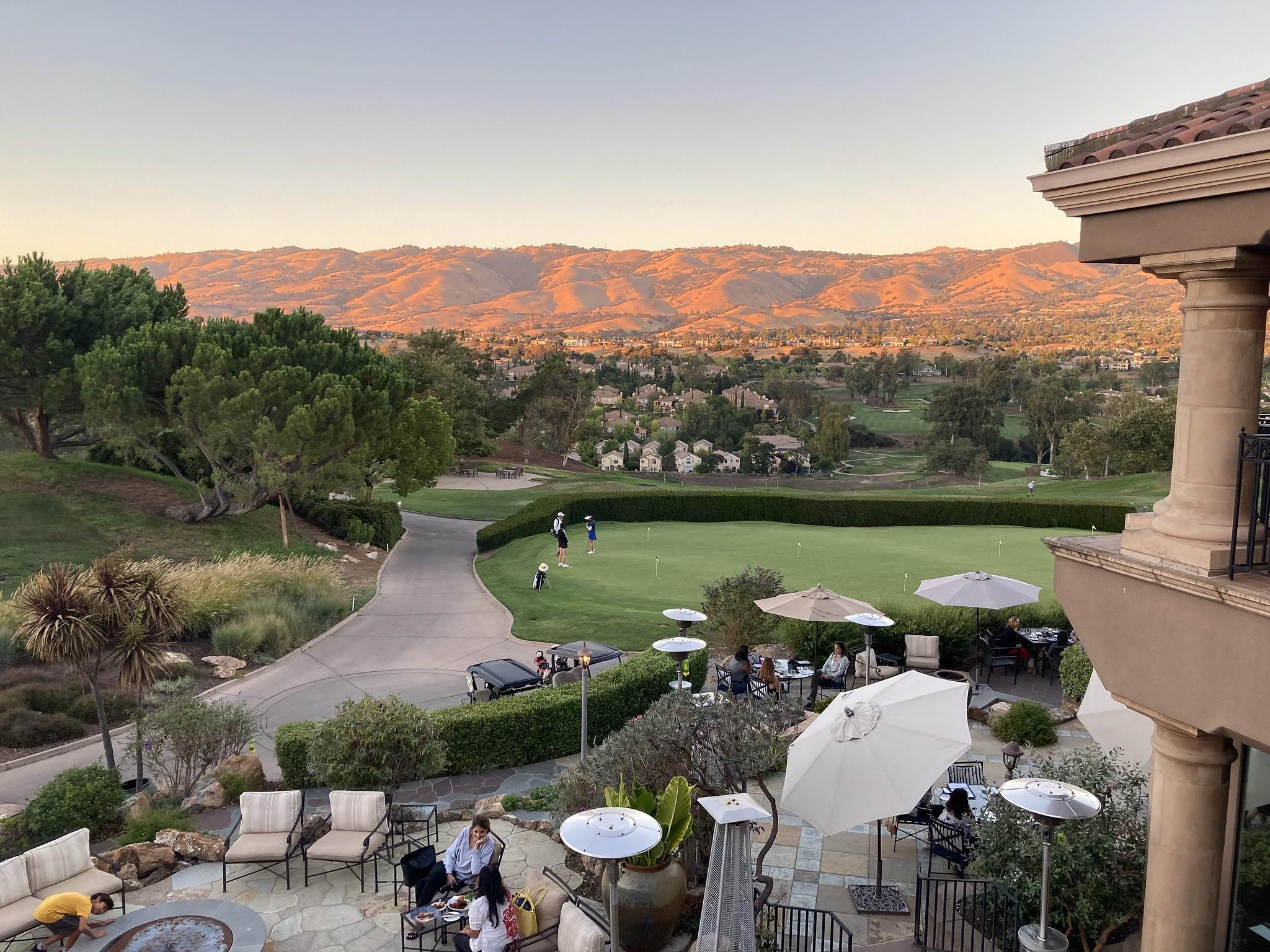 Sunset from the main building at the Silver Creek Valley Country Club
The Homes in The Community
The Silver Creek Valley Country Club has roots in this area going almost a hundred years back to 1934. The area now has over 1500 single-family homes and around 170 condos inside a gated community.
Even if you don't play golf, you'll love having a world-class course as part of your view. The gently sloping hills and sparse trees are a stunning sight to see.
As for the homes, they are mostly upscale and affluent. The properties in the Silver Creek Valley Country Club neighborhood are on large lots and with lots of immaculate garden space, which some residents use for pools.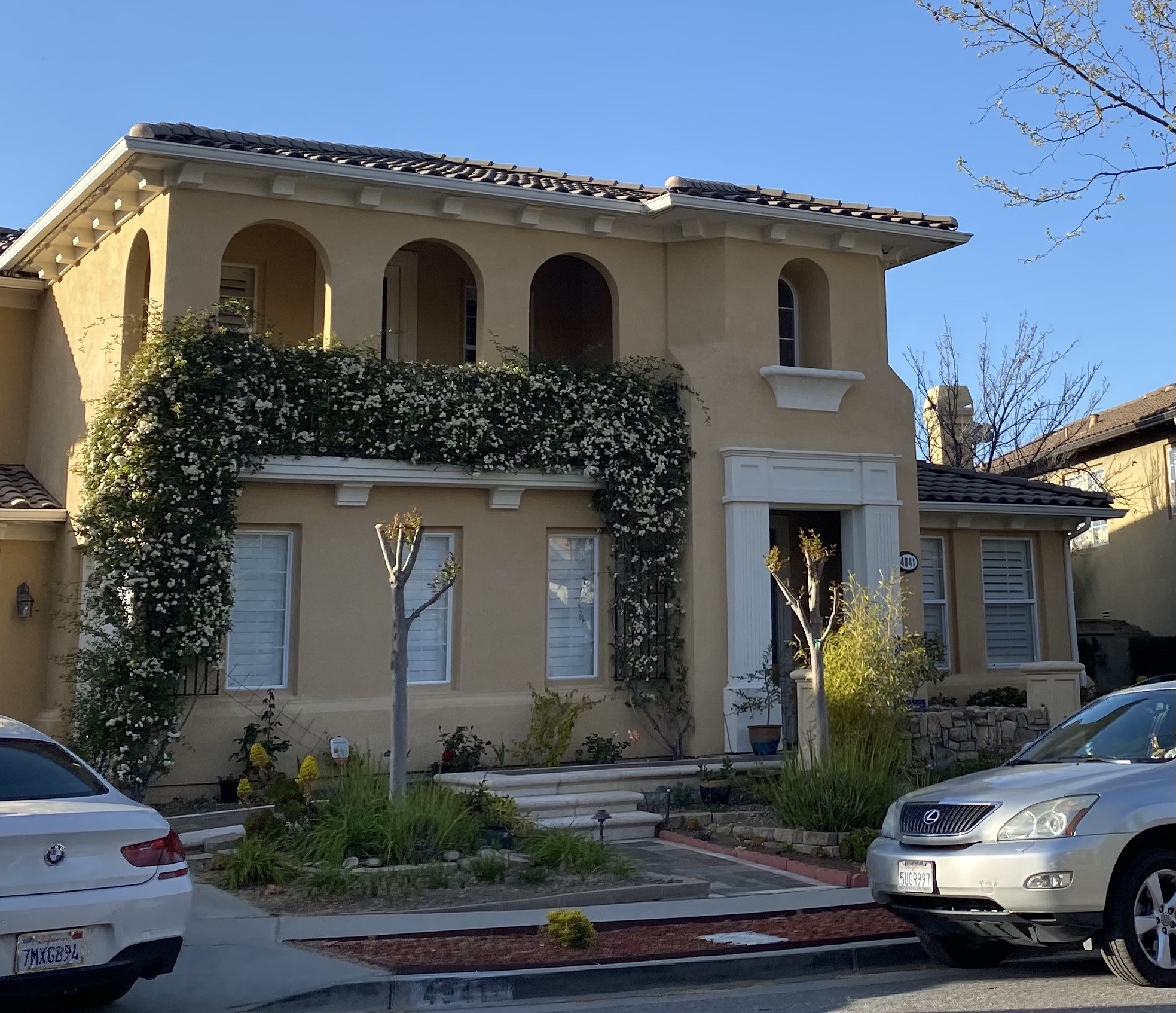 A mid-sized home in the area
Along the tops of some ridges are the largest properties in the area. These mansions come with a premium price, usually multiple millions of dollars. Calling these homes palaces is no understatement. They're often complete with roundabout-style driveways, fountains, and swimming pools. You'll often get increased plot size with these homes, which means more space between you and your neighbors.
One of the best parts about living in the Silver Creek Valley Country Club neighborhood has to be the view. You can see all the way to the Santa Cruz Mountains in the southwest and over to the nearby Diablo Range in the east. If you're living in Central San Jose, it's much more difficult to get scenic views.

A view from the Silver Creek Hills
What Members Get at Silver Creek Valley Country Club
If you live in any of the communities surrounding The Silver Creek Valley Country Club, it might make sense to become a member. In a place like this, fitness and socializing blend together.
The restaurant has dishes and wines with just as much taste as the club they're served in. The grounds and dining areas can be rented for functions and weddings.
Here are some of the fantastic things members have access to.
An 18-hole Golf Course
Originally designed by Ted Robinson and later updated by Mike Stratnz, the golf course seems to lay perfectly in the San Jose landscape. The features include bunkers, ball-catching ponds, and even a cascading waterfall. The tees range in difficulty from five to seven thousand yards.
The Club also has a driving range and several practice putting ranges to work on your short game. (Not that we are saying you need to).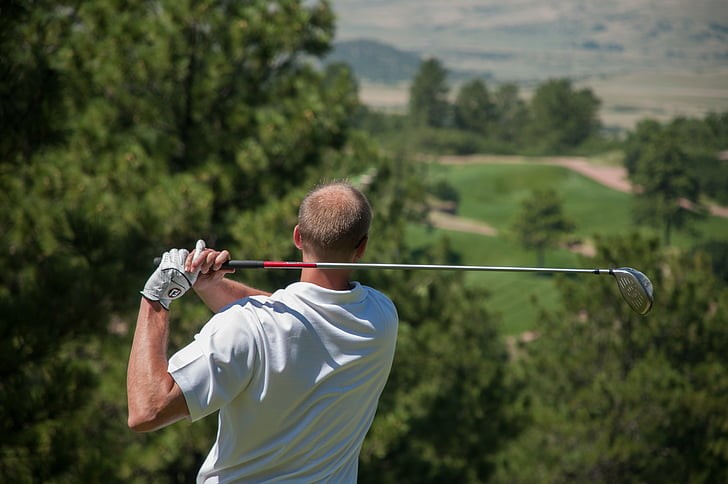 Tee off and sample wines afterward in the restaurant
Tennis & Pickleball Courts.
The Silver Creek Valley Country Club has 6 tennis courts and 2 pickleball courts. If you get to see them, you'll agree that they are in fabulous condition. The club also holds group and individual training classes for both sports, with a long list of expert coaches.
A Pool Complex (that's right, more than one pool)
The Silver Creek Valley Country Club has competition-ready swimming pools designed for year-round swimming. The pools can be used for training and competition or just getting refreshed in the water. Don't skip the jacuzzi before you dry off.
Cardio, Strength Training, and Yoga
The Fitness Center at Silver Creek Valley Country Club is just as advanced as the facilities around it. The staff and trainers are on hand to provide massage therapy, nutrition counseling, and fitness programs. You can also hop into group classes for extra motivation.
You'll have to submit an inquiry to find out about membership costs. The Silver Creek Valley Country Club doesn't make the information available online.
Let's Find Your Home in This Competitive Market
The Silver Creek Valley Country Club community is relatively small and choices are limited. When homes go on the market, you want to move quickly.
That being said, with multi-million dollar properties, things can take time. Not all of the homes around Silver Creek Valley Country Club list and sell right away. With a realtor, you might be able to make a strategic offer on some properties that aren't selling quickly. In cases like this, sellers might be willing to accept lower offers.
Discuss your options with a local realtor and find out more about the market trends around the Silver Creek Valley Country Club.