Four Ways to Boost the Value of Your Long-Term Rental
Posted by Sandy Jamison on Monday, January 23, 2023 at 5:46:39 PM
By Sandy Jamison / January 23, 2023
Comment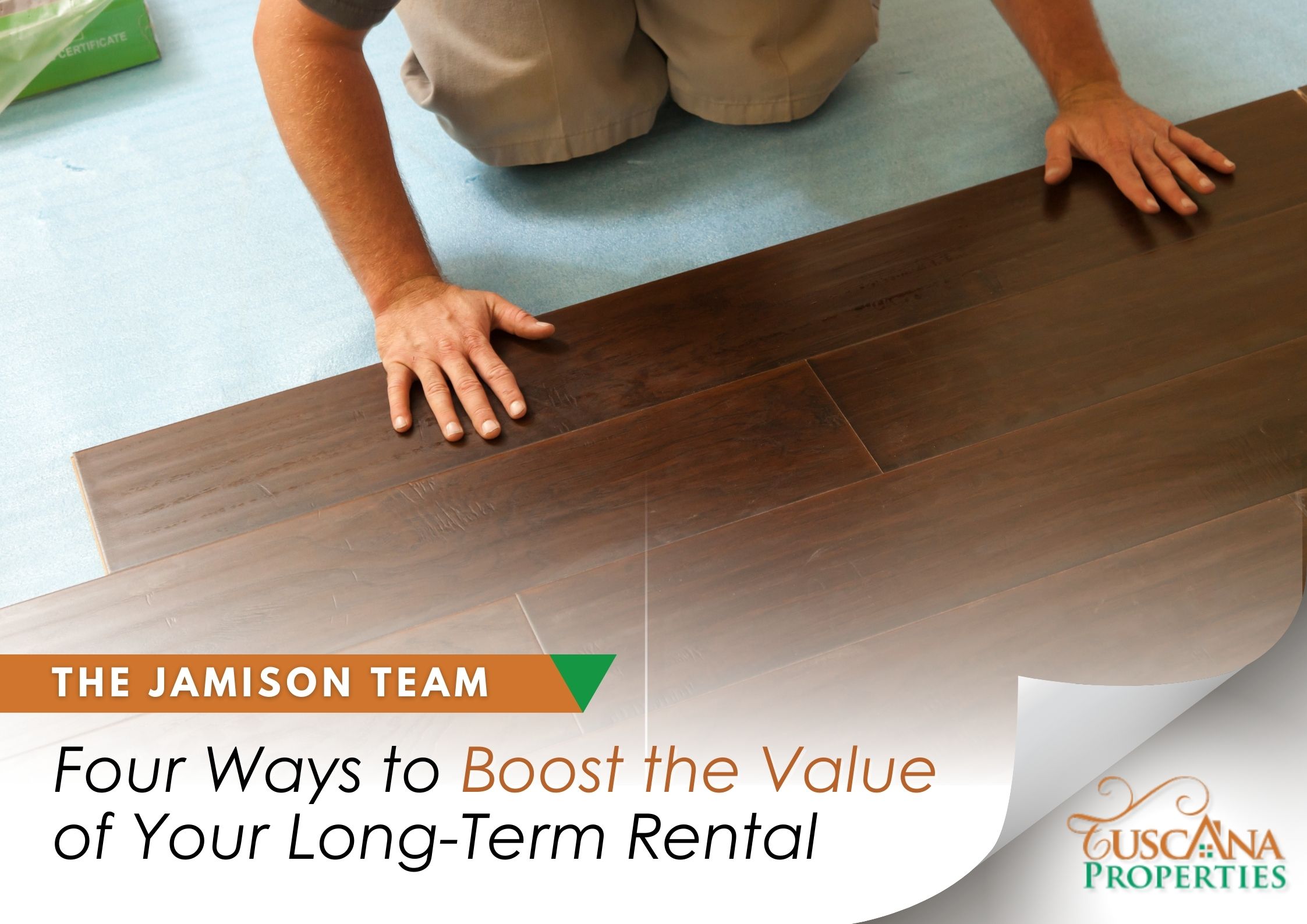 If you're no longer living in a house that you own, it may seem logical to simply sell it. Turning it into a long-term rental, however, has the potential to offer greater financial rewards — and it's not as complicated as you may assume. According to iProperty Management, over 44% of people in the U.S. are renters. Indeed, when you take the time to research your options, you'll likely find that collecting rent over an extended period offers greater profit than the lump sum of a sale. Check out these four tips from The Jamison Team at Tuscana Properties for increasing your potential revenue even further.
Get the Most Out of Your Rental
1. Beautify the Exterior
One of the best ways to boost the potential rent you can collect is to beautify the exterior of your home. Curb appeal is a big deal to many prospective tenants, and you can improve it by investing in landscaping services. Read reviews and look for contractors offering deals before you schedule a quote and consultation.
You should also ensure that the exterior of the building is in good condition. Powerwash it and check for loose or damaged boards. You'll likely need to repaint if there are any issues with the facade. Then, add an elegant touch with metal letters for outdoor signs. You can choose from a variety of metals to update the house number and add the finishing touch to your curb appeal project.
2. Screen Tenants Carefully
You need to ensure that your rental income will be consistent, and to do so, you'll need reliable tenants. To ensure that you're renting to trustworthy people, you should pay for a background check and a credit check. You may also ask for references from previous landlords.
3. Complete Any Necessary Repairs
When you lived in your home, minor issues like a leaky faucet might not have bothered you. These same problems might be an issue for a tenant, though. Be sure to complete any necessary repairs before you make your home available for rent.
4. Add Luxury Features
Luxury features like a screened enclosure can set your rental apart from other properties on the market — and allow you to demand a higher rental price, too. These spaces can provide extra room during temperate months. Other potential upgrades include an outdoor kitchen, a fitness room, and smart appliances.
Set Up a Company for Management
You'll need to decide how much of a role you want to play in managing your property. You can outsource management to another company, or you can retain control and manage it yourself. There are pros and cons to both options, but regardless of which you choose, you should establish an LLC to collect your rent payments. Be sure to check state laws to ensure you're in compliance and consult a formation service to save money on lawyer's fees.
Showcase Your Rental to Prospective Tenants
Once you've completed repairs and installed upgrades, it's time to list your property on the market and start looking for prospective tenants. To do so, you'll need to create a video that lets tenants preview the property online. A merge video tool allows you to combine video online, edit them, and choose unique moments to showcase. In no time, you'll have a combined video file that's easy to share.
Get Ready to Make Rental Money
Converting a house into a long-term rental is a great way to monetize your property and turn it into an asset. The more you invest in your home, the more rent you'll likely be able to garner, too. This makes improvements such as landscaping and a beautiful metal house number are worthwhile investments. Create a beautiful video that will allow you to showcase these improvements so that prospective tenants are drawn to the property. With the right property management strategy and an LLC, you'll soon see revenue flow from your rental.
If you're looking for help finding the perfect property to rent, then contact The Jamison Team at Tuscana Properties. We will help you to find the right home for your real estate investment needs.
More Questions? Follow-up With Us!
If you have more questions about what to expect from the markets around Santa Clara county, don't be afraid to reach out to us today. Our experts are experienced in this region, and we can help you to find what you need to know today.