Find Your New Home: Downsize With Your Pet
Posted by Sandy Jamison on Friday, July 15, 2022 at 4:23 PM
By Sandy Jamison / July 15, 2022
Comment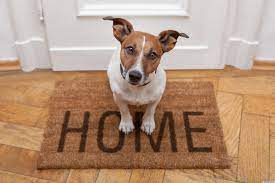 Moving is one of the most stressful life events. When you have a pet, you add another layer of stress. Finding a new home may benefit you and the family dog, but how can you take on the change efficiently?
Create a Checklist
When planning to move, create a checklist of all the tasks you need to complete. Moving requires you to stay on schedule. Before you sell your current home, start to sort through your personal belongings. Decide which items you can part with and which you may have difficulty parting with.
Selling your home requires you to focus on appealing to buyers. To determine the value of your home, consider the buyer demand and nearby homes for sale. An appraisal provides an idea of your home's worth. To increase the value of your home, consider home improvements. Whenever you remodel or improve your home, take before and after photos as proof. Likewise, keep receipts as documentation of all of the changes. When you document the changes, you can quantify the increase in appraisal price.
When hunting for your new home, think about the style you want. Consider your pet's needs too. Would your dog benefit from a yard? Do you want a room set aside for your pets? Think about your animal's needs before choosing the new location.
Begin To Downsize
When you start to downsize, consider what makes your house a home. For example, if you have a piece of art that brings you joy, do not forget to pack it with the rest of your items. Consider taking your items to a thrift store or donating to someone less fortunate. Most people find it easier to part with things when they know someone else may use them.
Your pet may become stressed during the downsizing process. Domestic animals are creatures of habit. When making the environment unfamiliar, it may become stressful and confusing. Your animals are intelligent. When you start packing your things, they know something is coming. Be empathetic and keep your pet's favorite toys and bedding close.
Keep Your Pup Safe
According to the experts, you should keep your pets in a quiet room on moving day. Your furry family member may become scared and make a getaway during the packing and loading stage. Try to acclimate your pets to their crates before you leave. Use treats to create positive associations.
If possible, pet-proof your new home before you arrive. Put away all electrical cords, check the windows for secure screens and ensure your animal cannot access electrical cords.
Purchase Pet Insurance
As a pet owner, you know it can be expensive. If your pet gets sick or injured, the costs can really start to add up. That's where pet insurance comes in. Just like health insurance for humans, pet insurance can help to cover the cost of medical care for your furry friend. By signing up for a policy, you can rest assured knowing that you'll be able to afford the best possible care for your pet if they ever get sick or hurt. The cost of your premium will be influenced by type of breed, age of your pet, and your location. When shopping for Cali pet insurance, be to consider the deductible, maximum age, and coverage of your policy.
Ease Your Stress
Moving is a significant life event. You may experience symptoms of stress, including headaches, jaw pain, appetite changes, and trouble sleeping. To reduce your stress, try to organize and manage your time. Create to-do lists and track all of your deadlines.
Dogs thrive in familiarity. If your dog becomes stressed, chances are you will experience it too. Try to maintain the same feeding and walking schedule throughout the move. Humans and dogs alike can combat anxiety through exercise. Consider bringing your dog with you as a workout buddy on walks or runs. When you exercise with your dog, you strengthen your bond with your pup.
Preparing to downsize your house can cause stress to all family members, including your furry members. When it comes to moving, keep your pets in mind. By pet-proofing your home, reducing their stress, and purchasing pet insurance, you can keep your beloved pet safe.