Essential Tips for Investing in Your First Vacation Rental
Posted by Sandy Jamison on Monday, November 15, 2021 at 5:11 PM
By Sandy Jamison / November 15, 2021
Comment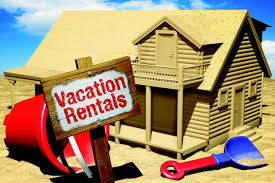 So, you are thinking about starting a vacation rental business. For hundreds of years, real estate investment has remained one of the most reliable methods of building wealth. And the vacation rental market, in particular, continues to thrive. That said, purchasing a rental property can be complex, and it's essential to know what you are getting into. That's why The Jamison Team has provided this practical list of tips and resources to get you started!
Know the Advantages and Disadvantages
As with any other type of investment, there are pros and cons to purchasing a vacation rental. Make sure you weigh them before diving in.
⦁ Buying a vacation rental can provide you with lucrative monthly income, but it also requires a significant investment upfront.
⦁ A vacation rental can be an excellent opportunity to earn passive income. Just be sure to work with a knowledgeable and experienced agent through The Jamison Team.
⦁ The vacation rental industry as a whole consistently does well, but there is a risk of having issues finding good tenants in a down market.
Choose the Right Property
Many different factors go into determining whether a property is a good or bad investment. Here are a few critical tips to consider:
⦁ Make sure the location you're considering provides access to plenty of amenities (e.g., activities, dining, shopping, etc.).
⦁ Have any property you are interested in thoroughly inspected for safety, repairs needed, and other issues.
⦁ Conduct a cash flow analysis on the property to estimate what you stand to make each month after the purchase.
⦁ Also, estimate your long-term return on investment once all expenses are considered.
Make Your Property Unique
A lot of investors have caught on to the booming vacation rental industry. You will want to do everything you can to make your property shine among the others!
⦁ Make any upgrades necessary to provide the ultimate convenience and comfort for your guests.
⦁ Create a top-notch listing with professional photos and descriptions of your property. You can also use a logo maker app to create a custom logo for your fledgling rental business.
⦁ Develop an outstanding strategy for marketing your property on social media and rental sites.
⦁ Provide a welcome book that explains where guests can enjoy nearby restaurants, coffee shops, events, and activities.
If you want to supplement your income and have a second home to which you can retreat here and there, buying a vacation rental might be the ideal move for you. Before you dive in, however, factor in the benefits and risks, know how to distinguish a good property from a bad one, and work hard to make your property stand out!