Does Flipping Properties In Low-Income Neighborhoods Really Pay Off?
Posted by Sandy Jamison on Tuesday, April 4, 2023 at 9:06:23 AM
By Sandy Jamison / April 4, 2023
Comment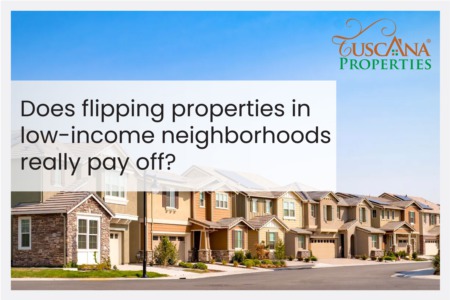 Managing real estate gets difficult for many people, especially since the prices in high-income neighborhoods are excessively high. Therefore, you might be wondering if purchasing and flipping a house in a low-income neighborhood is worth the trouble.
Property investment requires a strong management system and lots of planning. Low-income neighborhoods might not offer the advantages that upper-class and middle-class neighborhoods do, but they come with big perks as well. So let us discuss the challenges and the benefits of flipping properties in low-income neighborhoods.
Place-Based Investing
Depending on the market, your property value might change greatly. The area of your home changes the significance of flipping a property. Choosing a specific neighborhood for your investment can be referred to as Place-Based Investing. Usually, the location of your property can increase or decrease its value. You can get to your target buyers by choosing the property areas wisely.
How to Define a Low-Income Neighborhood
If you are an investor who plans to purchase a property to flip in a low-income neighborhood, it's best to understand its premise. Firstly, you need to understand why the neighborhood is low-income.
Most of the time, a low-income neighborhood is one with retail houses that sell for less than 100 000$. This means that nicely renovated and functional homes cost less than 100 000$ in the neighborhood. However, there are levels in low-income neighborhoods as well.
Some neighborhoods are considered low-class and cheap because of the danger they hold. However, some neighborhoods have inexpensive properties but are safe and secure for owners and residents.
One is obviously better than the other. Therefore, if you can find a neighborhood that is low-income because of properties there and not because of levels of danger and criminal rates, then you have a bigger chance of successfully flipping real estate.
How to Define The Price
You need to learn about the target buyers. There is a difference between investors who wish to fix and flip homes and those who want to buy and hold, such as property managers and investors. Property managers are going to look at your project and make sure that the home is livable at the bare minimum when a fix and flipper will try to turn the house around to sell it for a lot of money and make a huge profit.
Therefore, to analyze deals, you need to know who your clients are and what you can get for a certain neighborhood and property.
You can use a strategy that gives you the upper hand by selling homes for less than the average. Therefore, you will have to find out what buyers are offering in a neighborhood that you have chosen and make offers to sell for slightly less. For example, you can offer to sell a home to a buyer for 60 000$ when they have been expecting to pay 70 000$ for a house in your neighborhood. The key is giving the best offer for a property that you spent way less than you are asking for.
You can subtract your chosen wholesale fee from the average price of houses in the neighborhood you have chosen. This way you will have a maximum allowable offer in the area. You are going to have to do a great deal of research to find the right buyers for your property.
Is Fix and Flip a Good Idea for Low-Income Areas?
Although we discussed ways to profit from investing in properties, including in low-income areas, many experts would suggest otherwise.
Investing in a property in a low-income market is going to be difficult to profit from if you wish to fix and flip. In most cases, people rent properties in low-income neighborhoods, which is why this is more appropriate for property managers. However, people rarely buy homes in low-income areas. The risk is greater than in high-level markets when it comes to flipping houses in low-income neighborhoods.
Low-income neighborhoods are low-income for a reason, mostly because they lack important facilities such as schools, hospitals, and care centers. Therefore, it's a better option for you to raise your capital and wait for the perfect opportunity to purchase an inexpensive, fixer-upper property in a high-income market to flip it and sell it for a greater value. Desirable locations can have a great effect on your success.
More Questions? Follow-up With Us!
If you have more questions about what to expect from the markets around the Bay Area, don't be afraid to reach out to us today. Our experts are experienced in all property types and the entire San Francisco Bay Area, and we can help you to find what you need to know today.