Are You Dreaming Of Owning A Home In California But Can't Afford It?
Posted by Sandy Jamison on Tuesday, March 28, 2023 at 7:21 PM
By Sandy Jamison / March 28, 2023
Comment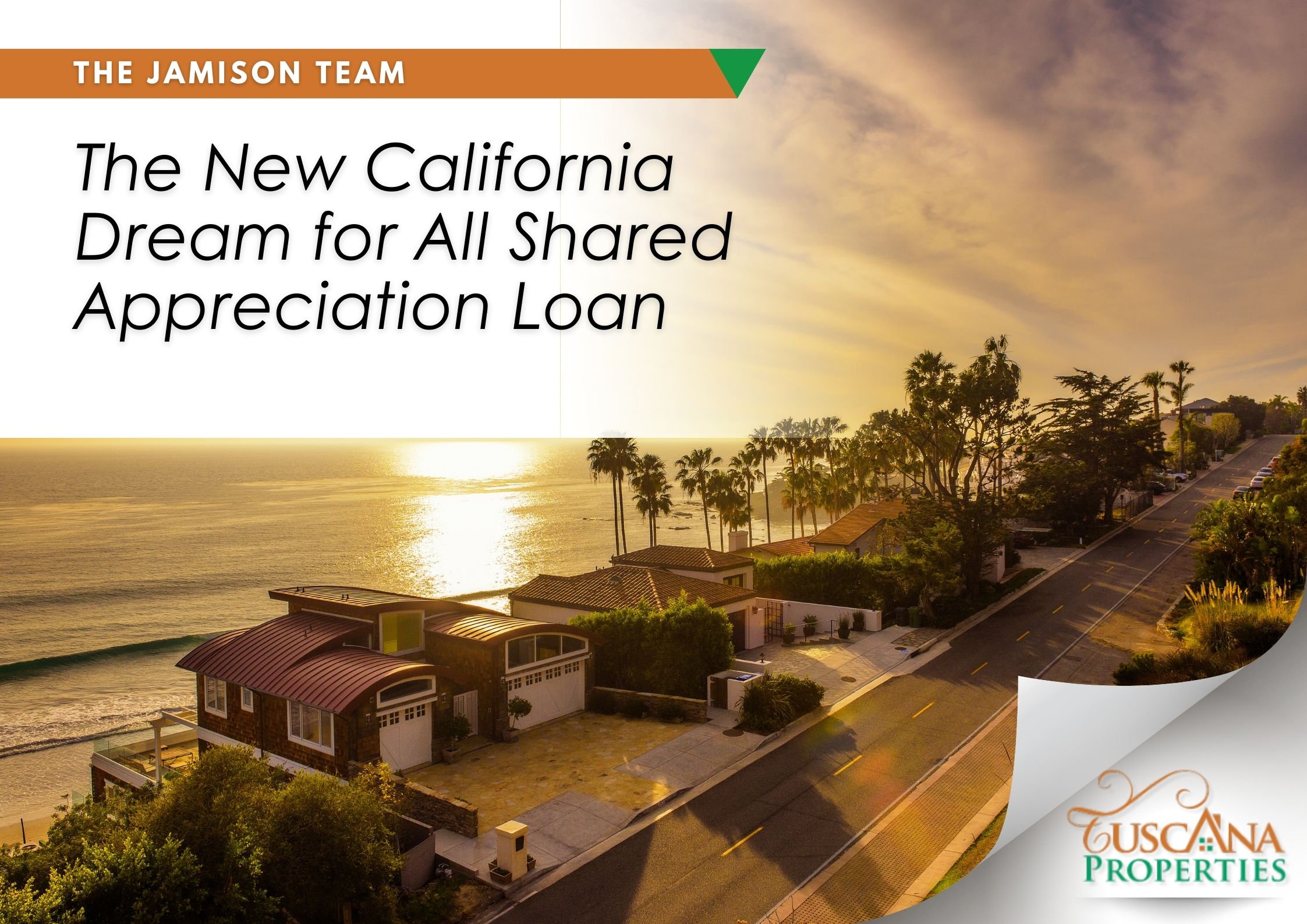 A shared appreciation loan is a type of mortgage where the lender agrees to lend money to the borrower in exchange for a share of the property's appreciation when it's sold or refinanced. The California dream for all shared appreciation loan is a new program launched by the state government to help low- and moderate-income families buy homes.
The Dream For All Conventional first mortgage for down payment and/or closing costs.
Borrower Requirements
Be a first-time homebuyer. See the definition of a

first-time homebuyer

.
Occupy the property as a primary residence; non-occupant co-borrowers are not allowed.
CalHFA borrowers must complete two levels of homebuyer education counseling and obtain a certificate of completion through an eligible homebuyer counseling organization.
Meet

CalHFA income limits

for this program.
Here are five great reasons why you should consider the new California dream for all shared appreciation loan:
You don't need a large down payment. With the shared appreciation loan, you can put down as little as 0% of the home's purchase price, making homeownership more accessible to many Californians.

Dream For All provides a loan for 20% of the home purchase price that can be used for down payment. In conjuction with a conventional loan of usually 80%.

Home buyer education requirement- 2 classes total. One being an 8hr class. CalHFA firmly believes that homebuyer education and counseling is critical to the success and happiness of a homeowner, and requires homebuyer education and counseling for first-time homebuyers using a CalHFA program.

You can improve your credit score. Making timely payments on your shared appreciation loan can improve your credit score, which can help you qualify for better loans and lower interest rates in the future.
While there are many benefits to the shared appreciation loan, there are also some reasons why it may not be the right choice for everyone.
Here are five reasons why you might want to think twice before applying for a shared appreciation loan:
You'll be sharing your home's appreciation. Shared Future Appreciation when you sell, refinance. Or convert to a rental or in 30 years

Your income must meet requirements. CAlHFA has specific income limits per county.

Your offer will have to have multiple contingencies (Loan,appraisal) to meet CAlFHA guidelines.

You'll be limited in your home choices. The shared appreciation loan is only available for certain homes and in certain areas, which may limit your options.It is currently only offered in CA. Only available for single family homes, condos, townhomes. Not availbale for mobile homes.

This is not a program for the investors. You will be sharing your appreciation and you will be expected to live in the home you purchase.
To ensure that you get the most out of the shared appreciation loan, it's essential to work with great lenders and realtors.
A great lender can help you understand the loan terms and answer any questions you may have.
A great realtor can help you find the best homes for your budget and guide you through the home buying process.
In conclusion, the new California dream for all shared appreciation loan can be a great option for many Californians looking to buy a home. It offers many benefits, such as a lower down payment and the ability to borrow more money. However, it's essential to consider the drawbacks and work with great lenders and realtors to make the most of the loan.
More Questions? Follow-up With Us!
If you have more questions about what to expect from the markets around the Bay Area, don't be afraid to reach out to us today. Our experts are experienced in all property types and the entire San Francisco Bay Area, and we can help you to find what you need to know today.