6 Smart Devices to Bring Your Home Into the 21st Century
Posted by Sandy Jamison on Wednesday, November 3, 2021 at 8:59 AM
By Sandy Jamison / November 3, 2021
Comment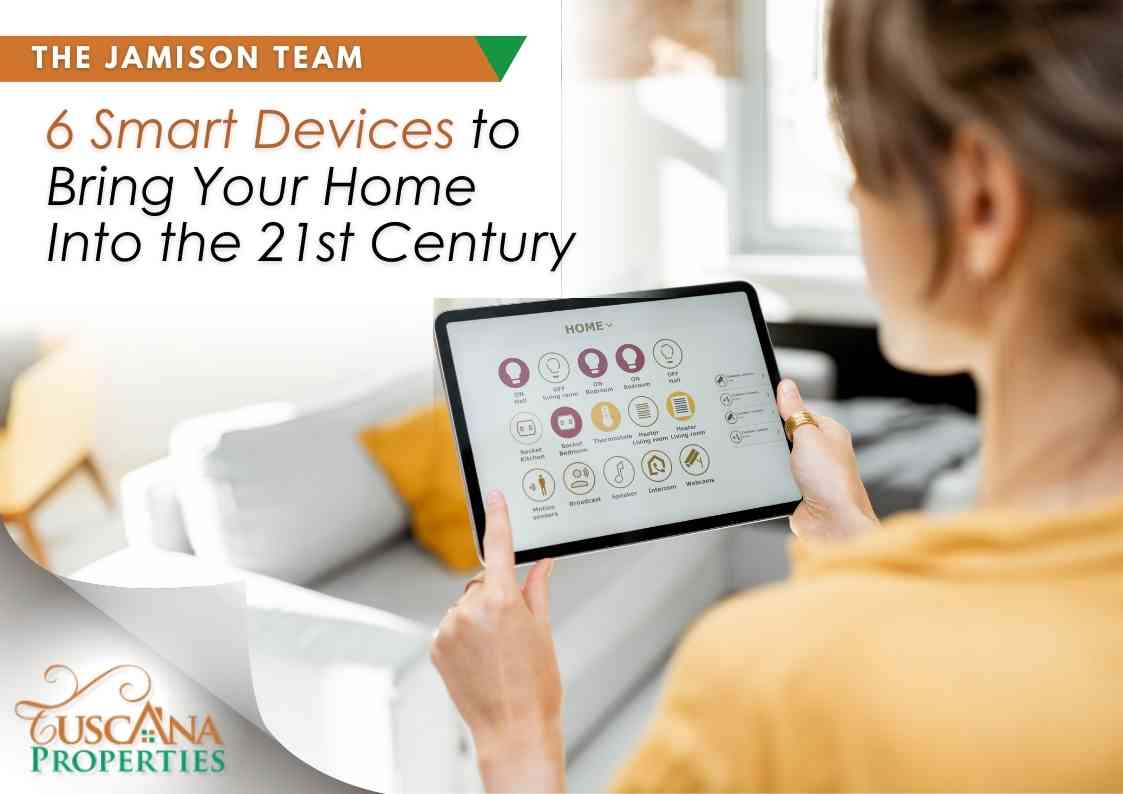 Being a homeowner means constantly looking for the best ways to improve your home. That could involve various external remodeling projects, such as replacing old or damaged bricks or making major renovations to your kitchen or bathroom. But improving your home doesn't necessarily require any physical changes—you can make your life easier, and your home more liveable, with a handful of simple purchases. Home automation through smart devices can truly move your home from the distant past to the exciting future, and in doing so you can even increase the value of your home. There are dozens to choose from, but these six smart devices can truly help bring your home into the 21st century.
Amazon Alexa/Echo
First and foremost, an Amazon Alexa is a great home assistant that can perform a variety of tasks, and can even be paired with many of the smart devices listed in this article. You no doubt are familiar with Alexa, the friendly voice that can do everything from tell you the temperature to turning on and off lights, your television, or other smart devices. These devices can range from the simple Dot, which serves as a smart speaker that utilizes the Alexis home assistant, to Echo Show models that include a touchscreen and can play or cast video anywhere on your network. When used properly, this can serve as the "brain" for your smart devices. Think of it like a voice-activated remote control for your home. It's a great start to guide you into making your home a smart home by adding on the following devices.
Nest Smart Thermostat
There are many smart thermostats in the market, but the most popular, and one of the most accessible, is the Nest Smart Thermostat, made by Google. It's relatively easy to install (in fact, Nest's installation how-to video is only six minutes long) and it can revolutionize how you use heating and cooling in your home. Nest users save an average of 10%-20% on their heating or cooling bills, through a combination of smart technology that tracks when you are home and away, and easy programmability that can allow you to lower your heating or air conditioning when you're away or asleep, while raising (or lowering) temperatures when needed. A smart thermostat is one of the first, and most important, smart devices most homeowners add, and it's well worth the investment.
Phillips Hue Smart Light Bulbs
Want to see the benefit of cheaper energy bills without having to install anything in your home? Well, smart light bulbs are the way to go. Phillips is one of the market leaders in smart light bulbs, and their Hue Smart Light Bulbs are a great way to amplify your lighting game. If you can change a lightbulb and install an app, you can easily set up these bulbs. And when you do, you'll be able to change your lighting through your phone, changing the dimness or color of the light in your room, and turning your lights on or off from anywhere, both inside or outside of your home. These bulbs range between $15 and $50 each, but provide much more than just convenience and some fun lighting effects. They also last over 25 times longer than a standard light bulb, they use less energy (which saves you on energy bills). These light bulbs are definitely more expensive than what you might be used to, but with their longevity, cost effectiveness, and additional bells and whistles, once you switch to a smart light bulb, you'll likely never look back.
LG Signature InstaView ThinQ Smart Refrigerator
While by far the most costly "device" on this list, it's undeniable that a high-end smart fridge is one of the most transformative smart appliances you can purchase for your home. This comes with a transparent touchscreen, allowing you to peer inside your fridge without even opening it. But that's just one of many things this fridge can do. It automatically opens with the wave of your foot in front of the door, and each shelf gets dedicated LED lighting.
With internal cameras, when you're out grocery shopping, you can use an app to look into what you have in the fridge, and shop accordingly. And that touchscreen has a lot of amazing capabilities, like the ability to write out grocery lists to send directly to your phone. On top of everything else, this fridge keeps your food at its proper temperature much more efficiently than other fridges. It requires less time being open, and is built to retain cold temperatures. It may be a big investment, but it's also an incredible upgrade to your home.
Ring Smart Doorbell
For anyone who wants to prioritize the safety of their home, while also making sure their delivery packages get delivered properly, the Ring Smart Doorbell is here for you. Yes, it serves as a doorbell that you can customize, but the real benefit of this device is its camera, motion detection capabilities, and two-way audio feature. A Ring doorbell stays dormant, but turns on when someone reaches the door, allowing you to see who is outside, and communicating with them if necessary. It makes sure you don't let anyone in who you don't want inside, but it also records people who go to your home (like package snatchers). And with night vision capabilities, you can be sure that your home is monitored and secure at all hours of the day!
Sonos One Smart Speaker
For anyone who loves setting the mood with the perfect song, or passing the time listening to their favorite playlist, the Sonos One smart speaker is a powerful, compact voice-activated speaker that can fit anywhere in your home. It's elegant, sleek, and provides unparalleled audio quality. And if you've got Amazon Alexa set up, great news! Sonos One works with Alexa, so you can play music, get questions answered, and operate it completely hands-free!
For any audiofile, a smart speaker is a game changer. If you purchase multiple speakers, they can be paired together to create rich surround sound, or to play your favorite song throughout your home with crystal clear precision. It doesn't matter if you're just installing smart light bulbs, or decide to shell out on a smart fridge, smart devices make your home more interactive, and simply help make your life easier. No matter what devices you decide to add to your home, you won't be disappointed!
More Questions? Follow-up With Us!
If you have more questions about what to expect from the markets around the Bay Area, don't be afraid to reach out to us today. Our experts are experienced in all property types and the entire San Francisco Bay Area, and we can help you to find what you need to know today.