6 Questions You Need to Ask Your Potential Tenants
Posted by Sandy Jamison on Tuesday, June 22, 2021 at 8:11 AM
By Sandy Jamison / June 22, 2021
Comment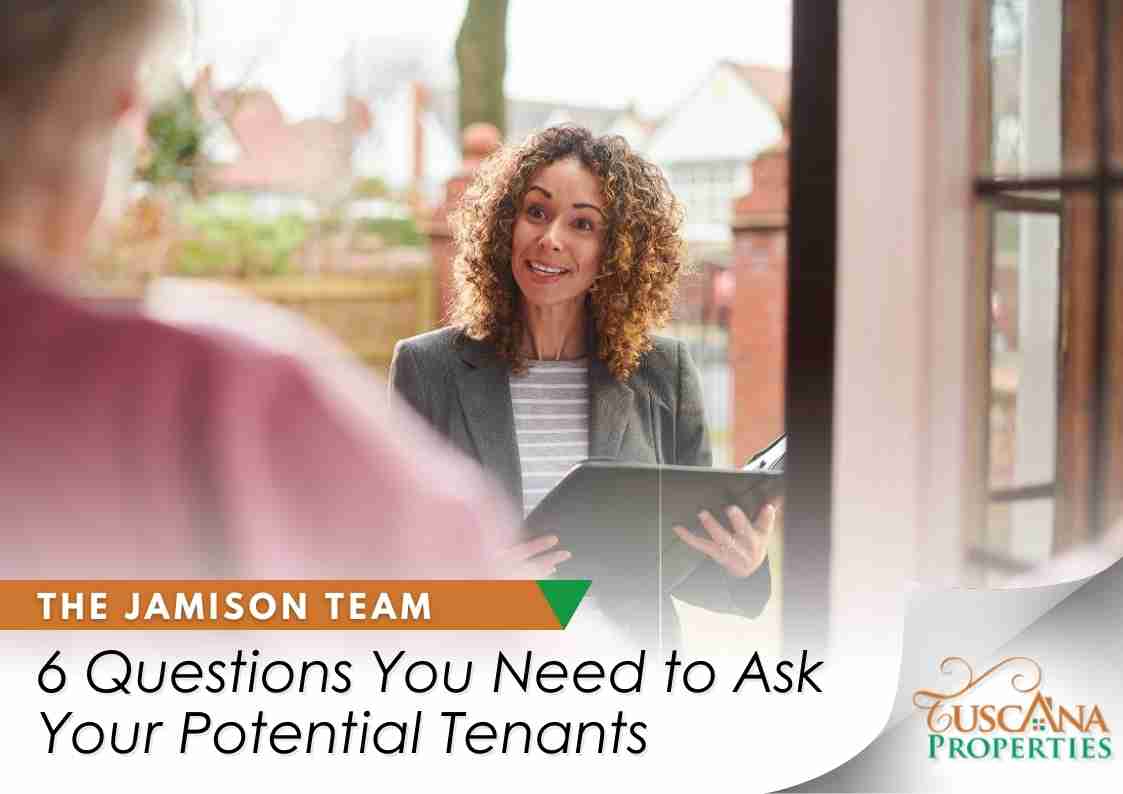 To avoid breaking any Fair Housing rules, it is important to ensure consistency and approach all potential renters similarly. At the bare minimum, make sure that each renter fills out a rental application and authorizes a credit and criminal background check.
Continue reading for 6 questions to ask potential tenants if you do not already have a set of questions in place for screening a tenant.
1. Why Are You Moving?
It may appear at first that this is unrelated to you. However, pay attention to the responses, as they may reveal some alarming red flags. Keep an eye out for renters who are relocating due to an eviction or a strained relationship with their previous landlord.
Related Topic That You Might Want To Read: "Things to Do Before Putting Your Rental Property on Market in Summer"
Renters who complain about their existing living circumstances should be avoided since problematic tenants frequently carry their problems with them. Instead, look for valid reasons to move, such as a growing family or a job change.
2. When Do You Plan To Move?
Tenants who want to move in right away should be avoided unless they have a compelling justification for it. If a tenant wants to leave, most rental homes need a month's notice, so a candidate who wants to move in right away may have waited too long - a hint that they are not trustworthy.
3. How Long Have You Lived At Your Current Residence?
Inquiring about the length of their previous and present residences is an excellent question to pose to potential tenants. If they appear to be a frequent mover, jumping from property to property, you can expect them to vacate your property soon, leaving you searching for tenants once again.
4. How Much Do You Make In A Month?
You can be assured of a potential tenant's capacity to pay rent in the long run if they have a steady job in a well-paid role. A good rule of thumb is that if a tenant's monthly income is 2.5 times the monthly rent, they should be able to pay it. If the potential tenants include multiple employed people, you should combine their incomes.
5. Can You Provide Any References from Employer and/or Previous Landlords?
You can move on to the next suitable candidate if a potential tenant fails to provide references or starts making excuses to avoid providing them. If they do agree to provide references, you should look for references from both their employer and landlords.
Related Topic That You Might Want To Read: "3 Investment Property Secrets that are Key to Success for Landlords"
Instead of their present landlord, get a reference from a previous landlord. If the existing landlord is having problems with the tenant or wants them gone, they will jump at the chance to remove this tenant off their hands and will say anything to do so.
A former landlord, on the other hand, will likely recall a problematic tenant and be eager to provide you with an honest response. Simple questions like "Did they make rental payments on time?" "Did they maintain the property and respect neighbors?" and "What was their reason to move out?" are questions to ask former landlords.
6. Will You Authorize Me to Perform a Credit and Background Check?
If you want to know more about your tenant's past to discover if they're trustworthy and reliable, request a credit and background check. If the tenant instantly rejects, you have the option of removing them from the pool of potential tenants.
Related Topic That You Might Want To Read: "2021 Data Reveals What Renters Want When It Comes to Leasing"
If your renter agrees to the credit check, it will reveal whether or not your tenant makes their payments on time. If they pay their bills on time, they are likely to pay their rent on time as well.
The background check will reveal whether they have ever been evicted or have any criminal histories. Always obtain their consent in writing for these checks so you have proof of it on paper.
Final Thoughts
That concludes our checklist of 6 must-ask questions before handing over the keys to renters. You will be much closer to choosing your ideal candidate once you have asked your questions and your renters have asked theirs. You can get more information on how to screen potential tenants by contacting us!
More Questions? Follow-up With Us!
If you have more questions about what to expect from the markets around the Bay Area, don't be afraid to reach out to us today. Our experts are experienced in all property types and the entire San Francisco Bay Area, and we can help you to find what you need to know today.