5 Ways to Protect a Vacant Property from Theft
Posted by Sandy Jamison on Friday, May 19, 2023 at 7:00:36 AM
By Sandy Jamison / May 19, 2023
Comment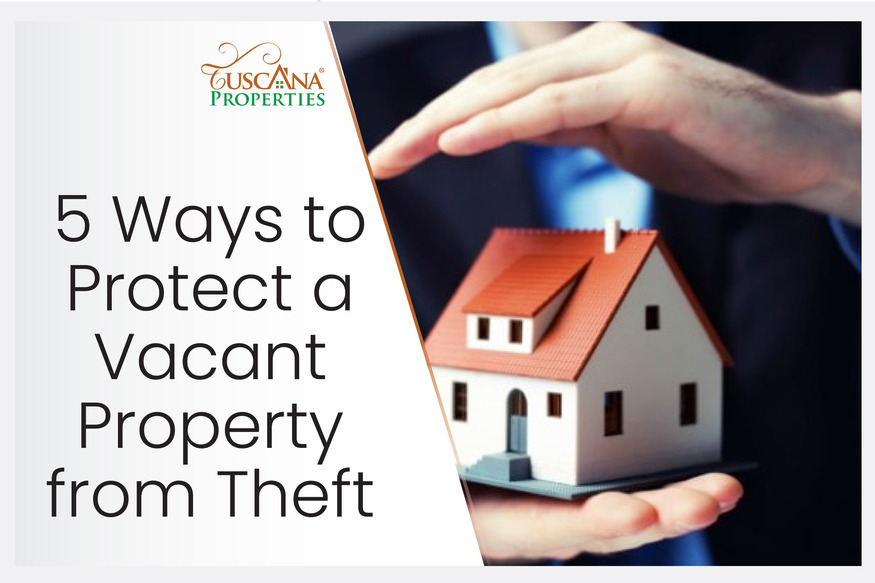 Real estate properties can be the target of several crimes, including vandalism, illegal squatting, and, most importantly, theft. When the property is unattended, this risk increases considerably.
With property crimes like trespassing and theft at an all-time high-it is vital for real estate owners to take precautionary measures to protect that property.
Criminals are constantly looking for empty properties, as these are the perfect target for their activities. Following are five important tips to protect your property from theft and intruders.
#1 Securing all doors with strong locks and metal bars
One of the most basic measures to protect your property from break-ins is securing all your doors with powerful locks and metal bars. The conventional wooden doors just don't do it anymore, as they can be broken into with just two nudges. You must upgrade your deadbolt and lockset, and frankly speaking, it is not that difficult.
According to FBI burglary data, 65 percent of house break-ins occur by forcing open the front, back, or garage service door (not including the 12 percent of entrances where burglars find your "hidden" key or simply stroll in through an unlocked door).
A strong door with a Grade 1 or Grade 2 lock with a solid 1-in. Long throw bolt is the foundation of a secure entry. Examine your current deadbolt. First, check sure the screws are tight. Open the door and pull out the throw bolt. A new deadbolt will be more secure if it extends less than 1 in. Or is it unstable?
How to install a deadbolt
Remove the original deadbolt: Usually, deadbolts have two screws on the internal face plate. Adjust the faceplate so that these screws are accessible, loosen them, and then remove the plate. The striking plate (the thin horizontal plate that makes contact with the door frame) should then be removed. This will also be attached to your door with two little screws. Then remove the plate. You should be left with a hole in the door.
Size your new deadbolt to the door: Deadbolts come in two sizes; 2 - 3/4 and 2 - 3/8. You can easily tell which one is the right fit by putting the bolt against the hole. The latch should sit in the middle of the hole.
Screw in the new plate: Once the lock's core and the plate are aligned, screw the plate into the door.
Attach the front and back plates: Align the door's front and back plates. The bolt holes in the front face plate are where the provided screws go. These will correspond to the back-face plate.
Screw in the two bolts that connect the back plate to the front plate. If you're doing it alone, you may need to be patient and make a few efforts and when you're done. Make sure to test it.
#2 Erecting a security fence around the perimeter of the property
A few factors must be considered when installing a fence on your property. Security experts believe that transparent or see-through fencing is a safer option. While great for privacy, Solid and opaque fencing can be a possible hideout for thieves, a risk that is better avoided.
The taller the fence, the safer it is. A reasonable height fence is 8 feet. Furthermore, do not install horizontal railing as it would assist the intruder by giving a leg up and over.
Spikes or electric wires are also a great way to provide that extra security. Make it difficult and painful for someone to cross the fence. Also, don't forget to put up a warning sign.
#3 Setting up a modern video security system
Installing CCTVs in your premises is a must, whether you're on the premises or not. In this modern day and age, you can connect CCTV footage to the cloud. This allows you to see in real-time what's happening in and around your property in real time, even if you're currently located on the other side of the world.
If you foresee that the property is going to be vacant for a long period, it would be wise to plan a reinforced video monitoring strategy that involves infrared or a thermal security camera system.
#4 Removing valuable items from the premises to reduce the risk of stealing
Ideally, valuable items should be entirely removed from a vacant property. This refers to things like excessive cash, gold or diamond jewelry, and assets that have a special value for you.
When this is not so feasible, these valuables should be very well hidden. Try to pick a spot that even the most clever burglar would find difficult to guess. Things like artwork, collectibles, electronics, antiques and other valuables can be simply moved into a self storage unit, where they will be well protected.
#5 Setting up a responsive alarm system
Responsive alarm systems are designed to sense the opening and closing of doors and windows through motion and sound to help detect whether someone has entered the premises. They are a great additional source of security which demotivates intruders from entering the premises.
Time to take charge
Now that you understand how important it is to protect your property from the alarming rate of burglaries, you must now follow these steps to ensure your premises are protected up to the mark.
More Questions? Follow-up With Us!
If you have more questions about what to expect from the markets around the Bay Area, don't be afraid to reach out to us today. Our experts are experienced in all property types and the entire San Francisco Bay Area, and we can help you to find what you need to know today.