5 Tips to Prepare for Your Downsize
Posted by Sandy Jamison on Wednesday, June 30, 2021 at 4:51 AM
By Sandy Jamison / June 30, 2021
Comment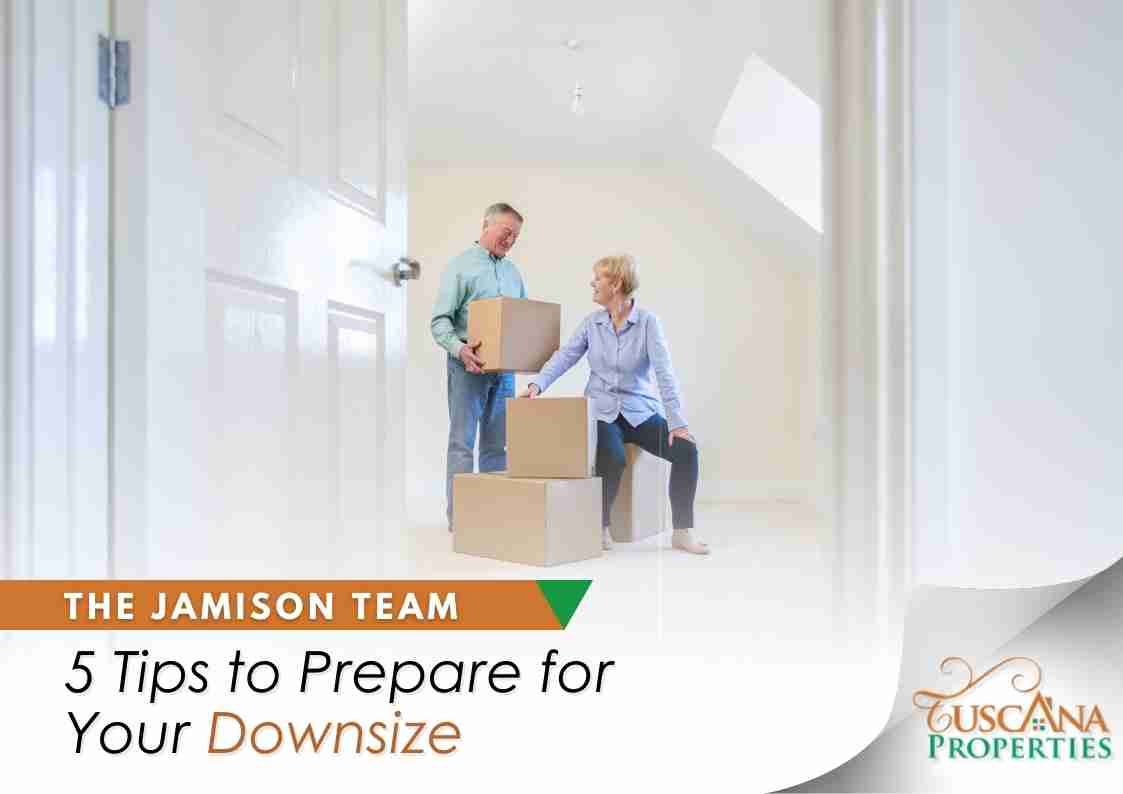 There are countless reasons why you might be ready to downsize your home. Perhaps you have the chance to relocate for your job and you are seeking a smaller, more affordable place to live. Maybe your children have grown up and flown the coop, and now you and your spouse are ready to adjust your lifestyle. Or it's possible that you've simply decided to minimize, declutter, and live in a more ecologically friendly way.
Whatever the reason for your downsizes, facing down the contents of your entire house can be a daunting prospect. So before you begin to prepare for your downsize, it will be helpful to have a comprehensive plan of attack.
Related Topic That You Might Want To Read: "6 Questions You Need to Ask Your Potential Tenants"
That's where we come in. Let's take a look at five tips to help you prepare for your downsize below, so you can start the process with clear objectives every step of the way.
1. Start Early
Sorting through, organizing, and getting rid of items in your house will take more time than you might anticipate. Give yourself a head start, allowing as much time as possible to work on this house-sized project. If you need to coordinate furniture removal services, host a yard sale, or donate boxes of clothing and household items to a charity, then you will need plenty of time to organize all of those logistics.
Related Topic That You Might Want To Read: "Things to Do Before Putting Your Rental Property on Market in Summer"
Plan out a downsizing calendar, counting backward from Moving Day. Mark out specific days to spend on projects related to your downsize. That way, you can take the time you need to thoroughly work through every part of the house, without feeling rushed, scattered, and hectic as Moving Day looms closer.
2. Go Room By Room
Once you have your downsize prep schedule marked out on your calendar, determine where you want to start decluttering. Take it room by room. The best way to approach a decluttering project is to remove everything- yes, that's right, absolutely everything.
Open up every drawer, empty every cupboard, and remove all the items from the closet. That way you will have a clear sense of just how much stuff there will be for you to go through. If tackling an entire room at a time seems too daunting, start with a particular section of the room- empty out the medicine cabinet and sort through old medicines, throwing away anything you no longer need or that is past its expiration date.
Starting with easy decisions will help you build confidence as you move through to the more difficult items to part with- sentimental objects, special furniture, etc. Plus, the more small areas you clear out completely, the more small accomplishments you can achieve throughout the months building up to your move.
3. Digitize Your Documents
While scrapbooks and photo albums can be lovely keepsakes to flip through, boxes full of unsorted photos and files full of documents simply take up space. And if you are downsizing homes, then space is the primary thing you need to be aware of. Scan your photos into your digital filing system and store them in a remote server like the Cloud.
That way wherever you have a strong internet connection you can access your digital photo albums and scrapbooks. You can even make a project out of it, turning them into slideshows and digital collages. That way you have all the memories saved, without boxes and boxes of photos taking up precious space in your new home.
Related Topic That You Might Want To Read: "3 Investment Property Secrets that are Key to Success for Landlords"
Then, once you have digitized your photos, tackle the filing cabinets in your home office. Make digital versions of any important documents, like your mortgage, your insurance information, and your tax records. Make sure you are uploading the digital copies to a secure server (you may want to look into how to add extra cybersecurity measures to your digital file storage). If you have records from more than ten years ago, you can shred them, and travel to your new home with a light, minimized documents file.
4. Measure Your Space, Then Measure Again
You are probably familiar with the old adage related to construction, "measure twice, and cut once". That sage advice applies beyond just the realm of making furniture, however. Measure your new space, paying careful attention to all the dimensions of each space where you will be moving in furniture. Then measure your furniture, whether it is old furniture from your previous home or new furniture you will purchase. Make sure your furniture will fit in your new home.
Measure not only space where the furniture will sit but also the points of access to get to that space. You don't want to find yourself on move-in day stuck with a bed frame that simply will not fit through the bedroom door, or a dining room table that takes up the entire space (leaving no room for chairs, or people). Take the time to note down all the dimensions of your spaces, entryways, and furniture in easy-to-understand diagrams. Then keep those on hand as you make decisions about what to keep and what to give away or replace.
5. Follow Your Own Rules
As you work through room by room and item by item, it will be helpful to follow a set of rules you have laid out for yourself beforehand. Try to approach each room using the following categories: Keep/Memorialize, Donate/Sell, Give Away, Trash/Recycle.
Sort each item into one of those categories, then stay organized as you go through. If you are memorializing photographs, your children's artworks, or holiday cards from dear friends, then take a picture, create a digital copy, and sort those items into the recycle pile.
For donations, schedule your donation pick up close to moving day; that way you can continue to add to the pile as you move through the house. List furniture or larger items for sale as early as possible to increase your chances of finding the right buyer. Remember you can always negotiate when the buyer will pick up their purchase.
Downsize and Clarify
As you get ready to downsize, remember to try to maintain a positive attitude. While it can be big, and at times overwhelming, the project to tackle, ultimately you will have a clearer sense of just what possessions you have. Plus, you will be free of years (or even decades) worth of clutter that you had not even realized was weighing you down. Take the opportunity to pare down your belongings to just those things that you need and love. The sooner you get started, the sooner you will be ready to move into your new home.
More Questions? Follow-up With Us!
If you have more questions about what to expect from the markets around the Bay Area, don't be afraid to reach out to us today. Our experts are experienced in all property types and the entire San Francisco Bay Area, and we can help you to find what you need to know today.