5 Factors To Consider When Buying A Home
Posted by Sandy Jamison on Tuesday, February 23, 2021 at 8:35 AM
By Sandy Jamison / February 23, 2021
Comment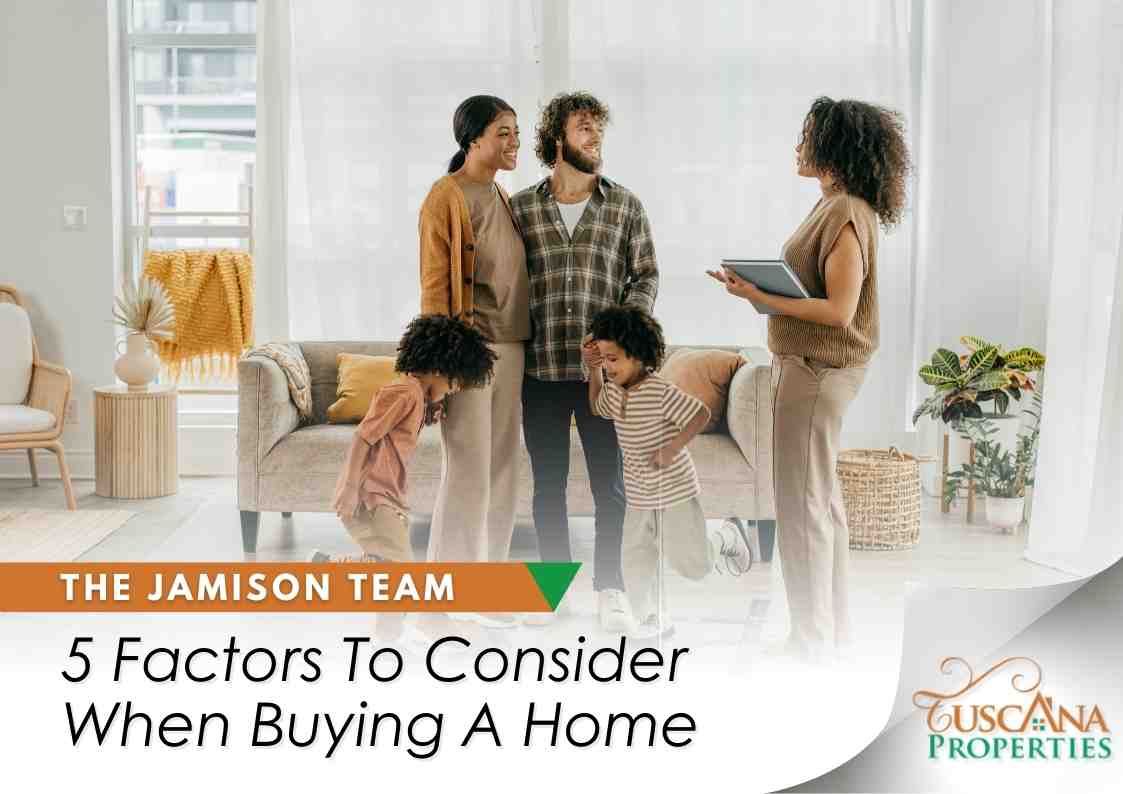 When investing in real estate property, there are a few things that you need to look into before buying the property. These are things that affect security, convenience, and reliability. Below are the top five things to consider when buying a home;
NEIGHBORHOOD
The kind of neighborhood you choose is important, whether you are buying property for your own use or for rent. If you own a dog is it a dog-friendly neighborhood with sidewalks for walking pets? If not, then consider the next offer. Also, schools are a big deal unless you are buying a home for retirement or if it is a short-term plan.
Related Topic That You Might Want To Read: "Legal Mistakes to Avoid When Buying a Home"
You should also consider other amenities like retail shops, parks, and libraries, etc because they are a top priority for most tenants. If you are investing in rental property, ensure that the environment is good enough for any resident.
LIFESTYLE
Your kind of lifestyle is also a huge determinant of the kind of home you may need to buy. For instance, if you are a frequent traveler or if you frequently commute to work then infrastructure is vital. It should not be hard for you to get access to such because the harder it is the more hectic it will be.
Related Topic That You Might Want To Read: "Benefits of Zero Down-Payment Program"
Are you a frequent party host or do you frequently host guests in your home? How often do you stay in the house and do you work from home? Determine your kind of lifestyle and invest in a home that will give you the comfort you will need.
REPAIRS
How far do you want to go with repairs? If you don't want to do any major renovations then you may need to invest in a property that has little to no repairs. Some of the most common repairs include roof, electrical, soffits, fascia, and gutters. Do not buy a house with too much maintenance and repair work than you intend to handle.
WEIGH YOUR NEEDS AND WANTS
You may get overwhelmed by different things when investing in a home. Size, location, price, condition, and features of the house are some of the most important yet confusing factors. Before deciding what to prioritize, you need to evaluate what you actually need and separate it from your wants.
Related Topic That You Might Want To Read: "How to Save Thousands of Dollars When Buying Your Home"
If you don't you will end up regretting and probably will end up looking for another property short after making your initial investment. Save your time and make sure that your needs get the first priority.
YARD
How big do you want your yard? What features do you want to install there? Do you want a swimming pool, a patio, or do you want to start a garden? Also, privacy and all these among many others are some of the factors which will help determine the kind of house you are looking for.
More Questions? Follow-up With Us!
If you have more questions about what to expect from the markets around the Bay Area, don't be afraid to reach out to us today. Our experts are experienced in all property types and the entire San Francisco Bay Area, and we can help you to find what you need to know today.