4 Ways to Revive Your Home in Time for Summer
Posted by Sandy Jamison on Tuesday, June 22, 2021 at 8:22 AM
By Sandy Jamison / June 22, 2021
Comment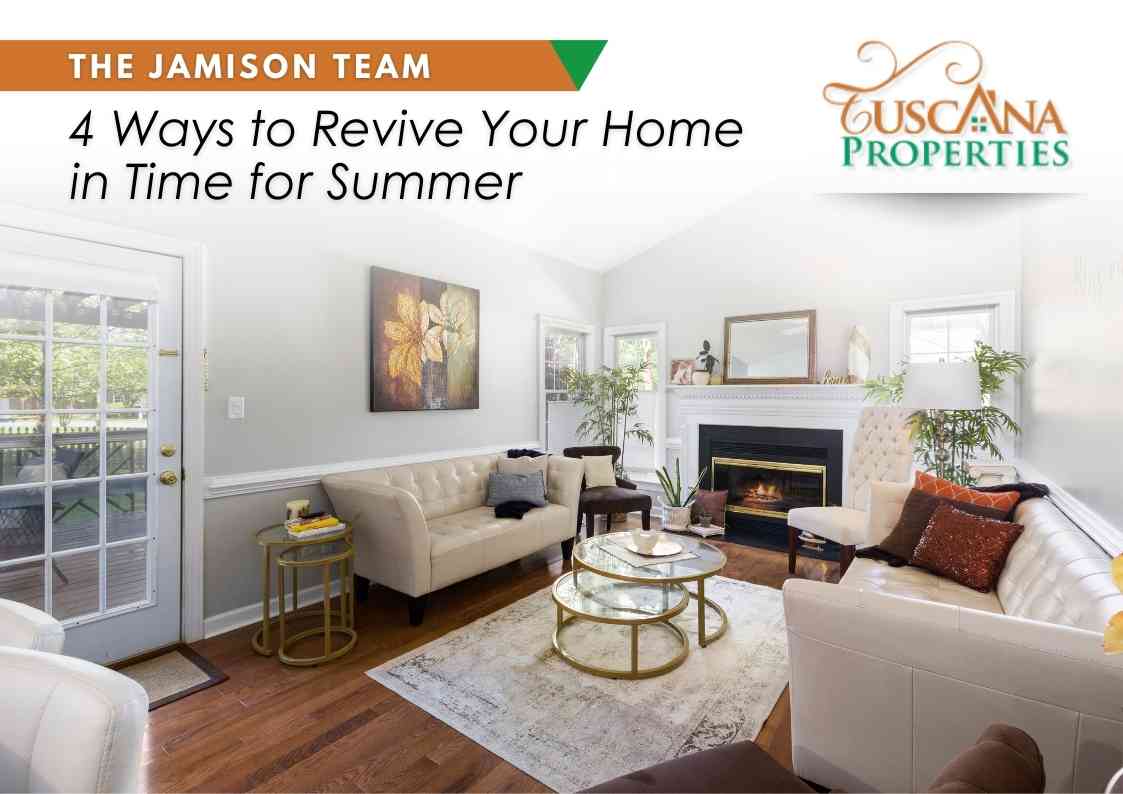 In a normal year, many homeowners are eager to throw off the winter gloom by giving their homes a summertime refresh. As the world emerges from a year filled with quarantines and pleas to stay home to avoid worsening the pandemic, it is particularly important to refresh and revive your home as you head into the summer months. These four tips can help you get started.
1. Get Rid of Stuff
In a year filled with panic buying, supply chain disruptions, and uncertainty, it is understandable if your home now looks a bit like an underground bunker. Now is a good time to clear out some of the clutter you may have been hanging on to.
Related Topic That You Might Want To Read: "How to Actually Afford to Buy a Home"
According to professional makeup artists, makeup that has been exposed to air may lose its efficacy or even cause eye infections, so throw out all that old makeup you weren't using while you were staying home. Get rid of clothes that don't fit or that you aren't wearing. Organize your home office and securely dispose of any old paperwork or used-up supplies. Items that still have value can be donated or sold.
2. Add New Decor
Now that you've cleared out all the clutter, you can bring in new decor. Introduce pops of color by adding a throw or an embroidered pillow to your couch or loveseat. Spruce up your plain walls by choosing new wallpaper.
Related Topic That You Might Want To Read: "Home-Buying 101: A Step-by-Step Guide"
Go with a fun, colorful design or something elegant and understated. You can even get your own custom design by using a print-on-demand service, which also allows you to make design choices without having to worry about the pattern you want is out of stock. Peel-and-stick wallpaper is easy to apply, and if you make a mistake or change your mind, it is also a breeze to remove and reposition.
3. Play With Textures
Earthy textures are a good way to give any home a summertime feel. Consider giving your wood furniture a distressed finish or decorate with wicker baskets. Hang gauzy curtains over your windows, and update your outdoor furniture with summery elements, such as rattan furnishings, tin garden tubs, and wooden palettes.
4. Buy Plants
Adding potted plants to your home not only makes your home look more vibrant but can actually improve the indoor air quality. There are lots of different options to choose from. Vibrant flowers offer new colors and pleasant smells. Cactuses are good options for people who want plants that don't require frequent watering. A mix of hanging rope planters, plant stands, and windowsill gardens help create visual diversity.
Purchase a New Home
If being in your house so much during the pandemic has made you realize you need to purchase a new home, it can be worthwhile to start exploring your options. If you're ready to upgrade homes, make sure you discuss the possibilities with a dedicated real estate professional like Sandy Jamison.
Related Topic That You Might Want To Read: "How to Analyze the Real Estate Market in Just 3 Easy Steps"
Whether you're thinking about selling your house or just want to perk up your home for your first summer out of quarantine, these tips can help you revitalize your living space. In no time your home can be back to being a place you look forward to spending your time, even if you no longer have to.
More Questions? Follow-up With Us!
If you have more questions about what to expect from the markets around the Bay Area, don't be afraid to reach out to us today. Our experts are experienced in all property types and the entire San Francisco Bay Area, and we can help you to find what you need to know today.