3 Investment Property Secrets That Are Key to Success for Landlords
Posted by Sandy Jamison on Friday, June 11, 2021 at 7:22 PM
By Sandy Jamison / June 11, 2021
Comment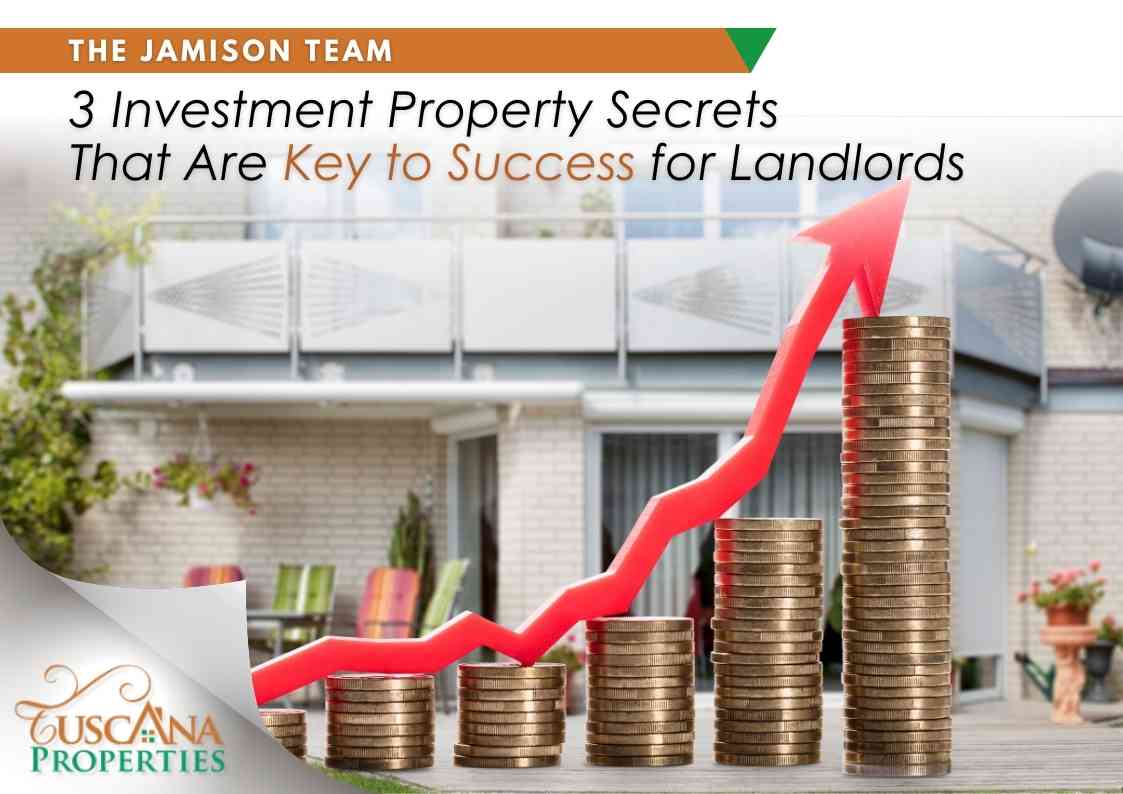 The process of buying and managing a rental property can be fairly complicated, particularly for those who are new to the realm of being a landlord. If you are contemplating making your first investment, you may have already researched the basics of finding the perfect property, like connecting with a reliable real estate company like Tuscana Properties during your search. So instead of focusing on these first steps, we offer you a few insider secrets for protecting your investment and yourself as a new landlord:
Take Care of Exterior Maintenance
An often overlooked rental property project? The outdoor area. Yet, this is essential for curb appeal — and you need to boost curb appeal to attract renters to your property.
Related Topic That You Might Want To Read: "Things to Do Before Putting Your Rental Property on Market in Summer"
Let's say, for instance, that you buy a property that has dead or damaged trees in the yard. Aside from detracting from the home's curb appeal, such trees can actually be considered a hazard. If a limb were to fall on the house — or worse, a person — you could be held liable.
Instead of leaving things up to chance and sacrificing curb appeal in the process, address landscaping issues like these ASAP. This is one maintenance project that no one should attempt to DIY. Keep the following points in mind as you look for a local tree removal service:
The company you hire should use specialized machinery and tools.
Most people will spend anywhere

from $50 to $1,500

for tree removal services.
Factors like the size of trees and proximity to buildings can impact project costs.
Ratings and customer reviews on sites like Angi can help you find the right pro.
Always confirm that stumps will be properly disposed of as part of the package.
Know What Post-Pandemic Renters Want
If you have yet to purchase your investment property, you should do some digging into what future tenants may be looking for in their next home. Like so much else, the pandemic has shifted renter demands. In general, here's what renters want:
To rent homes that are located in less crowded cities and areas.
Rental properties that are closer in proximity to their workplace.
This is in addition to expecting landlords and property managers to use technology to make their search more convenient. Now more than ever, virtual showings have become the norm.
Related Topic That You Might Want To Read: "2021 Data Reveals What Renters Want When It Comes to Leasing"
Again, boosting your property's curb appeal is one way to ensure it "wows'' potential tenants during these showings. But of course, you'll need to freshen up the inside, as well. In terms of features, not much has changed since before the pandemic — renters are still searching for homes that offer things like updated appliances, modern bathrooms, and functional kitchens. Including these improvements in your home is a surefire way to increase your ROI.
Understand the Pros and Cons of Property Managers
If you're serious about maximizing ROI, you may be thinking of foregoing professional property management to avoid paying extra fees. Before you make this decision, you should fully understand the upside of hiring a good property manager, which includes:
Having experienced professionals market your home to potential tenants.
Not having to deal with the monthly process of collecting rent.
Knowing that maintenance and repair requests will be handled ASAP.
On the other hand, it's also worth knowing the potential drawbacks, like:
Not having complete control when it comes to management decisions.
Having to pay additional management costs, like vacancy and setup fees.
Never knowing exactly who is renting and living in the rental property.
If you're concerned about property management fees and costs, you should also know that many of these expenses qualify as tax deductions for landlords, which means you could end up saving yourself a lot of headache and hassle, as well as money, by using a property manager.
Related Topic That You Might Want To Read: "The Pros and Cons of Investing In Residential Properties"

More Questions? Follow-up With Us!
If you have more questions about what to expect from the markets around the Bay Area, don't be afraid to reach out to us today. Our experts are experienced in all property types and the entire San Francisco Bay Area, and we can help you to find what you need to know today.