2021 Data Reveals What Renters Want When It Comes to Leasing
Posted by Sandy Jamison on Monday, January 25, 2021 at 1:49 PM
By Sandy Jamison / January 25, 2021
Comment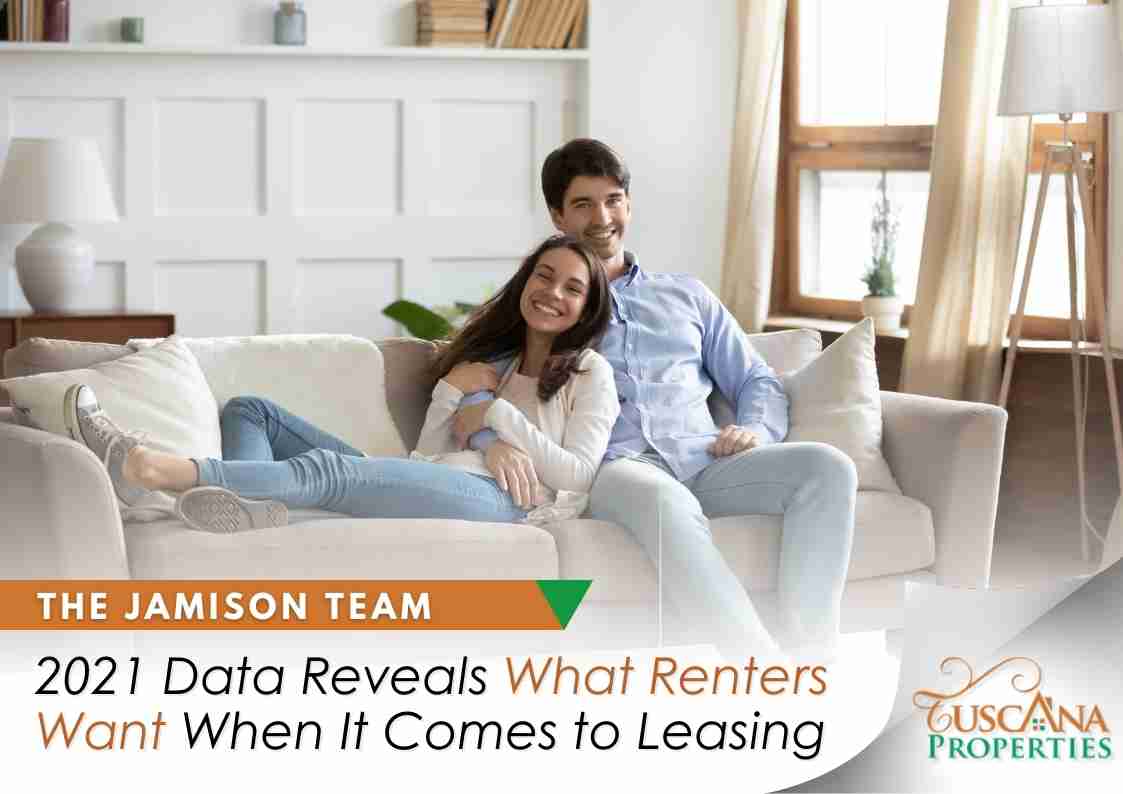 These uncertain times have had a huge impact on what renters want from property managers and leases. For starters, as is the case with most industries, renters now prefer landlords and property managers who are tech-savvy and use digital means to attract and retain renters.
That's not all, though. The pandemic has caused many unexpected shifts in the rental industry, and we're going to share these trends with you so you can stay competitive and attract more tenants to your rental property.
Related Topic That You Might Want To Read: "Getting Your Home Ready to Rent Out to Vacationers"
With that said, we interviewed our database of 1000 renters to ask them about their preferences for rental properties. Here's what we found:
Shifts In Living Preferences
The pandemic has forced many renters to shift to working from home in 2020. In 2021, however, most of their patience ran out, and as a result, property managers have noticed a shift in living preferences. The majority of renters are now moving to rental properties that:
Are situated in less populated areas
Are closer to their family
Have a scenic view
Are closer to their office, so their commute is made easy
Based on these findings, landlords should consider partnering with property managers to utilize technologies and offer tenants virtual showings. In doing so, they can attract renters from different states, or even regions, and possibly even accept applications online.
Speaking of which...
Tech Offers a Competitive Advantage
Traditionally, most of the renters' leasing journey was done in-person other than the initial Google search for 'rental properties in (insert area)'. Now, however, renters prefer property managers and landlords who use technology to ease the process. For instance, virtual showing allows renters to make faster decisions, submit an application with ease, and save time working from home.
Related Topic That You Might Want To Read: "COVID-19 and Moving Trends: A Look Into The Future"
On the other hand, virtual showings are also beneficial for leasing teams and their prospects because they are twice as likely to be opted for than in-person meetings in 2021. By adopting these technologies, landlords can also offer a better and more flexible service to their tenants, all of which offer a competitive advantage.
Once the pandemic has passed, most renters will still prefer virtual showings because so many of them are already accustomed to the idea. A majority of the renters who have already tried virtual showings think that it streamlines the leasing process and actually prefers the high-quality feed over the traditional alternative.
Customer Service
More than half of all the renters we interviewed were also of the opinion that since most property managers and landlords have shifted to an online platform, renters are more likely to make a decision based on customer service. You see, property managers that make a conscious effort to enhance the overall renting and leasing experience will be able to stand out from their competitors.
Final Words
To sum it all up, technology is your gateway to getting better prospects and laying down great leasing options for your renters. Of course, it isn't going to be easy to adopt virtual reality showings and the best websites on your own.
Related Topic That You Might Want To Read: "Learn How to Avoid Those Annoying Calls From Tenants"
Structural change was an important part of 2020, but 2021 is going to be all about transformation. If you don't have the means to offer virtual showings or establish an online presence, it will play to your advantage to hire a property manager for you.
More Questions? Follow-up With Us!
If you have more questions about what to expect from the markets around the Bay Area, don't be afraid to reach out to us today. Our experts are experienced in all property types and the entire San Francisco Bay Area, and we can help you to find what you need to know today.