10 of The Most Desirable Neighborhoods in San Jose
Posted by Sandy Jamison on Monday, June 19, 2023 at 2:48:12 PM
By Sandy Jamison / June 19, 2023
Comment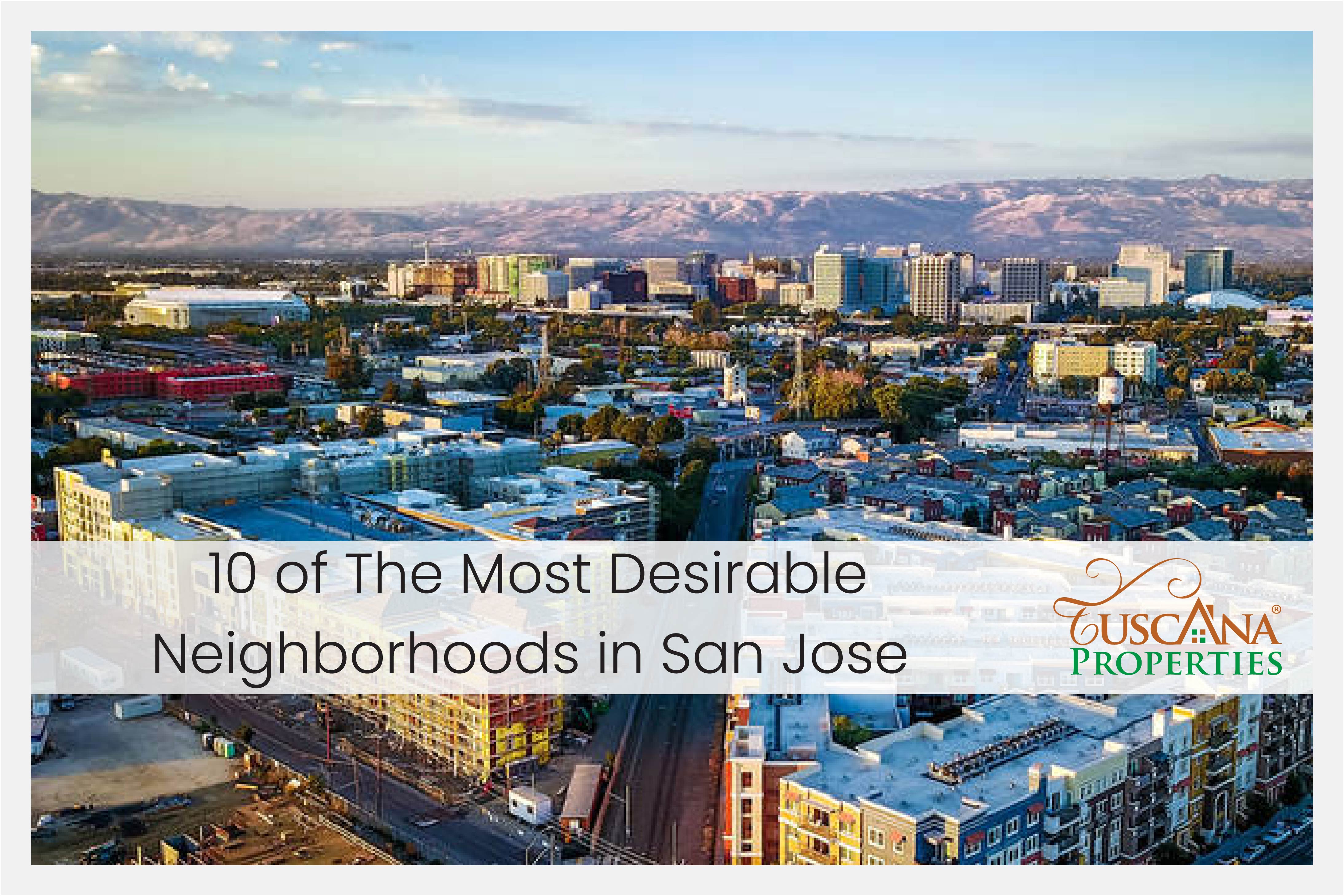 10 Neighborhoods in San Jose You Really Need To See
San Jose is the third-most populous city in California and a thriving tech hub, but in 1777 it was a farming-focused community.
The city became the unofficial Capitol of Silicon Valley in the late eighties and it's living up to its reputation. The biggest names in technology have headquarters in San Jose, so it's a home for many young professionals (though many people commute from outside the city's center).
There's a long list of communities in San Jose and an equally long list of reasons to move there. In this coastal area, there's a bit of everything. You'll find the Silicon Valley side many people know, but without traveling far you can enjoy the peace and quiet of nature. The mountains that border San Jose are perfect for wineries, golf courses, and hiking trails.
We're covering ten of the most desirable places to live in San Jose, California.
1. Los Gatos
In the foothills of the Santa Cruz Mountains sits Los Gatos; one of the most desirable towns in San Jose. Los Gatos is south of San Jose city and has a small population of just over 30,000 residents. Netflix has made Los Gatos its headquarters and there's an influx of young professionals in the area. Nevertheless, when you're strolling or driving down the streets, there's a lovely small-town atmosphere.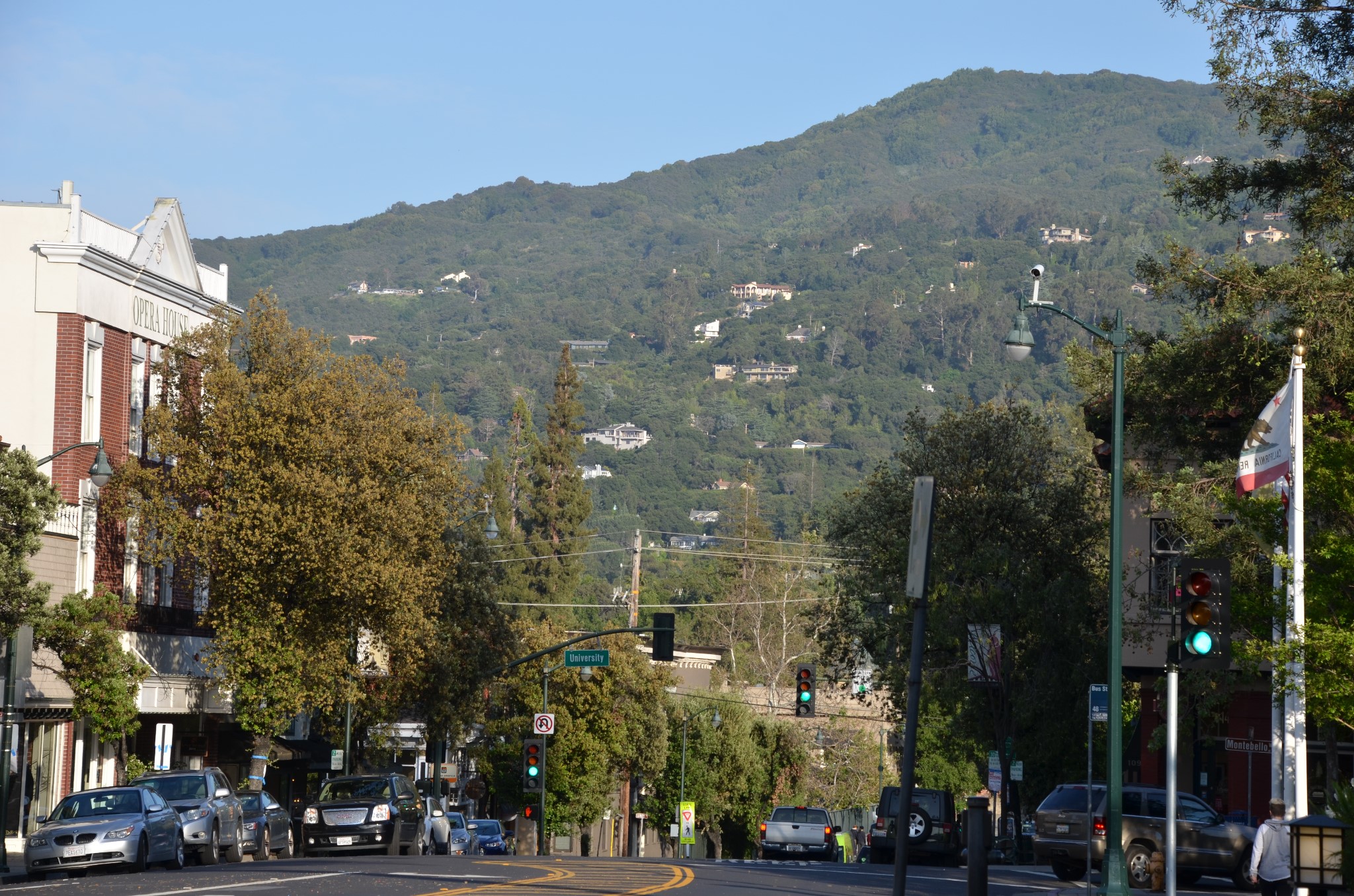 Main Street - Los Gatos (Photo: Ramkumar Menon)
Pleasant suburban homes lie in the east, while the downtown Los Gatos promenade pops up in the west.
Los Gatos is outside of the urbanized center of San Jose and ‌residents have complete access to nature. There are countless hiking and biking trails crisscrossing through the Santa Cruz Mountains, and several wineries scattered across the foothills.
The median property price in Los Gatos is $1,522,500.
2. Willow Glen
Residents of Willow Glen enjoy tranquility with access to Central San Jose. Commuters can retreat to Willow Glen's treelined streets after work and sample cocktails from margarita bars on Lincoln Avenue. There's a historic section of Willow Glen too, with gorgeous repurposed buildings like the Garden Theater.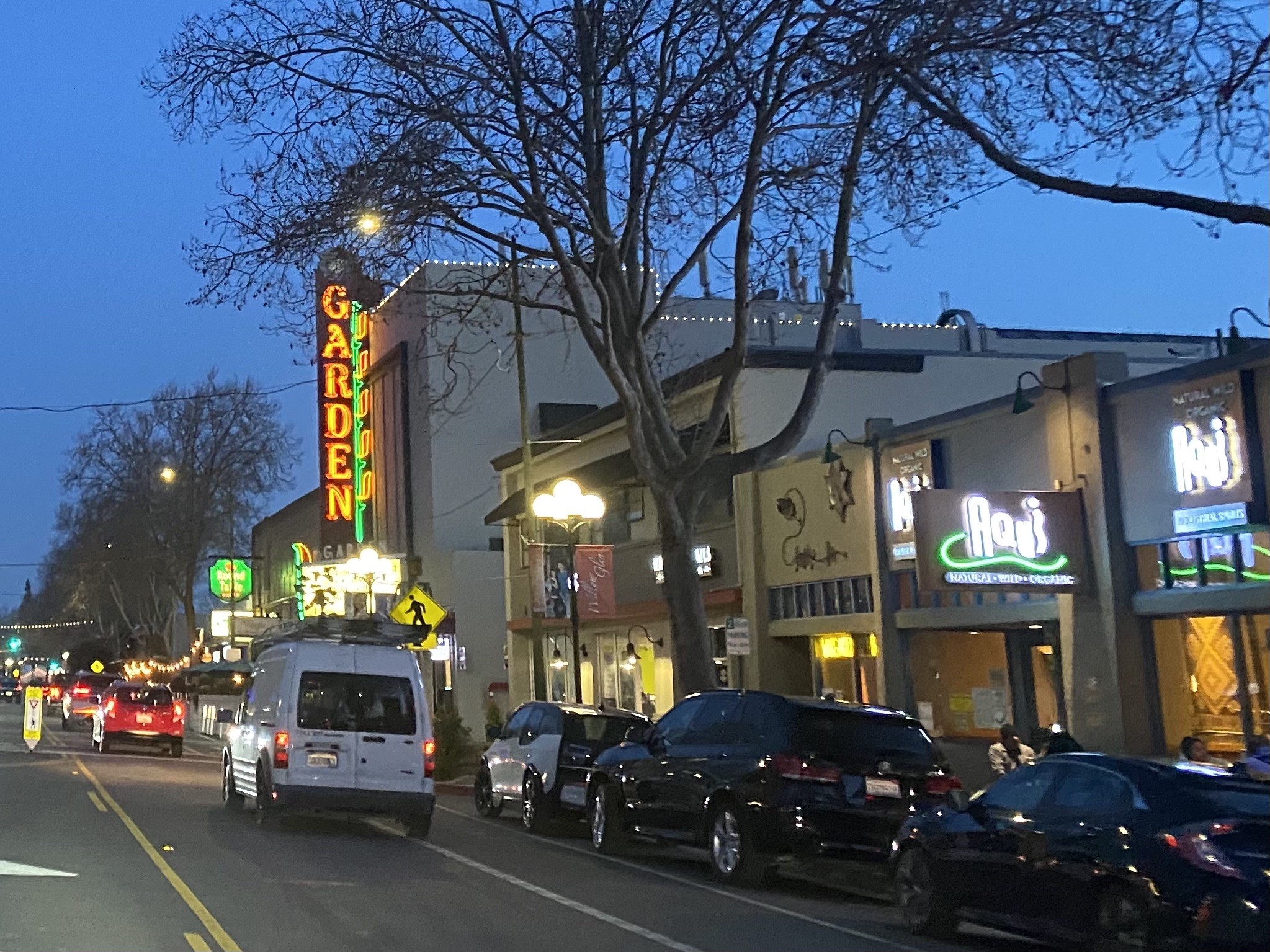 Willow Glen at Night (Photo:Cristiano Tomás)
Willow Glen is known for being a safe community, in fact, studies estimate its got a 60% lower crime rate than the rest of the nation.
Before annexation by San Jose in 1936, Willow Glen was an independent town, with roots going back to the mid-1800s. The Spanish-style homes in the area are reminiscent of this historic period.
The median list price for homes in Willow Glen is $1,998,000.
3. Central San Jose (Downtown)
Central San Jose is known for housing Silicon Valley's workforce and the San Jose Shark's home games in the SAP Center. Even though the area is highly urbanized with lofts and condominiums, there's still plenty of green space. If you live here, a picnic at the 2-acre Plaza de César Chávez comes highly recommended.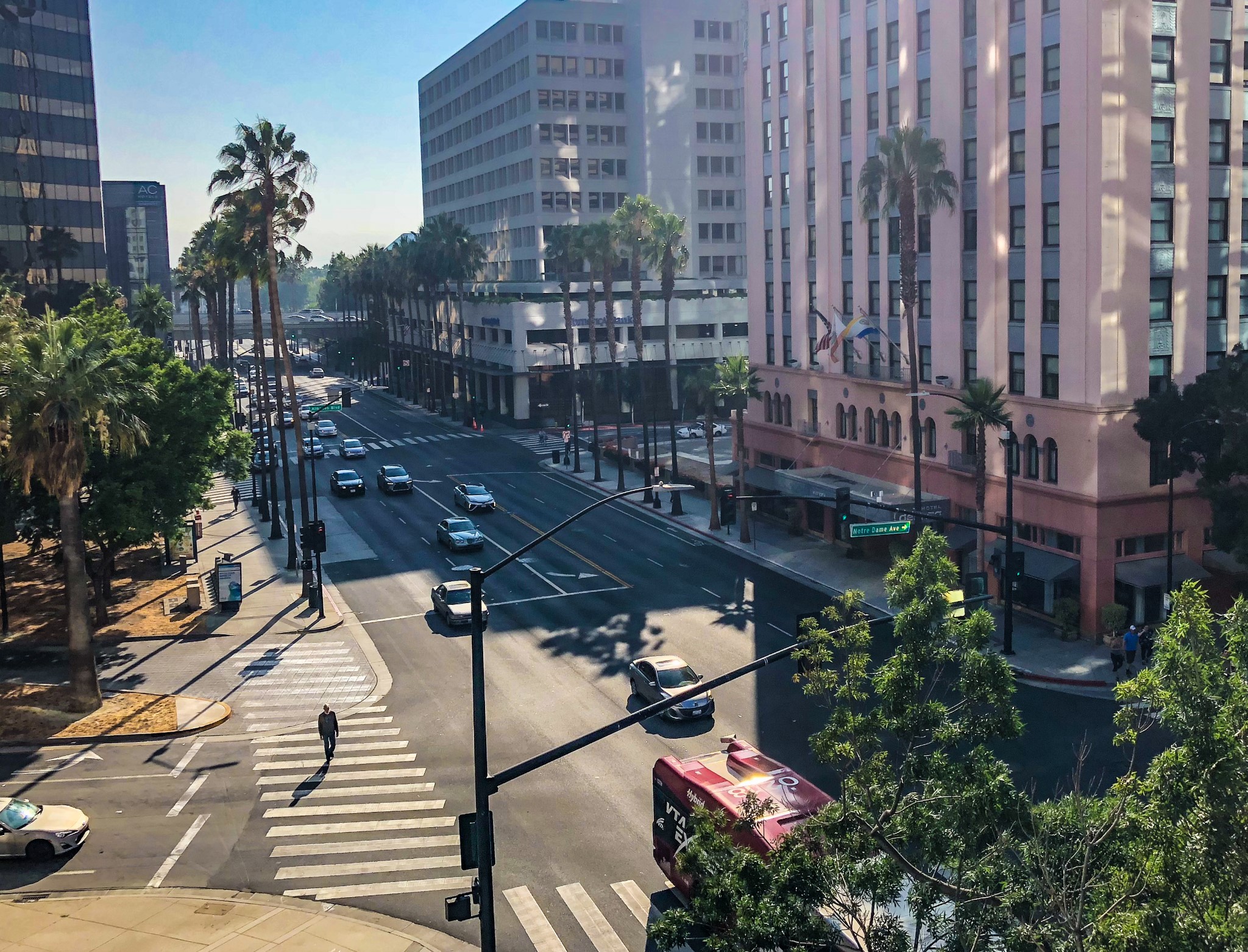 East Santa Clara Street (Photo: Will Buckner)
Locals meet at the San Pedro Square Market for tasty bites and craft brews, with over a dozen places to mingle with friends. For nightlife in Central San Jose, you'll want to check out SoFA (South of First Area) for entertainment and arts.
Due to the number of condos and apartments compared to single-floor dwellings, the median home price in Central San Jose is $749,500.
4. Campbell
Campbell has become a hub for young professionals, with fantastic quality of life (and Sunday Farmers Market). About 38,000 people live in Campbell, which is mostly a suburban residential community. The downtown portion of ‌town is quaint, but filled with fantastic foodie options.
You can quickly commute to Downtown San Jose with the light rail system that passes through Campell. If you're driving, it takes around 15 minutes. If you're looking for hiking or biking, travel for 15 minutes in the other direction and you'll be in the Santa Cruz Mountains.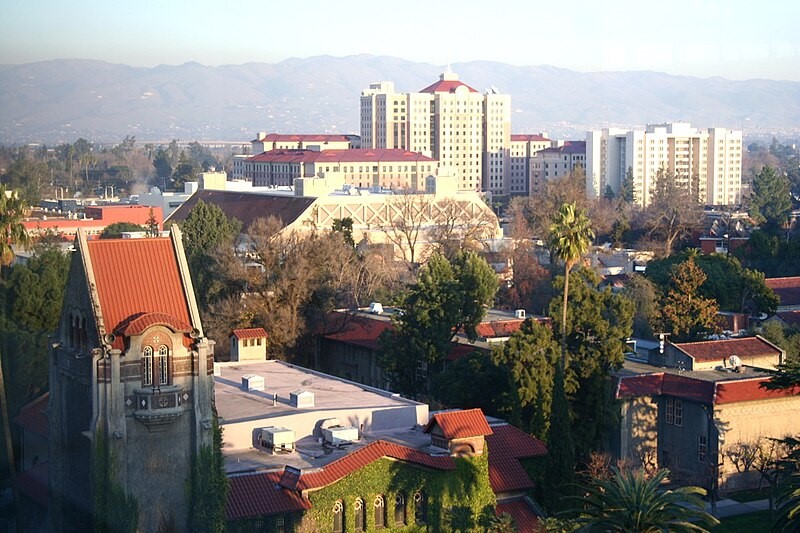 Early afternoon in Campbell (Photo: Steve McFarland)
Los Gatos Creek Park is another highlight of Campbell; a sprawling 40-acre park with a large lake and fishing ponds. There are trails all over, some running down the Creek for miles, and a dog park for your furry friends.
The median home price in Campbell is $1,799,000.
5. West San Jose
Residents choose West San Jose to get away from the speed of city life. It's 15 minutes away from Downtown San Jose, but the surroundings feel much more residential.
During the day, check out the Westfield Valley Fair or Santana Row shopping malls. At night, reserve a table in one of West San Jose's many restaurants, before cabbing to a cocktail bar or neighborhood pub.
One of the first places that new residents visit is the Winchester Mystery House, a world class heritage site and American treasure. Built by the heir to the Winchester Rifle Co., the mansion has a labyrinth-like construction with mysterious passages and hidden doors. West San Jose has numerous historic sites, which include 20 movie theaters.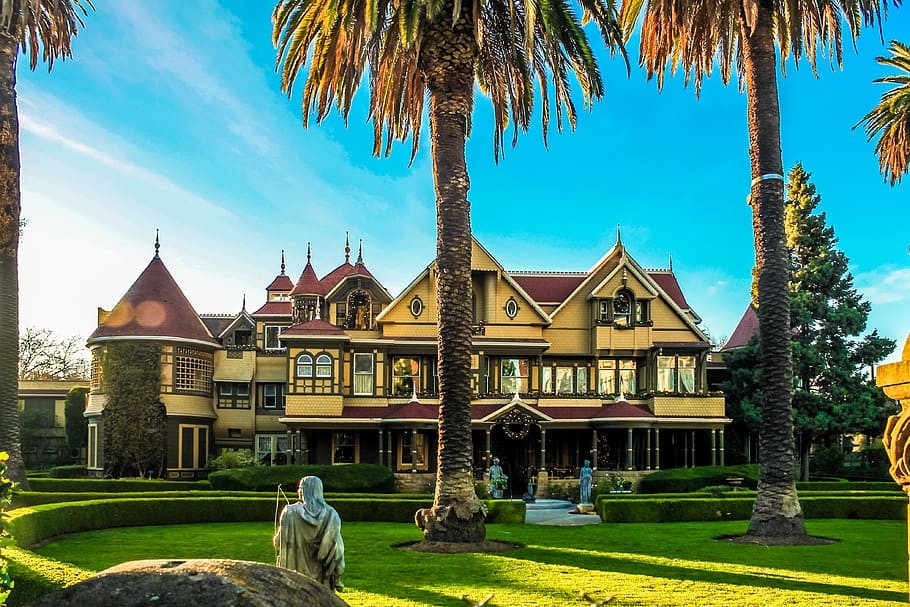 The Winchester Mystery House (photo credit: wallpaperflare.com)
The medium housing price in West San Jose is $1,398,000.
6. Almaden Valley
Almaden Valley has a small population of just under 40,000 residents, many of which own their own property. The area's homes and lots are spacious, with fewer apartments and condominiums compared to Downtown San Jose.
On a map, you'll see Almaden Valley to the south of the Bay Area, up against the Santa Cruz Mountains. Nearby is the Almaden Quicksilver County Park, an old mining site with over 4000 acres of hiking, bird watching, and biking.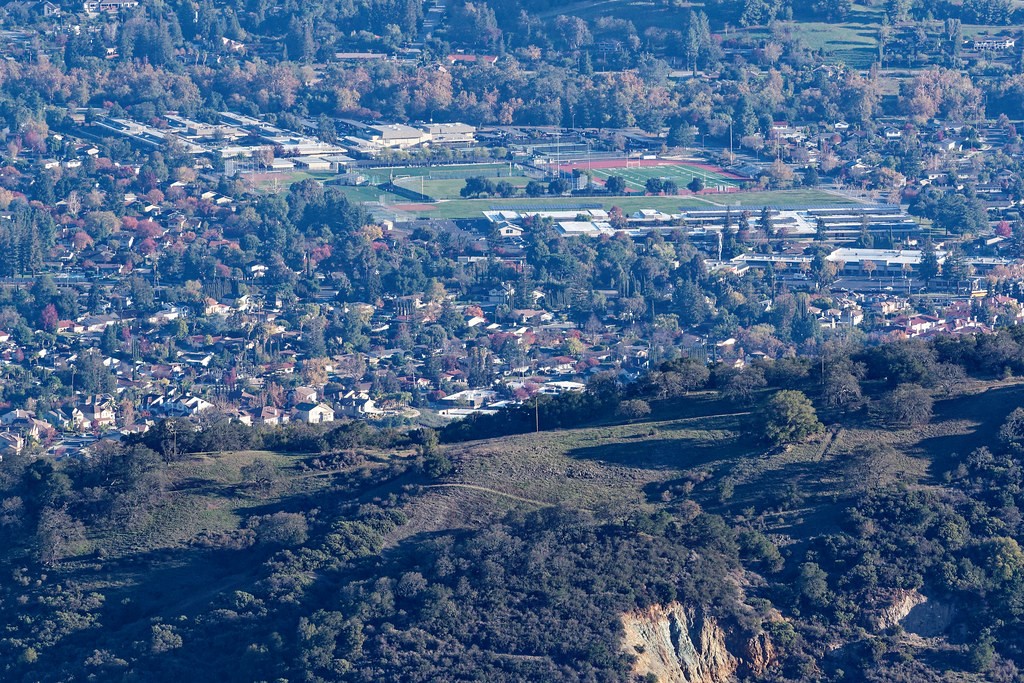 Photo of Almaden Valley via Flickr (Ian Abbott)
Almaden Valley is also known as Almaden by residents, who are mostly upper-middle-class families with a median income of around $180,000.
Of all our featured communities in San Jose, Almaden Valley boasts one of the highest median list prices, at $2,177,500.
7. Evergreen
The community of Evergreen is east of Central San Jose (Northeast of Almaden Valley) and it's gone through rapid development over the past decade. It's known as an affordable place to get spectacular views of the foothills.
Like many cities in California, nature is just a stone's throw away. The area has hiking and outdoor attractions, but you can also take short drives to different parks along the Santa Cruz Mountains.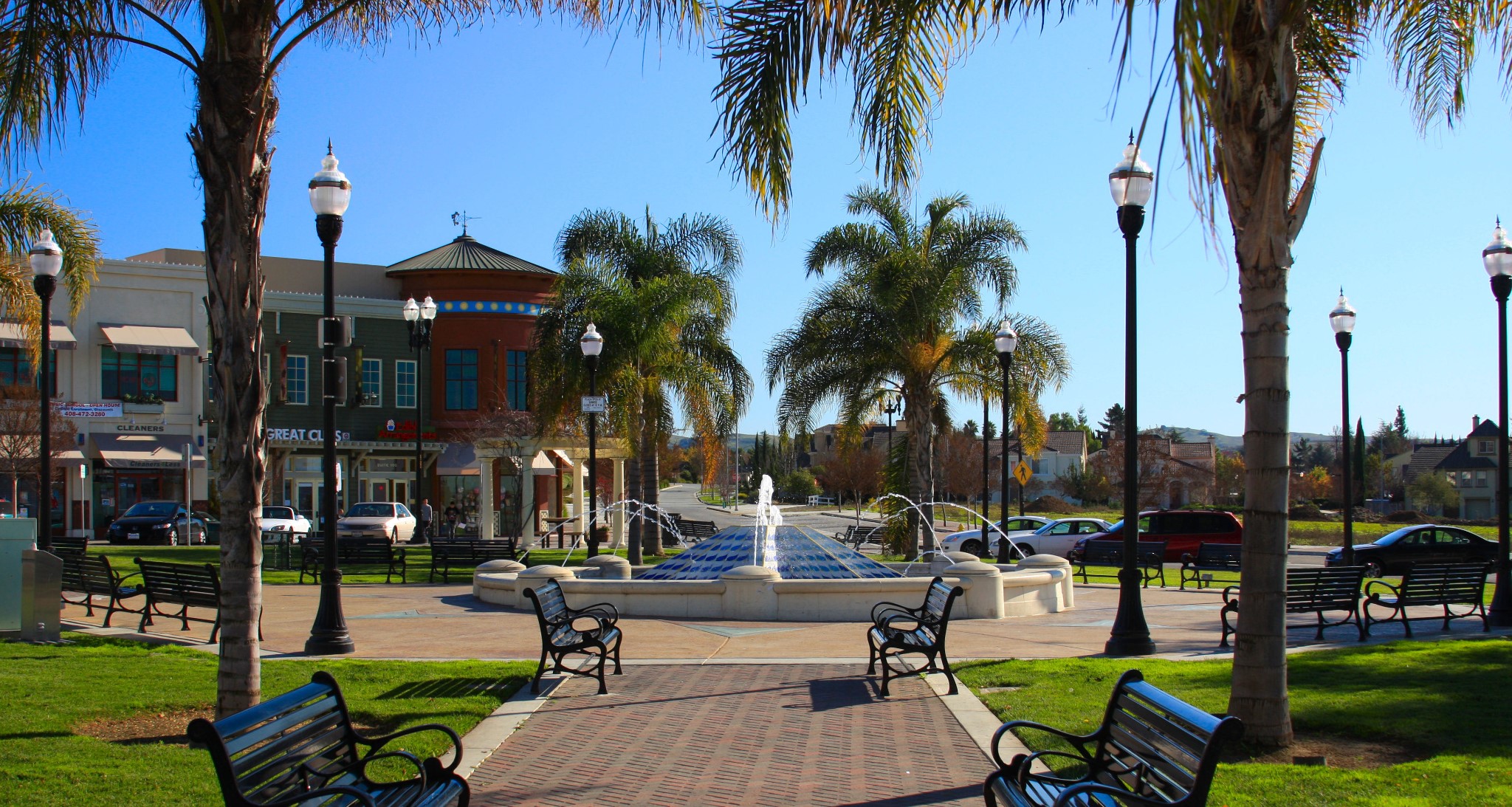 Photo of Evergreen Village Square from The Tahoe Guy - via Flickr
If you want somewhere nearby to exercise, Groesbeck Hill Park has sports facilities, a track and field loop, playgrounds, and trails to hike. Also on the outskirts of Everygreen is a lovely country club with 9-hole and 18-hole golf courses, which doubles as an event venue.
The median listing price in the Evergreen area is $989,888.
8. Silver Creek Valley
Silver Creek Valley is a small and exclusive area to the southeast of Central San Jose. One of the main attractions in the area is the Silver Creek Country Club, but the entire town feels like a country club. It's easy to forget that Silicon Valley is so close when you're strolling up to the green to make an easy putt.
Golf is great, but it's not the most appealing feature of Silver Creek Valley. Residents who live here get to escape the speed of the city while keeping it within arm's reach.
Photo of Silver Creek Valley via Wikimedia Commons (Cristiano Tomás)
Most of the properties in Silver Creek are standalone homes, with no apartment buildings or high-rises. Homes in Silver Creek Valley are large with ample lawn space around the properties. Several of the more affluent properties along the southern edge of the neighborhood have swimming pools.
The median listing price for properties in Silver Creek Valley is $3,889,400.
9. Alum Rock
Alum Rock is a small neighborhood that used to be its own city before it was incorporated. The area is well-known for parks, lovely coffee spots, and restaurants. If you live closer to the hills, you'll have trees and clouds on the horizon, instead of highrises.
A short drive from the residential area is Alum Rock Park, the oldest of California's municipal parks. Residents can explore its rugged side with the trails and paths, or set up a picnic near the barbecue pits. Alum Rock Park also offers horseback riding for local equestrian enthusiasts (or adventurous first-timers).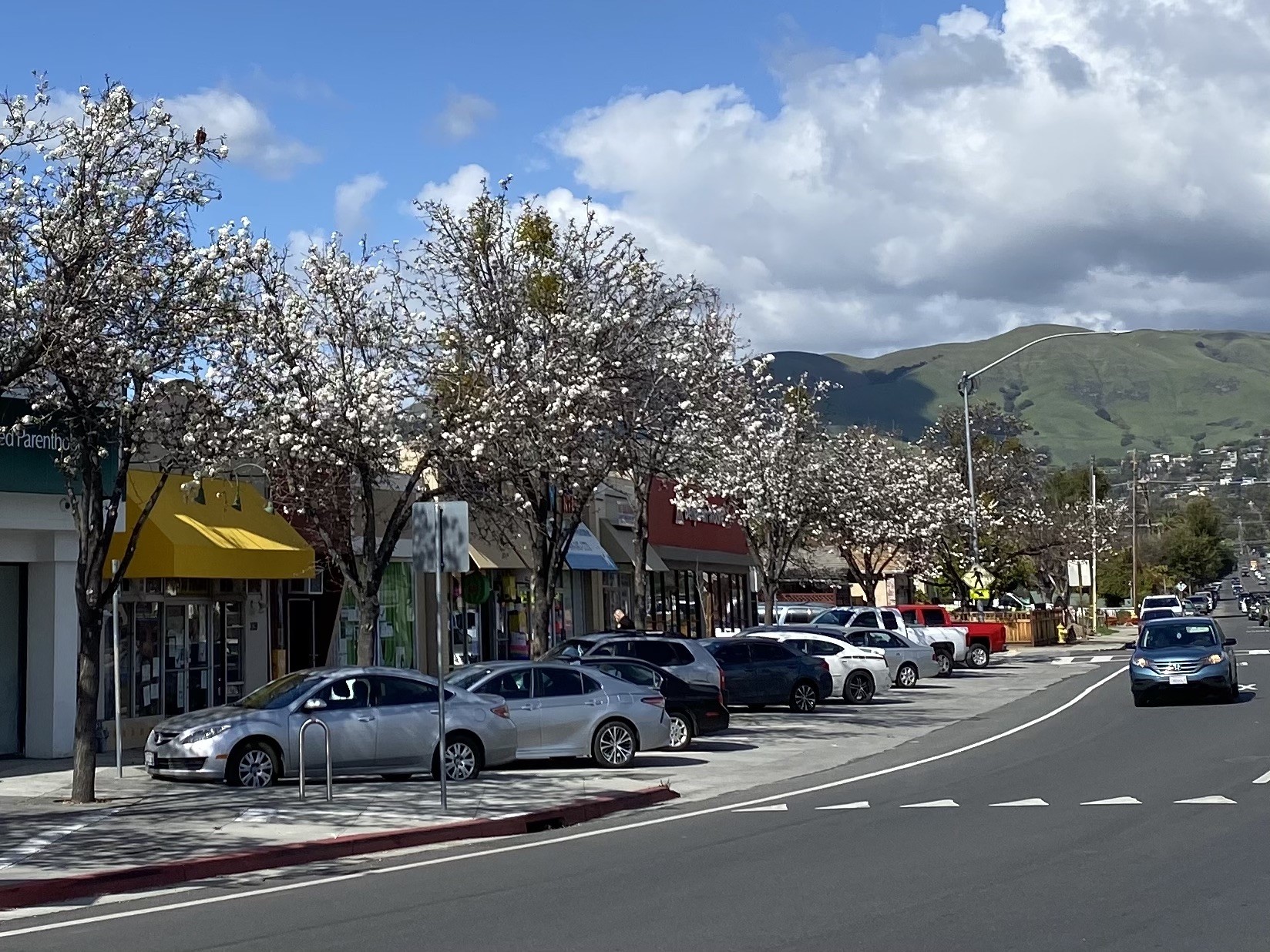 Photo of downtown Alum Rock via Wikimedia Commons (Cristiano Tomás)
The median listing price for homes in Alum Rock (including the area near and around Alum Rock Park and the East Foothills) is $1,274,500.
10. Blossom Valley
Blossom Valley is known as a fantastic neighborhood in San Jose for families. To the north looms Communications Hill and the Almaden Quicksilver County Park is further to the south. The Guadalupe River runs down the west side of Blossom Valley and opens up into Blossom Valley Lake.
The homes in Blossom Valley are almost entirely condominiums or single-family homes.
Residents can make it into Central San Jose in less than 10 minutes with the Almaden Expressway or Guadalupe Parkway. If you're not driving, you can make it downtown within 40 minutes without transferring buses. Cyclists can pedal their way there in just 35 minutes.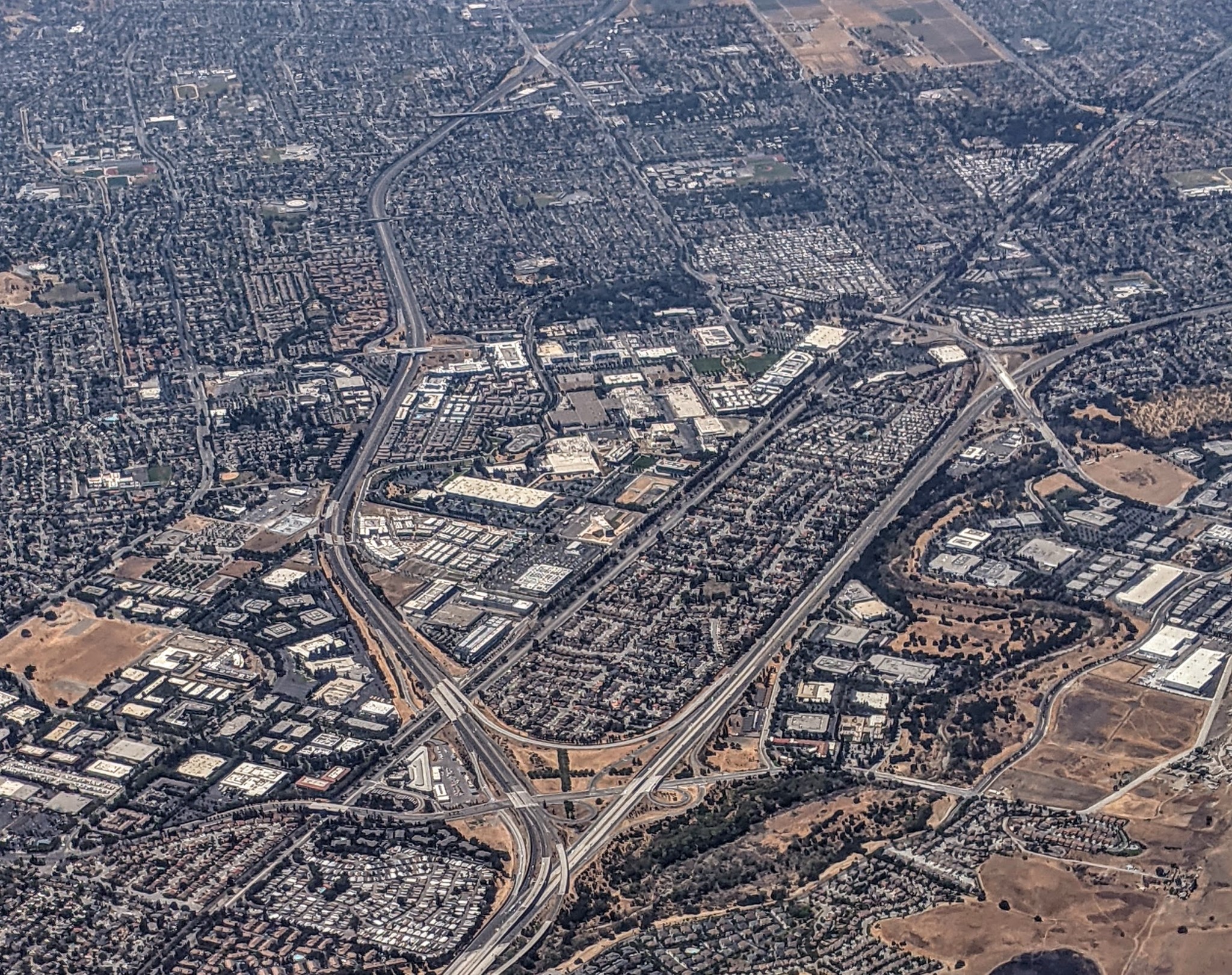 Arial photo of Blossom Valley via Wikimedia Commons (Dicklyon)
The median listing price in Blossom Valley is $1,113,944.
Which Community Did You Like?
The next step is to look closer and get answers to your questions. A local realtor that lives in San Jose and understands the real estate market will save you a lot of time.
The Jamison Team, made up of more than 20 experienced realtors in San Jose, California. They've already helped hundreds of families buy and sell property, and they've got the testimonials on display.
When you reach one of their agents, there's no pressure and no obligation to make any kind of commitment. They'll get you moving in the right direction.
Contact the Jamison Team.